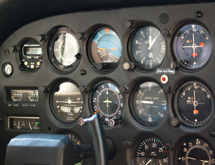 Davwire President and CEO Mark MacKenzie believes in continuous improvement, and you don't have to look any further than the company's existence for proof. MacKenzie had already spent nearly two decades in the industrial wiring industry when he went back to school for his MBA. For his final project, MacKenzie developed a business model for a company serving the aviation and defense sectors. Four years later, in 2003, that plan was put into motion and Davwire became a reality.
MacKenzie's belief in continuous improvement has allowed Davwire to adapt to the markets it serves and build a comfortable niche for itself, specializing in manufacturing wiring that meets the precise demands of its customers. "We look for low-volume, high-complexity products to build, and our customers cross industries," MacKenzie says.
From its new 40,000-square-foot manufacturing facility in London, Ontario, Davwire produces solutions ranging from single-wire products to complex control and instrument panels. MacKenzie says the company's customer base includes major players in the defense and aviation sectors, as well as medical and rail manufacturers. "Our primary customer base would consist primarily of OEMs, although we do some second- and third-tier work," he says.
Regardless of the sectors it serves, Davwire's customers all have one thing in common: they all need a manufacturer that can produce high-quality wiring and components, but also be flexible enough to adjust to their changing conditions. According to MacKenzie, Davwire fits the bill perfectly.
Service is Key
When serving multiple sectors that all place a premium on flexibility and adaptability, being successful comes down to far more than the quality of the product. Although there are many manufacturers that are capable of doing what Davwire does from a pure product standpoint, MacKenzie says the company has made its name by going the extra mile for its customers. "Customer service is one of our key differentiators from the competition," he says.
Davwire doesn't just supply its customers with a product, MacKenzie continues – the company is more than willing to step in and become a crucial part of the customer's supply chain strategy.
Many times, customers will send members of their engineering departments to Davwire's facility to collaborate on streamlining production processes and resolve engineering issues.
"We try to become just another extension of them," MacKenzie says, adding that this collaboration between Davwire and its customers is another significant difference and advantage for the company.
The company's commitment to being flexible for its customers also shows through in its continuous improvement efforts. For example, MacKenzie says, the company recently invested in a one-piece flow production system to serve one segment of its customer base. MacKenzie says the new equipment helps improve the company's efficiency and flexibility by allowing Davwire to change the production line in less than an hour without much impact on work in progress.
Crowded Competition
Davwire's key differentiators have become more important than ever as the competition continues to grow around it, and MacKenzie says the increased competition is a major challenge for the company. "The greatest challenge today is as other potential competitors recognize that this is a good niche to be in, they're starting to move themselves into it, so we're tending to find that this area is starting to become a little more crowded than it was," MacKenzie says.
However, MacKenzie believes that this is a good thing for Davwire and the industry as a whole because competition encourages improvement and innovation.
"We always look at ways to enhance our offerings," he says.
For example, the company recently implemented a new material requirements planning system to provide it with better control over its inventories and work flow through the organization. MacKenzie says that this has had the added benefit of making the company's processes more transparent to customers so they can see their orders being processed every step of the way.
Another significant trend MacKenzie sees taking hold in the industry is large OEMs taking the kind of work Davwire does overseas to countries with lower manufacturing costs.
Although many times these OEMs make the move to be closer to international markets, the lower costs they pay for manufacturing often are balanced out by added costs created by quality control and shipping. Davwire continues to find success as a company that works directly with customers in their own facilities, and MacKenzie says the company intends to continue to be that kind of manufacturer.
Growth Ahead
The recession somewhat put the brakes on Davwire's growth, but the company has achieved some impressive expansion in its first 10 years. MacKenzie says that the company was growing at a rate of about 100 percent each year before the recession took hold and slowed that down to about 30 percent a year.
However, the market is beginning to make a comeback, and MacKenzie says he expects Davwire to begin another run of 100 percent annual growth for the next few years. He says the company is preparing for that, and its facility is large enough to accommodate it for at least five years before it would need to expand its space again.
"We're actually poised for some more significant growth," he says.