Brewed to perfection
Known for their reliability, ease of use and low cost of ownership, de Jong DUKE's coffee machines have led the charge in delivering innovative solutions that are now seen the world over
Now in its fourth generation of family ownership, coffee machine manufacturer de Jong DUKE has been a stalwart of Dutch engineering excellence since it was established back in 1897. Headquartered in the Netherlands, and with facilities also in the United States, its founding father was J.M. de Jong, a blacksmith from Alblasserdam, and it was his inventiveness and technical prowess that started the company along what has been a storied journey. In 1931, the company was taken over by A. de Jong Jr. – an entrepreneur in his own right – and it was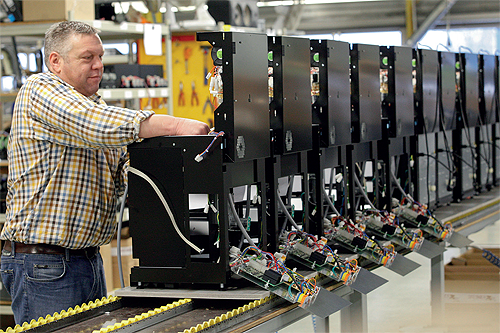 under him that the first coffee vending machines were sold and distributed through a subsidiary company, DUKE Vending.
"Initially, the machines sold by the company were imported from the United States, however it was soon decided that they would be manufactured here in the Netherlands. From then on, the manufacturing of coffee vending machines and coffee equipment has been our lifeblood," explains Managing Director, Maurits J.C. de Jong.
What would follow would be countless firsts over the decades, giving de Jong DUKE its well-earned reputation for creating innovative, reliable and easy-to-use solutions for what it refers to as 'out-of-home coffee enjoyment'. In 1971, for instance, the first European filterfresh® machine was built by the company in the form of the Vendking-brewer, delivering a system that would make every cup of coffee as fresh as the last. Later, in 2003, de Jong DUKE would go on to launch its patented CoEx® brewer. Featuring one brewing system that is capable of making two distinctly different coffees – coffee and espresso – this revolutionary creation has gone on to be replicated countless times. On top of that, in 2009, the company also became the first manufacturer to launch a coffee vending machine with a ten-inch touchscreen, which has again since become a feature of nearly every machine produced today.
"When it comes to innovation, we have always been a forerunner and this has come as a result of our boldness as a business and a willingness to be daring in bringing our ideas to fruition," Maurits continues. "We remain a very forward-thinking organization – to the point where we are usually planning our future several years in advance – and it is this, coupled with our honesty, the reliability of our products, and the loyalty we display to our customers that continues to make de Jong DUKE such an appealing partner to work with!"
The company's range of coffee machines include its award-winning Nio with its easy-to-use and stylish design, the ultra-modern EDGE with its intuitive touch screen, and its Virtu, Zia and Siro series', which each come in a variety of sizes to fit various applications. de Jong DUKE's machines are supported by its ConnectMe telemetry system that was launched in 2009. ConnectMe allows customers to access statistics about their machines remotely, to check their operational status, alert them of errors and prompt the refill of ingredients.
Over the years, de Jong DUKE has been presented with multiple awards, not only for some of the above-mentioned products, but also its business growth. In 2016, 2017 and 2018, the company received the FD Gazellen Award for being one of the fastest growing Dutch businesses. In that time, it has also been the recipient of the European Business Award 2018 and 2019, has received prizes such as the Reddot Award, IF Award, and the European Design Award for the Nio, and has even been recognized by Inc. Magazine within its Inc. 5000 list of the fastest growing United States-based businesses in 2018 and 2019.
In its home country of the Netherlands, de Jong DUKE's operations are now based within its Sliedrecht facility. Opened in February 2020, it features a factory, logistics facility, R&D and competence center, and offices. From here, the company focuses primarily on the engineering and final assembly of its products, and their delivery to customers, with much of the other manufacturing processes being outsourced to trusted partners. "We have excellent, strong relationships with all of our suppliers, and the combination of their manufacturing skills and our
strengths in engineering and logistics provides us with a fantastic degree of flexibility. This allows us to quickly upscale or downscale depending on market demand, and to deliver custom-made orders when contracted," Maurits details.
One of de Jong DUKE's commitments over the years has been to achieve sustainable growth through the reinvestment of a portion of its annual turnover. As a matter of fact, the amount that the company does reinvest is around twice the average of others in the Netherlands. The new Sliedrecht facility is the perfect example of this in action. "We are self-sufficient in terms of power generation. It is a feature that also fits into our ACT2 program, which is designed to ensure that de Jong DUKE and its products plays its part in contributing to a sustainable future.
"Our investment also extends to our people, who are the biggest asset that we have, and we spend a lot of time and resources on making sure that they can do their job properly. As well as giving them the tools and equipment, we also support them in terms of their education and development as employees. We have worked hard to create an open, transparent culture in which everyone can feel safe, is consistently well informed, and is given the time and platform to speak up about what matters to them. We get to know all of our people closely, and the feedback we get from them is that they appreciate the welcoming atmosphere that we have created in which everyone feels valued."
In what we come as little surprise to anyone, 2020 has been one of the most challenging years that any business has had to face, and the same goes for de Jong DUKE. "The biggest obstacle we face is the uncertainty that exists in the world at present," Maurits confirms. "We cannot escape the fact that much of our business is made up of our machines being sold into offices and other workplaces, and therefore with restrictions such as working from home, Covid-19 has had a major impact upon this.
"Fortunately, we are a healthy company. While we will continue to supply machines into offices, hospitals and the like, we are now also spending more time and resources on moving into the leisure side of the market, getting more of our machines into locations such as bars, restaurants and catering establishments. We have long been a very successful organization, and we are optimistic and confident that, by moving in a slightly different direction in terms of opportunities, we can recapture growth."
de Jong DUKE
Products: Coffee machines
www.dejongduke.com