DeKALB Molded Plastics has earned a strong reputation in its industry, but not for plastics alone. In addition to being a leading structural plastic molder, the firm sets itself apart with value-added services ranging from painting to assembly, President and CEO Rick Walters says.
DeKALB can meet their clients special needs, by offering to fabricate their products to their specifications. "We'll also do some kitting where we'll assemble several molded products," he says, noting that few others in the structural foam industry provide this level of service.
Based in Butler, Ind., DeKALB is a custom molder of structural plastics. The firm began as the structural foam injection molding operation of Michigan Plastics Products, a division of JSJ Corp.
But the structural foam process did not mix well with Michigan Plastics' high-pressure molding operation. While high-pressure products have a smooth finish, structural foam molding results in a more rugged surface, Walters explains.
"JSJ had to separate those two molding disciplines," he says, adding that the decision was made to relocate the structural foam portion to Butler, Ind.
"We happened to be positioned where the larger customers were located," Walters says, adding that DeKALB officially started production in 1979. Today, the custom molding company employs a staff of 100 and expects to see sales of at least $16 million this year.
DeKALB manufactures a wide range of products, including medical housings, structures and cabinetry, specialty material-handling products, and safety products and devices. For example, "We'll make boxes that may hold respirator equipment or fresh air devices," Walters says.
The company also makes many products for highway safety, including plastic guardrail blocks or traffic barrels. "If you're on an interstate highway, you'll see the big orange devices near the concrete overpass," Walters describes. "Those are meant to slow your vehicles if you hit them."
DeKALB's molding process also works well for building durable covers, panels and doors for industrial and construction applications. "When you're in a construction zone, they hold up very well," he says.
"We've also done components for children's playhouses," he says, noting that DeKALB has molded the floors, sidewalls and roof portions.
Following the Plan
A native of the Butler area, Walters joined DeKALB in 1978 before it opened for business. In 1997, he and partner Jeff Rodgers purchased the company from JSJ.  This year they celebrate 20 successful years together at DeKALB.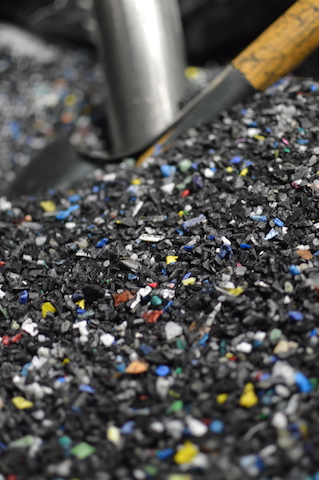 This year also marks Walters' 10th year in the role of president, which he took over from Rodgers in 2007. "Jeff said, 'Here you go, you start to make the calls,'" Walters recalls, noting that he set up a business plan that included creating an incredible team that became better at what it did every day.
"After you've got that, you go tell the world about how great you are and be real about it," Walters says. "That's really the business plan right there."
This strategy has worked for DeKALB. "We're very well respected in the structural plastics industry," he says, adding that the company takes a green approach to its work.
DeKALB processes millions of pounds of recycled materials that is used in its products. "[Not only can we] contribute these great products, but we can contribute to the environment part of the puzzle," he says. "I'm really proud of that part of the process."
A Winning Team
Like many, DeKALB has encountered the challenge of recruiting talented people. "We're having a pretty tough time getting entry level operators," Walters admits. "Finding enough people to staff, train and get on board has been one of the most challenging pieces."
But DeKALB copes through staff retention efforts. The company focuses on developing a strong team culture and treating its employees well. "The big emphasis is making sure everyone feels they are a part of our winning team and that we're providing the necessary training," he says.
The company also makes sure its employees feel safe and have a voice at DeKALB. "What they say means something," he says. "I want them to feel like they are absolutely a part of our business. That's from day one when they walk through the door."
Focused on Improvement
Quality is an important focus for DeKALB, but the level that its clients expect has escalated in recent years. "Automotive mindsets play into our customers' approaches," Walters says. "I've been blessed that I've had some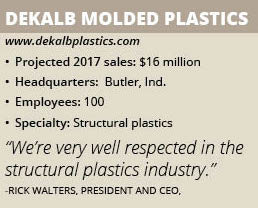 members from my team that come from an automotive background."
The company has adopted some lean manufacturing practices, but DeKALB focuses more on continuous improvement, he asserts. "My Director of Operations has a continuous improvement background," Walters says. "We're always looking for ways to engage our workforce, ways to simplify the process or eliminate the waste."
Improving inventory management also is a priority. "That is a big initiative, especially this year," Walters says, noting that the company recently implemented ERP software from IQMS.
"IQMS is strongly embraced by the plastics industry as being a big player," he says, noting that the people on the shop floor are engaged in the process. "They make sure we're gathering the right data and have the inventories to work."
Many of DeKALB's customers count on it to control their inventories of supplies, including resins. "Some of the customers will buy the resins and buy the components, but they depend on DeKALB to maintain and control those inventories," he says. "The fact that we've got their confidence is key."
A Common Cause
Walters is proud of his team at DeKALB, which is comprised of people who all want the company to be successful. "We want to make sure that we return the value to the shareholders," he says. "We do customer service really, really well."
This proves that the company's "team" concept is working. "That's what I'm most proud of at DeKALB Molded Plastics – the fact that you can get all of these people working together for a common cause," Walters says.
Rick Walters says it is a good time for DeKALB, which plans to keep growing. "People are bringing new products to the table and we have good relationships with our customers. We get to be a big part of their future.
"We're not the biggest, but we're really good at the value added piece," he states. "We can be a solutions provider from that perspective. I'm looking at leading this team for the next several years."
Sidebar
Giving Time and Talent
DeKALB Molded Plastics' community work is another source of pride for President and CEO Rick Walters. "I've always said the most important thing you can give to where you live, is your time and talent.  We're big supporters of local organizations," he says, noting that it pleases him that a DeKALB employee serves in a leadership position with the United Way and several employees are Big Brothers or Big Sisters in their community. Just today, another employee was asked to join an advisory council for The Freedom Academy, where DeKALB's employees receive their maintenance certifications. Walters adds, "These are things that are very special to me."