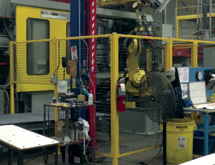 Founded in 1979, DeKalb Molded Plastics has spent more than 34 years building its reputation in the structural foam industry. A custom structural foam molder, DeKalb specializes in structural foam injection molding and gas assist molding, and large, multi-nozzle plastic products.
DeKalb was one of the first ISO 9002-certified structural plastics molders in the United States. Among the company's services are in-house post mold painting; plastic decorating capabilities; kitting and assembly requirements for programs for single standalone products; or complex, multicomponent, multi-operation programs.
The company's capabilities include presses ranging from 300 tons to 1,000 tons. DeKalb's aim is to be a full-service plastic design manufacturing partner for customers in need of medium to large components. The company offers up-front engineering support and state-of-the-art process control techniques.
DeKalb also offers what it feels is superior customer service, as well as end-to-end tool and plastics manufacturing support, warehousing capabilities and on-time deliveries. The company is committed to meeting customer requirements for delivery, quality, responsiveness, pricing and technical support. That is how DeKalb aims to become its customers' single source for plastic and assembly needs.
Complex Offerings
Traditionally, DeKalb served customers in the material-handling space in need of items like totes, pallets and crates. But over time, it got into more complex applications.
"Our customers have become more complex, their quality requirements have increased and they are putting more responsibility back on us," says Darryl Warren, new business development lead. "We mold product and add value through services like assembly, kitting and electromagnetic shielding."
Markets that DeKalb has been able to penetrate include specialty material handling, medical housings and enclosures, and safety products and devices. DeKalb supports the specialty material-handling segment with rigid plastic pallets and folding transport boxes for bulk products.
In the medical housings and enclosures market, the company makes structural plastic parts for products such as kidney dialysis equipment and MRI helmets. And in the safety products and devices space, the company produces structural foam parts for the traffic safety market.
"We aren't about just going with trends: we make our own path and commit to growth," Marketing Director Teresa Schell says.
Poised for Growth
Structural foam molding can be labor-intensive process. Therefore, investments are a must for a company like DeKalb. On the automation technology side, the company has invested in robotics in the manufacturing process. These investments have removed human labor components and increased the company's speed and efficiency.
The company has also invested in RJG injection molding training and technology. The technology involves the insertion of sensors into the plastic molds, while the training ensures that technicians know how to use the software, read reports and make adjustments.
Other investments support employees. The company says it invested in an award-winning wellness program, and it has a training program set up with an outside vendor to help its people become better operators. DeKalb also has a tuition reimbursement program.
Logistics and vendor relationships are additional areas where DeKalb places a lot of focus. The company enters into strategic relationships with resin suppliers to ensure aligned goals. In its medical segment, DeKalb aligns with raw material suppliers that also see the medical market as a growth segment.
Environmental concerns also are important to DeKalb. One of its component parts is molded from 100 percent recycled materials, including ground rubber from recycled tires. The company aggressively looks for material applications that are post-consumer. DeKalb's environmental initiatives include entering into recycling programs to reduce its landfill impact, buying only green cleaning supplies, upgrading the lighting system in its manufacturing facility and operating a recycling shed at its facility that is open to the community.
"Our future focus on sustainability will be to look at the life of our products once they leave our facility," Warren says.
These investments and strategies are all part of ensuring that the company has an internal culture that keeps DeKalb poised for growth.
All of DeKalb's efforts have not gone unnoticed. The company was a finalist for the 2012 Plastics News Processor of the Year award. DeKalb was also honored by Plastics News with a 2012 PN Excellence Award for employee relations.
"This is a very prestigious award in our industry, as it recognizes all plastic processors nationwide," Schell says. "To be in the top three is a big honor for us."