Catering to the customer
Already renowned throughout the glazing industry for its commitment to quality products, innovative design and clever marketing, last year Greater Manchester-based Dekko Window Systems won wider recognition by being named one of the London Stock Exchange's 1000 Companies to Inspire Britain
For a business launched less than a decade ago, this award was a massive achievement. Established in 2008 by respected glazing industry figures Kurt Greatrex and Gary Torr, the firm has quickly risen to become one of the UK's leading fabricators of high-end uPVC and aluminium windows and doors.
Dekko's success has rested on an ability to expertly detect emerging market trends, and then react to them – identifying new opportunities, and then relentlessly pursuing them through sustained investment and innovation.
"Even back then, in the late 2000s, we could sense the market was changing," says Kurt,Dekko Sales Director. "The influence of Grand Designs and years of other aspirational homeimprovement shows was starting to take hold. Consumer tastes were shifting – homeowners'preferences and priorities were beginning tomove away from what had been the norm in the '80s and '90s."
"Once, above anything else, it was all about the price. Now, consumers are more discerning and demanding than ever. Yes, they're still interested in price – but their focus has shifted much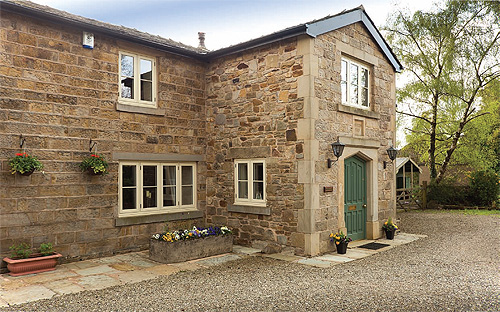 more towards value for money. Cheap but bog-standard just doesn't cut it anymore. Homeowners want exceptional performance, style and user-friendliness. And this exactly how we've positioned Dekko – suppliers of high-end uPVC and aluminium doors and windows, catering to a clued-up, style-conscious customer base."
Over the last decade, the thing that's consistently distinguished Dekko from the competition has been its commitment to constant innovation. First came Räum – Dekko's collection of stylish, premium aluminium windows and doors, launched after an enigmatic teaser campaign that created an unprecedented buzz in an industry often marked by its safe, conservative approach to marketing.
Then, last year, this was followed by Infinity. Made possible by a substantial investment in state-of-the-art Graf welder technology, Infinity removes the iconic imperfection that's marred uPVC window and door frames for decades – the ugly corner groove. The result is a range of sleek, smooth-cornered uPVC products, available in an extensive range of colours, perfectly tailored to the diverse and increasingly demanding stylistic preferences of the modern consumer.
These in-house innovations have joined a core product portfolio filled with high-end products from some of the most respected names in the industry. Dekko was one of the earliest adopters of the groundbreaking Residence 9 window system, for example.
For years, homeowners living in historic properties had a problem. As original windows began to fail, they obviously needed replacing – but strict local authority regulations would only accept the most authentic traditional replacements. More often than not, this left them with only the one choice of material – timber. But timber products are not only extremely expensive; they can be a major headache to maintain. This was the genius of Residence 9 – a uPVC window system, designed to the exact specifications that Article 4 building regulations lay out as the ideal replacement heritage window. It's a product that's gone on to be stunningly successful for Dekko, now one of the UK's biggest suppliers of an expanded Residence Collection that also includes Residence 7, Residence 8 and Residence², and been in accepted for use in conservation areas in the country.
So what lies ahead for the fast-moving fabricator as it enters its ninth year in business? "In the best possible way – more of the same," says Kurt. "Over nearly a decade, we've established ourselves as a dynamic, boundarypushing fabricator, and one of the industry's most respected high-end brands. In the years to come, we'll be prioritising exactly the same things that have brought us this far – quality products, investment, and constant innovation."
Dekko Window Systems
Services: Leading fabricator of high-end uPVC and aluminium windows and doors