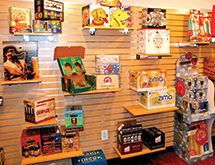 It is difficult to maintain a legacy, but family owned DeLine Box & Display has accomplished that feat, fourth-generation owner Dave DeLine says. Based in Denver, the company is the only independent, full-line box company in its region.
DeLine Box manufactures multiple corrugated products, including retail boxes, point-of-purchase displays, shipping containers and die-cut products for clients such as Hunter Douglas, Crocs Retail Inc., Celestial Seasonings and New Belgium Brewing Co. "We have over 100 years of manufacturing in Denver and manufacturing in packaging," Dave DeLine states.
His family's legacy in the box industry began with his great-grandfather, I.A. DeLine, who founded a packaging company in 1912 that manufactured solid fiber boxes. "One of his biggest claims to fame was that he automated [the manufacture] of the heart-shaped candy box," Dave DeLine says. His grandfather, Edwin Francis DeLine, took what he learned from his father's business and started his own in 1933, making corrugated products. Dave DeLine's father, Howard Irving (Jim) DeLine, worked for the company.
Jim DeLine later founded DeLine Box in 1972. "At that time, we were just a sheet plant," Dave DeLine says. "We bought all of our materials from outside organizations and converted them into boxes." Under the elder DeLine's leadership, the company installed its own corrugator. "Now we buy the rolls of paper and convert them into corrugated boxes," he says.
DeLine's father died in 2004. "I know he's proud looking down [on us]," Dave DeLine says.
"Being the last independent left in our region says a lot for the foundation he built and what our team has been able to add onto that."
Howard DeLine's nickname was "Captain Fun," because of his love for parties. So when DeLine Box reached its 40th anniversary in 2012, "We knew we had to celebrate," Dave DeLine says.
The company commemorated the occasion with a party, which included its designer manager, a professional banjo player, performing at the event. DeLine Box's customers also attended, and received gift boxes filled with mugs, pins and candy.
Marketing Director Janay Oliver adds that many of the attendees were longtime customers. "That's a great thing and a testament [to our service] that many of our clients are very loyal," she says.
Working With the Best
DeLine Box has a long history of staying on top of new technology. "[Much] of our machinery is some of the best machinery you can buy in the world," he says. A decade ago, the company was the second in the world to install a high fidelity, high-board-line press from German manufacturer, Göpfert. "Now, I would venture to say there are over 300 in the world," he says.
The press, he explains, allowed DeLine Box to create better graphics for customers by printing the images directly on the corrugated board. "That changed our business mix quite a bit," he says, explaining that the press allowed DeLine Box to branch out into products for the food, retail and beer markets.
The company recently installed a new Flexo Folder Gluer from EMBA Machinery AB. The machine can print, cut, fold and glue a box all at one pass. "It does 18,000 boxes per hour," DeLine boasts.
The machine also features non-crush technology. "When you crush corrugated, it loses its strength," he says. "By not crushing it, the box will hold up better."
It also utilizes servomotors, which enable DeLine Box to cut and slot corrugated more accurately and increase its strength. The press also can register up to four colors and print colors with extreme accuracy in ways that other machines cannot, DeLine says. "[We are at] what we feel is as close as we can get to a perfect box in consistency," he states.
Pushing the Green Envelope
Sustainability is one of DeLine Box's main objectives, DeLine says. "The machinery allows us to push the envelope on the sustainable side and run lightweight papers that others might have a hard time running," he says.
For example, DeLine Box's machines help it manufacture its ForestGuard™ packages made from 100 percent recycled content and 100 percent post-consumer waste. "It has no virgin wood fiber in it," he says. "All the fiber in that paper has been [turned into a box], shipped to you, reclaimed, turned back into paper and turned back into a box."
This helps make DeLine Box's products more sustainable than its competitors, Oliver says. "If you want a package that is as green as it gets, we can offer that to you," she says. "If you're looking to make more Earth-conscious decisions on how you package your goods, we can help you with that, too."
Doing The Right Thing
Now is a good time in its history for DeLine Box, DeLine says. Currently, the market consists of three majors and several smaller players, "But [we're] one of the bigger smaller players," he asserts.
In the past 10 years, U.S. box companies lost customers to manufacturers in Asia, but DeLine predicts that tide will turn, as customers become more interested in going green. "The pendulum may be swinging back," he says. "The U.S. younger population is saying, 'That's important to me.' 'I want to invest in things that will further the planet earth. It may cost a little more, but I want to do the right thing.'"