Delta Controls launches new building automation system products in line with IoT.
Specializing in building automation systems and energy management software, Delta Controls is at the forefront of making buildings smarter.
For more than 30 years, the company's focus on innovation and sustainability has made it an industry leader with more than 300 distributors and a network of partners in more than 80 countries around the globe.
"We are growing the company and increasing the breadth of our products and applications to actively advance the IoT movement," COO Agustin Castellanos says. "Our controllers and technology is innovative and in many cases unique and we want take it and expand into different markets."
Delta Controls offers user-friendly control solutions for buildings in the commercial, healthcare, hospitality, education, manufacturing, industrial and leisure markets. "Typically, we sell to building and system integrators or mechanical contractors," Castellanos says. "But we are trying to diversify by targeting OEMs and national accounts."
Innovative Products
As part of the Delta Electronics family of companies, Delta Controls has begun integrating new products into its portfolio. Delta Electronics purchased Delta Controls in 2016.
"We have a very aggressive growth strategy and a part of that strategy is introducing the Delta Electronics products into our market and industry," Castellanos explains. "We call it the Delta Building. It's a smart building where users have the best experience based on seamless automation technology."
Last year, Delta Controls introduced Delta Electronics Variable Frequency Drives (VFDs) in the North American market with the eZVFD card. Designed and used to control the speed of AC induction motors, the drives come with BACnet and Modbus communications onboard. They include built-in EMC filtering on units that are 40 HP and below.
What makes these products unique is the BACnet integration. Delta Controls has been instrumental in the development and evolution of the BACnet open-protocol, now the most common protocol in the industry.
"What this product does is that it adds all the smarts of a controller into a VFD," Castellanos says. "And then once our board is in the VFD, you can control your motors and all the advanced functionality of the VFD through our software platform, called enteliWEB. It allows you to control all our products and other systems such as access or lightning."
The company offers a variety of VFDs with different options (such as higher horsepower) and configurations and bypass or disconnect packages. All of its drives are covered by a 24-month warranty.
Unveiling A New Product
Aside from VFDs, Delta Controls is introducing a new uninterrupted power supply (UPS) solution this year. Also known as a battery backup, it provides power when the power source fails or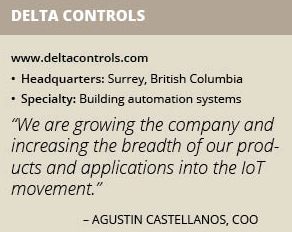 voltage drops to an unacceptable level.
"In industrial applications, we are including a controller card with the UPS," Castellanos says. "This card is going to control and provide analytics on usage, power consumption and energy savings. The card we are producing for the UPS will behave in the same way as the VFD providing complete control and connectivity within the building automation software."
In addition, Delta Controls launched two other new products last year – the O3 Controller and the O3 Hub.
With a top-down view from the center of the room, the O3 Sensor Hub detects motion, sound, light and temperature with new levels of accuracy. With a complete sensor package, O3 provides a building automation system with complete, centralized input to make economic decisions.
"Our O3 Hub is much more accurate than other sensors the industry has used in the past, it also provides a better occupant user experience through the use of a mobile phone app" Castellanos says.
The O3 Integrated Room Control system is a complete solution that combines HVAC, access control and lighting control in a modular system. It combines multiple protocols and I/O (input and output) points in one unit. The system improves room control, avoids duplicate devices and lowers energy costs.
"The O3 controller is a modular controller with multiple I/O," Castellanos says. "It's a device that can expand into many vertical markets. It can be used in office buildings, banks, pharmaceutical companies, hospitals, schools, manufacturing facilities and many more. There's a wide application for these controllers."
At The Forefront
Delta Control's history dates back to 1980 when Energrated Systems Consultants was founded by Raymond Rae and Brian Goodchild to focus on improving the energy performance and operation of existing buildings. Goodchild spearheaded the development of one of the first direct digital control systems – which became the electronic manufacturer known as Delta Controls when it was incorporated in 1987.
"We started manufacturing controls for commercial buildings in the 1980s," Castellanos says. "Now the company has grown and expanded into different services and operations."
Over the years, Delta Controls has enjoyed strong growth. In 2000, the company launched ORCAweb, one of the very first web based operator work stations which included virtual stats like today's apps. Its online platforms continue to be at the forefront of building automation systems.
In 2010, it launched the enteliWEB, a web-based application that combines the power of enterprise dashboards with easy-to-use facility management tools. The company prides itself in spearheading and staying on top of technological development and industry trends.