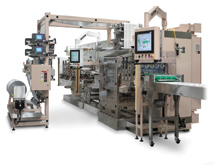 Delta Industrial Services Inc.
Delta Industrial Services Inc. plays an important part in the converting process. Based in Minneapolis, the firm designs, engineers and manufactures web converting and packaging machinery for medical, pharmaceutical, consumer goods, electronic, automotive and cosmetic industries.
Owner and President Dave Schiebout founded the company in 1978, providing electrical contracting and repair services for the printing industry. "We started by moving old machines, tearing them down and retrofitting them," he says.
Five years later, Delta expanded into the automation controls and converting industry to capitalize on the increase in productivity through computer automation and servomotors. Three years later, the company evolved into a systems integrator, focused on solving motion control and automation problems.
In 1989, Delta concentrated on producing its Delta Mod-Tech® line of process modules. According to the company, these provide the flexibility needed for web converting, automation and packaging applications.
The next year, it introduced its Delta Crusader®, which fills the need for a 10-inch wide web converting machine that is driven by servomotors. It was so robust and flexible that it grew the company's reach to manufacturing facilities worldwide with the addition of 13-, 18- and 20-inch designs and the ability to build for up to 48-inch web widths.
Today, Delta has a strong foothold in the converting market, Schiebout says. Additionally, "In the past 15 years, we've been growing 20 to 50 percent a year."
Delta's focus on service is critical, Schiebout says. "Our customers are No. 1," he declares. "We accomplish what they require, [and] we've never failed on delivery or to exceed their expectations."
This failure-free record has earned Delta a loyal following. "They say, 'Your machines are rock solid,'" he says. "That's the reputation we work to maintain in the marketplace."
The company also focuses on working directly with them. For instance, "When anybody calls in, they get real people put right in front of them that can service their needs," he says.
A Nice Turnaround
Delta's customers are increasingly asking for machines that perform with higher rates of accuracy, Schiebout says. "[We need them to] get up into the upper 90 percent [range]," he says.
Fortunately, the company has the technology to achieve this goal. Not only does Delta utilize state-of-the-art computers, "We've integrated a lot of technologies … with lasers, packaging and punches," Schiebout says. "[They're] all designed and built here."
These advancements have earned Delta a reputation for sophistication as it has moved into overseas markets, including China, Singapore, Japan, Egypt, Israel and Europe.
Over the past five years, "We've seen quite a nice turnaround in the foreign markets," he says. "We stand there now as a [manufacturer of] very robust, durable and precise machines. Our reputation has grown as a player internationally."
Quality Control
Delta strongly focuses on its manufacturing quality, and has based its operations on ISO guidelines, Schiebout says. Today, the company follows the guidelines of ISO 9001: 2008, which it has been certified in since 1999. This ensures that it increases the quality of its products and services while maintaining its organizational structure.
"Our quality system requires that employees take ownership of their tasks. This continuous improvement allows us to make our processes as efficient as possible," Marketing Associate Dave Grenwis says.
Delta also has generated its own quality manual, which provides guidance on all company practices, Schiebout adds. "It runs everything from when a customer first talks to a salesman to how everything is handled in the [final] run-off and site acceptance," he says.
The company also maintains quality by promoting mentoring among its staff. Members of Delta's engineering team will train new workers on its technology. "Through mentoring, we can service [our customers well]," he says.
Staying Strong
Schiebout is proud of his team at Delta, which is encouraged to submit their ideas to management. "Anyone can come up with a fix," he asserts. "They are really strong at not just delivering an idea, but [also operating within] a strong working model.
"Their support of our customer base has to be one of the highest things we regard," he says. "In here, everyone knows how important our customers are."
Delta recently began offering advanced training and a technical blog to help customers get the most out of their machines. Remote and on-site process support helps keep machines running efficiently and allows them to evolve with their products.
He predicts the company will continue looking for ways to improve. Since its start, "We've never done a budget," he says. "We look at ourselves and how we can improve. We want to make sure we're aligned with the future."
Delta's staff also will maintain its culture, which "is possibly our strongest point," Schiebout explains. "We try to be honest, and always deliver what we promise. People like to associate with you in business [when you do that]. They like to work out their problems with a trustworthy partner."