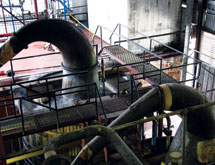 In our fast-paced world, businesses are born and disappear daily. It is unusual to find a company with a history as long as Demerara Distillers in Guyana. The rum distillery can track its roots back to the 1700s, when 300 local sugar cane producers formed an exporting cooperative and started selling the molasses-derived spirits.
Demerara Distillers has grown and evolved over time, and it consolidated its production facilities at Plantation Diamond in Georgetown, in 2000, but it still retains some of the traditional stills that it first used 200 years ago. "We have a wooden coffey still which is the only one of its kind in the world today," Executive Vice President for International Marketing Komal Samaroo explains. "We have a wooden double pot and a wooden single pot still that produce very unique rums which form part of our blend. We also have various continuous stills and have added a new one recently to improve the efficiency needed in today's competitive world."
Original Blends
Demerara Distillers' operation uses six continuous stills and two original wooden pot stills, the last of their kind still in operation. Each distilling process renders a different type of product. Demerara Distillers can create 12 distinctly different styles of rum, from light-bodied rums for mixed drinks to heavy-bodied ones for sipping. "Each product in the portfolio is a different blend and not one blend aged for longer periods of time," Samaroo says. "The rums are aged for various periods and the blends are developed by our master blender to meet the taste of the most discerning consumers. This is possible because we produce a dozen different rums at our distillery."
The company also attributes its rum's unique flavors to Guyana's tropical climate, high humidity and the aging process, which is performed in oak barrels. "The flavor of the oak wood from the barrels and the complexities of the interaction between wood and spirits are greatly enhanced by the tropical climate of Guyana," Demerara notes. The result is that a rum aged for eight years under the tropical conditions in Guyana will take twice as long in colder climate to achieve similar quality.
El Dorado
The wooden coffey still has been producing medium-bodied rum with a mild, fruity aroma since 1880. This rum is used in the blending of the company's award-winning product, El Dorado. In fact, Demerara won the 2011 International Wine and Spirit Competition trophy, celebrated in London yearly, for its 15-year-old El Dorado rum. It also earned the gold medal and best-in-class honor for its 12-year-old and eight-year-old versions.
"This year marks 20 years since we took El Dorado rum brand from the domestic market and re-launched it internationally," Samaroo explains.
The company has expanded its market reach thanks in part to the reputation of its products. "While we are a very significant bulk rum producer, we are relatively new in the branded segment," Samaroo explains. "We have carved a significant niche at the top-end of the branded rum market with our aged El Dorado rums. Rum connoisseurs increasingly appreciate our products and seek them out wherever they travel. A large part of our growth has been driven by the growing body of loyal El Dorado fans."
Samaroo also credits the increased interest in high-quality spirits to a shift in consumer drinking habits. "The use of premium spirits in cocktails is being driven by younger, more affluent consumers, who may be drinking less, but who are drinking better quality," Samaroo explains.
Demerara is poised to continue generating interest. "We think El Dorado rum portfolio has something for everyone and will meet the most demanding expectations," Samaroo says.