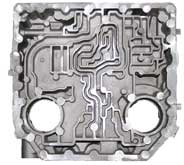 Metal casting is a time-honored art that will continue to develop and evolve through advancing technologies and progressive engineering. As a full-service supplier with a reputation for innovation, Denison Industries is molding a brighter future not only for itself, but for the industry as a whole. "We are a very proactive, forward-thinking company," President Chris Norch says. "We are always investing in new equipment, increased manufacturing space and, more importantly, human capital for our lines of succession and for future growth."
When the economy is soaring, it's easy for companies to ride the waves of success without giving much thought to future obstacles. How­ever, since Denison Industries is committed to continuous improvement and has concentrated on diversification in the past few years, "We went through this last recession with pretty much zero pains whatsoever," Vice President of Sales and Marketing Shawn Ingram says. "We attribute that to automating where we can, staying on the forefront of technology and keeping our people well-trained and diversified in different operations so they can handle and manage a diversified customer base."
"We saw the writing on the wall," Norch adds. "When everybody else's businesses were on the way up, we established a one-, three- and five-year business plan and heavily invested in 2005, 2006 and 2007. We were already on the downward trend for chaos when the recession hit. So as the industry was falling and others were reaching a point when they had to reinvest but didn't have the income to do so – whereas, we did – we became the go-to company known for being progressive and for having the resources necessary to take care of our clients' needs."
Complex Geometry
Denison Industries is situated on the old Perrin Air Force base in Denison, Texas. The company occupies four facilities on the base – two foundries that together occupy more than 120,000 square feet of space, another 100,000-square-foot facility for additional machining operations and its administrative headquarters. The original foundry has been around since the early 1970s. Established by its third ownership in 1991, Denison is a privately held company serving the aerospace, auto, defense, commercial, residential, transportation and entertainment industries domestically and internationally.
"We are a niche foundry in that the castings we produce are of a complex geometry; they're not the run-of-the-mill castings that anyone can produce," Ingram says. "All users of aluminum castings have, at some point in their process, a casting that would require a foundry such as ours. Some castings are easily produced, but with technology advancing, we can design more complex castings through the use of electronic modeling."
Engineering Manager Kai Hartman says the company is well equipped with sophisticated software programs specific to its industry. "We utilize technology that is available to foundries, such as MAGMA casting simulation software, and on the 3-D side, we use Pro/Engineer and basic AutoCAD for 2-D," he says. "With all these tools, we're able to simulate and predict what's going to happen before we ever cut chips on a mold or on a pattern. That's something being employed more and more in this industry today.
"But it also gives you a leg up over the some of the old maw-and-paw shops that don't have these tools easily available."
Becoming Diversified
Over the years, Denison Industries expanded its service capabilities to serve a variety of customer needs. "We're a foundry first and foremost in that we produce aluminum castings, but when customers want a turnkey operation from one source, we'll produce the casting and all post-casting operations such as machining, component installation and assembly work," Ingram states. "Then once the product is completed, we'll do pressure testing, and if needed, we have in-house impregnation capabilities, as well.
"Another large portion of our business is in converting multi-piece fabrications to one-piece castings where multi-piece assemblies, machined components and/or weldaments are redesigned as a one-piece casting," he continues. "Through concurrent engineering with our customers, it is highly possible to design and convert these types of fabrication into a one-piece casting. The end result of that is cost and production lead-time reductions. We have many success stories on just that."
For example, about eight years ago, one of Denison's customers was taking 90 different individual components and welding them together to create a one-piece component.  Through concurrent engineering with the customer, Denison was able to convert this 90-piece weldament into a one-piece casting. This ultimately saved the end-user – the U.S. Navy – approximately $2.5 million. The Navy awarded Denison an Aegis Excellence Award in 2003 in recognition of its ingenuity.
To China, Israel and Japan
Denison Industries is reducing its environmental footprint by investing in new technologies such as thermal sand reclamation and wastewater treatment. "We used to purchase 18 [million] to 20 million pounds of sand each year that would eventually be hauled away and dumped at the local landfill," Norch explains. "We now reclaim 97 percent of our sand, so our new sand purchases have dropped significantly.
"Because of the types of molds we use with hydraulic fluids and oils, and cutting fluids, all of that used to be contained and dumped," he continues. "Now, we run a reverse osmosis clay polymer and encapsulate. For every 50 gallons, we throw away less than a coffee can of clay capsulate. The water coming out of the treatment facility is cleaner than what we get in from our city water supply."
Denison's ISO and AS9100 certifications are proof that its commitment to quality is at the core of its business. It earned AS9100 certification last year after strategically increasing its focus on the aerospace industry. "From start to finish, our quality manager, Randy Hood, and his team achieved that certification in three months," Ingram says. "He and his team did an awesome job putting the documentation together and policies in place in order for Denison to obtain the AS9100 certification, which is an honor to have."
In addition to producing some of the most complex aerospace castings in the world, Denison has its sights set on the music industry. "Right now, we're in the prototype stages for what I would call a groundbreaking amplifier and speaker enclosure system that is going to go further than any previous boutique amplifiers have been able to, cutting the overall weight while specifically increasing tone," according to Norch, who is a musician himself.
The company also is exporting to China, "which is virtually unheard of in the manufacturing sector," Norch says. "We are also exporting to Israel and hope to be exporting to Japan in the next 18 months. Even though we've had two of the best years in our company history, we haven't slowed down. But with all the equipment and all of the things we buy to be more competitive and productive, and to reduce costs, we would not have any success whatsoever if it weren't for the human capital we have here."