The value of the printed word
Denny Bros Group is a print company that was founded in 1945 by brothers Douglas and Russell Denny, developing innovations such as the first multi-page label Fix-a-Form® in the late 1970s
It is fair to say that printing company Denny Bros Group has seen a number of changes since it was founded by brothers Douglas and Russell Denny. Indeed, the company itself was at the forefront in the Seventies when it invented Fix-a-Form®, the first multi-page label and since then it has continued to launch market leading products. Its reputation for innovation and quality has also been acknowledged with awards ranging from the Fasson Challenge Trophy in 1983 to the Anglian Business Awards in 2012. The company has also attracted clients through events such as the Packaging Innovations NEC and Olympia 2017 shows and The Print Show.
Managing Director Graham Denny has been tasked with maintaining the values of this independent, family-owned business, something that he personally feels passionately about: "There are always challenges including the threat of potentially disruptive technologies. Not surprisingly we are great defenders of the value of the printed word which we feel will always have a place whatever the technology used to produce it. The main thing is that we need to be willing to adapt to whatever gets thrown our way," he states.
Opportunities
In recent times Brexit has proven to provide both opportunities but also additional challenges, something that Graham is personally concerned about: "We have increased our export sales in an effort to take advantage of the favourable exchange rate and while this has brought some results most of our growth has come from UK based consumers," he explains.
While this is positive he goes on to admit that there is a downside to this: "The weak GBP has resulted in a significant uplift in material costs, which tends to result in reduced profit margins. Export sales to mainland Europe remain very important to us and from this point of view Brexit remains a concern as we have little more understanding now as to how it will affect our trade than we did in June 2016 when the poll result was announced," he cautiously outlines.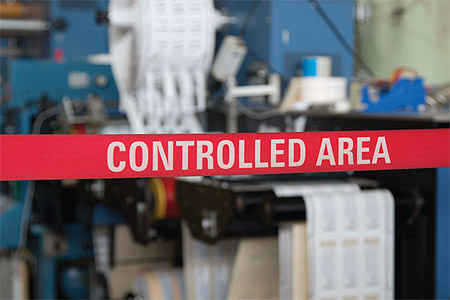 Expansion
One exciting development in recent times for the Denny Bros Group was the acquisition of the specialist name plate company Richard Ching & Son Ltd. "Richard Ching & Son has brought new capabilities to the group with their mix of traditional name plate manufacturing skills alongside more contemporary digital methods," Graham noted.
It seems appropriate that the Denny Bros Group has added another company with a family ethos to its group as this further emphasises a continuing commitment to quality: "We have experienced a very consistent level of demand for our Fix-a-Form® leaflet label products and for other specialist services such as RFID tagging, braille and printed medical devices," Graham proudly exclaims.
Denny Bros Group's products have been used in a diverse range of industries. For example, while its services are often in demand from healthcare providers, UK food and drink suppliers have praised its multi-label product as the labels allow them to display information in multiple languages, allowing companies to promote products and services to a wider range of potential customers: "Everything we produce is bespoke to meet a customer's exact needs. We can offer a very consistent level of service to our customers and also plan to have some spare capacity available at all times so we can respond to urgent needs if required," he says, showing how it can adapt to its clients' requirements.
Tradition is a big part of the group's ethos. However, it also recognises that adaptation and flexibility are important in the ever-changing printing industry: "We strive to introduce the latest technology wherever we feel it can improve our business. We have also focused on the efficiency of the front-end tasks of job processing such as order administration and file handling," he further elaborates.
Another example of how it has provided innovation is in becoming more energy efficient with over half of Denny Bros Group's energy from renewable sources including Solar PV systems as well as halving its carbon emissions over the last five years. However, Graham insists that this is not the end of the group's environmental commitments: "There is more we can do but we are very happy with the improvements we have made," he highlighted.
The future
It is fair to say that Graham Denny is cautiously optimistic about what is to come for the Denny Bros Group as he discusses what is to come in the next 12 months: "We have a flexible approach to business strategy, which has served us well over 70 or so years of trading. Many of our successes have arisen out of a willingness to take on an opportunity that has arrived at our door unexpectedly. We will take a chance on a new opportunity but we are not gung-ho. Our longevity as a business is due, in part at least, to a considered approach to risk."
An insight into what is to come for the Denny Bros Group and its customers was introduced on the 12-13th September at the Packaging Innovations exhibition at the Olympia exhibition centre in London where the group introduced a new exciting addition to its product range, the full-colour synthetic three ply multi-page label. Unique to Denny Bros Group, this new and innovative 'triple decker' synthetic label is a perfect demonstration of its world-leading technical expertise. "So far as we know, no other label producer in the world has been able to manufacture a product like this. The ground-breaking product means that all five panels with a virtually indestructible three-ply 'mini booklet' can be printed in full colour throughout, ideal for the cosmetics and agrochemical industries, as well as other chemical manufacturers," said Graham.
In short Graham Denny's insistence that traditional print media continues to have value in the modern world appears to be borne out by the demand for these new products. While the world is changing, it appears that a balance between tradition and flexibility will see the Denny Bros Group continue to have the last word.
Denny Bros Group
Services: Print specialists