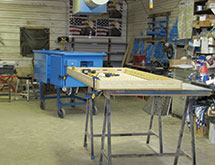 When working with wood, spaces can get untidy and even unsafe with dust that has been proven to be a carcinogen. For nearly 25 years, Denray Machine Inc. has helped clients make their workspaces safer with equipment that captures particles from wood, plastics and even finishing materials.
Based in Mount Vernon, Mo., Denray manufactures dust filtration systems, including downdraft tables, backdraft tables and booths. President and owner Dennis Rayon started the company in 1991 after operating his own woodworking business for 12 years.
When he started a second business, a client asked him to build a downdraft table. After finishing it, "It worked really well," Rayon recalls. "I was thinking, 'Wow, I would have loved to have something like that when I was in the woodworking business.'"
Rayon then changed the design of the table and brought products to the International Woodworking Fair in Atlanta in 1992. Although he enjoyed a boost in business, it was not until his appearance at the show in 1994 that he won a response that "was almost overwhelming," according to Rayon. "So we just hired on more help, progressed on and kept going."
Today, Denray manufactures 250 to 300 machines annually for a range of clients, including Gibson, the Nashville-based guitar manufacturer. "We have built them about 15 custom machines," and over 70 standard machines, Rayon says. "We also have built for the aerospace industry."
Custom Quality
Approximately 50 percent of Denray's machines are custom products for its clients. "Some of the other companies in our industry choose not to custom manufacture, but it's something we specialize in," Rayon says. "I don't mind designing equipment for their applications.
"We have built some weird applications for clients that nobody else would need, whether it be at a different height or a certain amount of suction in a certain place to do exactly what they want," he says. "Those are some of the odd things a person runs into."
Although Denray sells its machines through dealers, the company still works closely with its clients. "I'll find out what their needs and expectations are," Rayon says, explaining that he creates designs using 3D CAD software and shares them with the end-user. "I may send them 10 different views so they can fully see how it will work in their application."
Denray sees itself as a problem-solver for its clients, Rayon says. "That's one of those things we pride ourselves on," he adds, noting that the company offers technical support, as well.
"We'll talk and find out what they're doing and what they're not doing," he says. "Usually we can direct them in the direction where the problem is no longer a problem."
The company's hard work has paid off, since much of its work is for repeat clients. "Thirty to 40 percent of everything we make is for customers who already have our equipment," Rayon says.
Looking Up
Since 1994, Rayon has continued to attend trade shows and introduce new equipment. "It'd always be some piece of equipment that would be cleaning related," he recalls.
"Some were successful, some where not, but I always showed up until 2009," he continues. "When the bottom fell out, you couldn't develop anything."
However, things are looking up, Rayon asserts. "We've got some new designs in the kettle now," he says, noting that these include new types of filtration systems.
Denray also has escalated its methods of educating dealers about its products with videos and training. "We have got to educate the dealers [to the point where they] see the potential problem in their customer's facility and provide them the solution," he says.
It  also will keep working under tight government regulations. "Trying to maintain business around the government can be challenging," he admits. "There are too many times people in the government do not understand why people go overseas to see their equipment manufactured.
"Too many bureaucrats tried to make some rules and regulations that [gave us] some hoops to jump through," he says. "[If] they're not careful, they're going to be the demise of all of us."