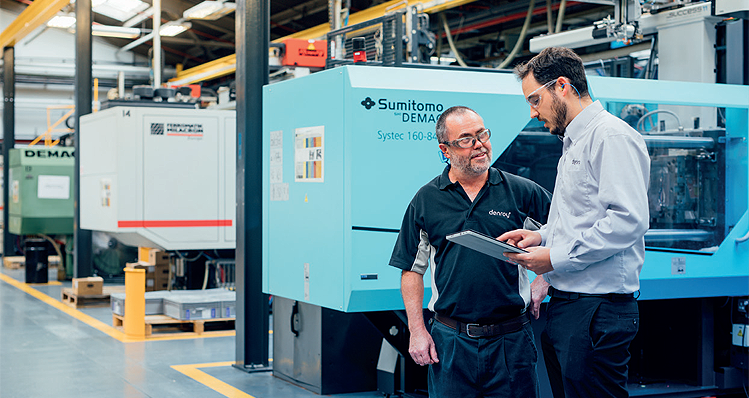 Masters of the hattrick
Now, through ambition, innovation and flexibility to respond to market demands, the Denroy family has expanded into three divisions and continues to strive for excellence in the injection molding sector
Although the Denroy Group has only been trading for 50 years, it has made some impressive moves across its operations. As it corporation that stretches threefold, to this day it remains privately owned by the Rainey family who have built their business on the ethos of durability, flexibility and innovation Kevin McNamee, the group's CEO, speaks with Manufacturing Today about the history of the Northern Ireland-based company and how it came to trade in not only hairbrushes, but also aerospace components and personal protective equipment.
"The core of what we do is plastic injection molding, which has consequently allowed us to diversify into different sectors. The most interesting one, in my opinion, is our Denman hairbrush. Effectively, the same hairbrush has been in production since 1938, which is quite remarkable," Kevin begins. When the handheld hairdryer surged in popularity in the late 1960s, so too did the need for a brush that could withstand the heat of the hairdryer. A gentleman by the name of Vidal Sassoon discovered that the Denman brush was excellent for blow-dried hair style techniques owing to its ability to not buckle under raised temperatures. This led him to
travel the world, sharing his insight into the results that could be achieved with the Denman brush; now known as the professional's choice. "We now have a whole range of brushes and combs. Because we are also now a consumer-focused business with increased direct online trading, this has allowed our products to become increasingly popular with the consumer as well as the professional. As manufacturers of a product with a strong brand, as well as trading through traditional wholesale models, we have undergone an interesting transition to a stronger e-commerce division, meaning that Denman has never been more successful. We now export to 60 countries worldwide, with our largest markets actually being North America, Japan is also a very large export market at this stage," he says.
Addressing challenges
Then there is the Denroy component. By the same technology of the plastic injection molding capabilities, Denroy is able to specialize in precision injection moldings primarily for the aerospace and automotive industry. "On that side of the group, we've become experts in processing more challenging materials, such as the polymers that have to withstand high heat pressures, or jet fuel. Denroy is certified to supply three major players in the aerospace industry, with those being Airbus, Bombardier and Boeing. Of course, the business is a bit more than injection molding, because we are also capable of providing design and we are working on a number of collaborative projects with Airbus on its 'Wing of Tomorrow Program' for innovative components for the next generation of aircraft. We have a substantial engineering team who are working on more long-term projects because this sector runs in quite lengthy cycles where an aircraft may come along every ten years, so it requires a significant investment and it takes a lot of patience," Kevin explains.
Although it may not be difficult to imagine, the company experienced quite the shock in early 2020, when aircraft across the world were instructed to remain grounded, resulting in the aerospace industry taking an unfortunate hit from Covid-19. However, Denroy saw this as an opportunity to maximize on its infrastructure to serve those working in the frontline to combat the disease. "During this time, there was also a scramble for PPE when hospitals suffered the first wave hit. So, we responded to that initially by manufacturing face visors for the NHS here in Northern Ireland. We immediately retooled and repurposed our machines and over the period of May through to August 2020, we supplied around one million face visors to the Health Service in Northern Ireland. That led us to create a new brand which we called Denpro. From there, we moved to develop a number of other products. The first of these was our reusable mask called the Bubl, which came about through an acute awareness of the plastics process and recycling issues that continue to be an important conversation, so we created a mask that was made out of a TPE polymer to make a flexible clear mask with exchangeable filters. The product was launched through the Denpro website in September 2020 and sold very well during that particular time when masks were becoming mandatory.
Collaborative working
"We then entered into a further dialogue with the Health Service in Northern Ireland regarding the manufacturing of FFP3 filtering facepiece-based masks, which are the fully protected masks that you see in health sector professions, particularly where there is a risk of Covid-19 exposure. Each health care worker has to be individually tested for a particular model of an FFP3. The reason being is that the mask has an individual profile, which means each worker has to be certified for a mask that fits their face. We then moved to the process of CE certification, tooling and understanding the manufacturing process in order to source the necessary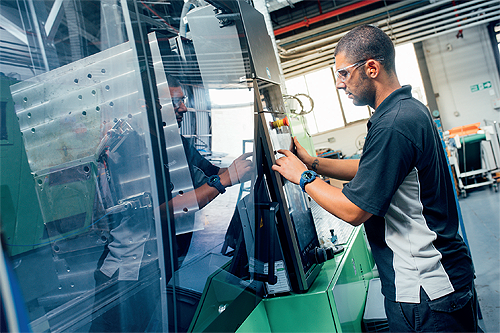 equipment. After having established premises and recruiting approximately 140 people to manufacture the masks, within 22 weeks, we had the facilities up and running to meet the product demand. Six months later, we are still scaling up and we are proud of this achievement," Kevin explains. As a result of its innovative and crucial work, Denpro is now producing five mill on pieces for the Northern Ireland Health Service. This product holds all the necessary British Standards Institution and CE certifications, enabling it to be exported into any European or UK nation. This success has seen the company double its turnover in the past 12 months, despite the headwinds of the pandemic. "Today, we are a group of 410, with a turnover set to be north of 30 million in 2021. We are delighted to have responded to the Covid-19 need, and very thankful for the role that we were able to play, particularly with the help of the Business Services Organization, which is a procurement arm of the Health Service in Northern Ireland who were instrumental in the product design through collaboration with us. They were the ones who brought in the clinical teams and we couldn't have done this work without them frankly, because they gave us the right feedback to design the mask to their exacting requirements," he shares.
With these impressive developments already in place, the business is well positioned to support its future visions, including a few new projects on the horizon. "Regarding Denman, there are quite a number of new products in the pipeline. For example, we're now able to offer personalized brushes. You can order a Denman brush with any individual image embossed onto the brush. We're like the Moonpig of hairbrushes! Denman is continuing to develop and innovate to provide the consumer with much more choice in terms of our finishes," Kevin says.
With a team of digital marketers who are adept and tech-savvy when it comes to social media, the group is quickly transitioning the business from a traditional manufacturer with a distributor and wholesale model, to a business that is pushing the brand towards its consumers. "That is really what I would call the Denman digital journey, which can be used across our markets. In addition, at Denroy our future is targeted towards collaborative research with the aerospace primes as well as with the large automotive companies where we specialize in collaborative product development to find solutions for challenging componentry. Denpro is also a high volume, large contract business, with an element of direct consumers because there are clients who will buy FFP3 masks online and also sell through their own retail channels. So, these are new elements that the future of our operations need to take into consideration."
Staff development
Although the values of the business are key as well, the essence of the group's success, as Kevin says, is not only owed to the breadth of capability it possesses, but also to the skilled personnel behind the name. "Because we are quite a diverse business, we have everyone here from the bright design engineers who can come up with product concepts and design right through to manufacturing engineers who can scale production, to marketing at the very far end and the e-commerce channel experts. When you think about it, we have aerospace design engineers who are working with concepts from scratch; the same goes for our Denman product designers who often begin with a blank canvas. So, they need to be the most creative and innovative people in the industry in order for our name to continue to be a leading brand in these sectors," he adds.
Not only is the Denroy team highly skilled, they are also well-supported to thrive in their chosen professions and Kevin also associates the consistent success of the business with the family-based culture that is prioritized at Denroy. By treating individuals with respect and by providing them with the authority to take responsibility for their work, and contribute their own ideas, the company is proud of how its staff has fueled the business forward. "In whatever way possible, we empower our people; we let everybody express their visions within reason and allow them to contribute to the business to their full potential. This means that there isn't a strict hierarchy; I spend a lot of time in the various departments and also on the shop floor talking with individuals to get to know them on a first-name basis. The reason for this is to maintain that family feel which has been evident here for the past 50 years. When people feel valued and respected, they're likely to enjoy their job more and therefore stay longer, which is something we work very hard to ensure. Our people are critical to what we do so we want them to know that they are valued, respected, listened to and appreciated and in my mind a lot of the success in terms of staff and development is simply because of that ethos," he exclaims.
Looking further ahead, Kevin is optimistic and confident that he will see the group double again to a 50-60 million turnover in the next five years through its three channels. Kevin is passionate about his company's capabilities in platforming its strengths as a diverse and versatile network. "When the pandemic hit, although the aerospace industry was knocked significantly, we took hold of other opportunities and that is what gives us those stand-out qualities. With that strategy of continual adaptability, I think diversity will remain our strength and we plan to continue to maintain those three core channels – Denman, Denroy and Denpro – certainly for as long as possible," he concludes.
Denroy Group
www.denroy.com
Services: Injection molding manufacturer