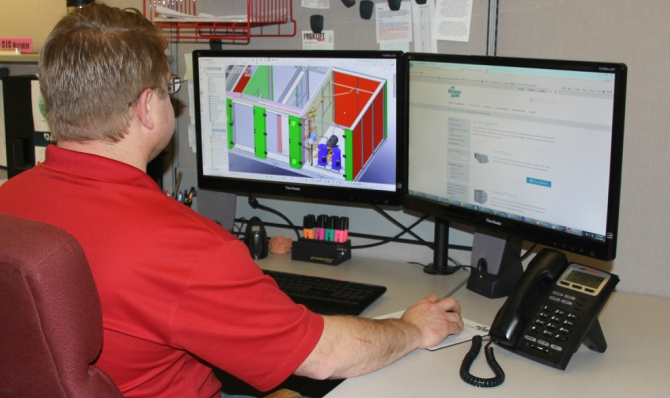 Humidity is a unique challenge for every building. A number of variables can impact the moisture within a space, from the local climate to the structure's purpose. Flexibility is critical to developing a dehumidifying solution – which is why even Desert Aire's standard dehumidifier product lines have 5.9 million permutations. That's not even including its custom products, which are built from scratch for specific applications.
When Desert Aire was founded in 1978, its focus was on solving indoor swimming pool dehumidifying applications for residential homes in the Milwaukee metro area. The company has since evolved its products to handle a much wider range of applications, from creating comfortable office environments to controlling the humidity in facilities where mink fur is dried. "If the need for dehumidification is part of what the customer wants, then we have an interest in talking," President Keith Coursin says.
New applications for dehumidifying emerge every year, creating more opportunities for Desert Aire's products. In recent years, the farm-to-table culinary trend and legalization of marijuana in some states has made indoor growing one of the leading emerging markets for dehumidifying. To better serve that market, Desert Aire launched its Grow Aire System in 2016. The dehumidifier helps growers achieve advanced environmental control for better crop yields and traits, while reducing energy consumption.
Indoor growing is, at its heart, a manufacturing process, but instead of assembling sprockets and gears into a finished product, the components that make up a growing operation are seeds, soil and climate. Whether they are producing a bean sprout or a marijuana plant, growers have rigid tolerances for the temperature and humidity of their greenhouses. A precise dehumidifier is essential to their operations. "The more you can control tight tolerances, the better their performance and quality is," Coursin explains.
Flexible Solutions
That kind of solution-focused innovation can be found throughout Desert Aire, including its latest product, a pool dehumidifier that is 25 to 30 percent more efficient than previous models. Regardless of the application, the company's goal is to deliver the most energy-efficient solution. "We've approach solving the dehumidification problem in different ways," Coursin says. "Our focus is moisture removal per kilowatt consumed."
The key to delivering an efficient dehumidification solution lies in the flexibility of the controls. By writing all of its own software, Desert Aire ensures the dehumidifier's controls can be fine tuned and tweaked on the fly at the job site to accommodate real-world conditions. "We've been very, very careful in how we design the controls so there can be adjustments," Coursin says.
Internet-of-things technology makes those controls even more flexible and efficient. By connecting its dehumidifiers to the internet, Desert Aire engineers can access performance data to guide customers through the adjustment process. "We've literally taken control of the machine from thousands of miles away and tuned it for them," Coursin says. "We're the experts. The more we can help them get their desired output, the better for all."
Being able to help customers from any location becomes more important as Desert Aire's market area grows. The bulk of the company's sales are in North America, but it has also done projects in the Caribbean, Middle East and Asia.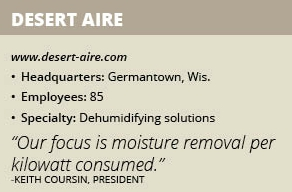 Each of those territories is served by Desert Aire's 115,000-square-foot headquarters in Germantown, Wis., which produces about 1,000 pieces of equipment each year. As that workload has increased, space has become a premium. To ease that crowding, Desert Aire last year reorganized its manufacturing floor to create better product floor, make room for new equipment and give workers more elbow room to operate.
Making that space available now will prepare Desert Aire for the future as it looks to increase headcount both in manufacturing and its office over a range of different disciplines. "The way we expect to continue to grow is to continue to work in the markets we're in and find new markets that need dehumidification," Coursin says.
Becoming Nimble
Just as it strives for efficiency in its dehumidifying solutions, the past decade taught Desert Aire how to do more with less. The Great Recession had a delayed effect on the company. At the time, Desert Aire was mostly involved with longer-term projects so it wasn't hit as suddenly and unexpectedly as other construction-related businesses. Desert Aire was able to adapt to the downturn in construction activity and decrease its workforce ahead of the impact.
The country's economic decline sent many companies into a panic, but Desert Aire found opportunity in the uncertainty. It took advantage of the slowdown in business to invest in lean initiatives and learn how to operate with fewer people. The company spent more time on documentation, developing procedures and creating feedback between engineering design and manufacturing. "We were still very much actively investing during the downturn," Coursin says.
Those efforts to improve efficiency ultimately led to improved failure and financial metrics, positioning Desert Aire to come out of the Great Recession stronger than it went in. "I think we became a much more nimble company because of it," COO Ann Johnson says.
Desert Aire's stability made it an attractive target for acquisitions as the economy rebounded. In early 2017, Multistack LLC, a manufacturer of chiller systems and heat pumps, purchased the company. The companies spent their first year together identifying opportunities to share resources. These included investing in automation equipment at Desert Aire's facility in Germantown, so that it can manufacture parts for both businesses that previously were sourced from outside suppliers.
Manufacturing parts for Multistack was a natural step for Desert Aire because the two companies are separated by only 160 miles and it takes just a few hours to move parts between the facilities. "The combined volume could easily justify together what they [Multistack] couldn't on their own," Coursin says.
Beyond manufacturing capabilities, Multistack and Desert Aire looked at common vendors to increase their combined buying power and are sharing best practices when it comes to control systems. With some of those smaller combined functions now in place, the companies have begun reviewing larger opportunities to share resources, such as a new ERP system.
Finding Talent
Although there have been some shared resources, Desert Aire has retained some independence. The company still has the same executive team and workforce from before the acquisition and Multistack has not changed its strategic direction. "I think a testament to how well it's gone under Multistack is how happy the employees are, how nothing has changed in a negative way," Johnson says. "
Keeping those employees happy has taken on greater importance in the face of increased competition for workers. Low unemployment and millennials' tendency to  frequently change careers have made it difficult to grow a qualified workforce. "You drive around our industrial park and everybody has a 'for hire' sign out front," Coursin notes. "In many cases, it can be a multi-month process to bring in a qualified individual."
When filling open positions, Desert Aire prioritizes soft skills over experience. The company is willing to train employees up to the quality level it expects, but Johnson says identifying people who show up on time and self-motivate is harder. Desert Aire has tried to approach the talent pool problem at its source by working with the local chamber of commerce to provide feedback to school districts and colleges about the wants and needs of manufacturers.
"We don't need a highly skilled workforce in manufacturing," Johnson says. "Really, what we look for is an attitude. We can train people to do well here."
Finding people with the right attitude helps to build the positive, customer-focused culture Desert Aire wants. "If your employees are happy and do a good job, then your customers will be happy," she adds.