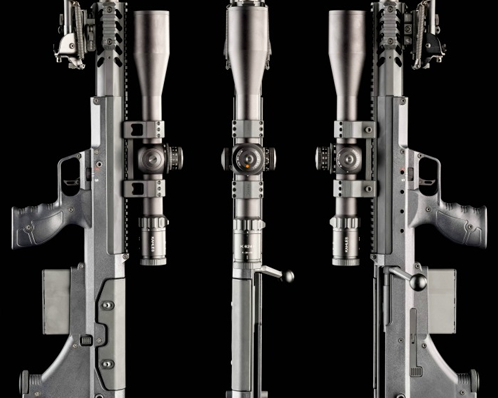 In less than a decade, Desert Tech LLC has earned a reputation for meeting its customers' expectations of precision and accuracy with its firearms. "We are the leader in terms of performance," COO Robert Luna declares. "There is no doubt about it."
Based in West Valley City, Utah, Desert Tech also provides ammunition and training for military, law enforcement and gun owners. "Our base is very demanding in terms of quality," he says, noting that the company works with clients around the world.
"Our technology is beyond everybody else's technology," Luna says, noting that the company is in the process of launching its latest product, the Micro Dynamic Rifle, which features a compact size and an ambidextrous design that allows the user to switch shoulders easily.
"We have been working very hard to make sure all of the testing has properly completed," he says. "We believe with the features of our product that the competition will not be able to keep up with us. The preliminary feedback from the industry is that it's one of those 'wow' [products]."
An Authority in Lean
A manufacturing operations expert, Luna joined Desert Tech nearly a year ago after working for top international companies including Procter & Gamble. "I have a significant background in business operations and manufacturing technologies," he says, noting that he also is a Six Sigma black belt certified in lean.
Luna is putting that expertise to use at Desert Tech, where he has implemented lean across all of its operations. "The ability to value-stream out our processes and optimize those value-added steps are critical," he says, noting the company also has implemented formal training and corrective action systems.
"We've also implemented a formal Phase-Gate process and that has definitely provided more robustness in our design and product launch efforts," he says, noting that the company has seen improvements "at the back end in terms of customer satisfaction."
Desert Tech has placed greater importance on listening to customers, Luna says. "[We're] taking that feedback all the way to the front line and making sure that all employees have an appreciation for servicing the customer," he says. "They know their responsibility in meeting the needs of the customer not only from a quality standpoint but from a delivery standpoint."
Thanks to these changes, "Our products are well vetted out by the time they hit a prototype phase," he says. "The ability to do a proper analysis up front will ensure that we mitigate risks and the products are going to be really functional."
Desert Tech has seen lead times improve as well. "When I got here, our lead time to deliver a product was 45 to 60 days," Luna recalls. "Now, we're turning products over in two to three working days. That's been a significant drop in serving the customers, and we're seeing [more] confidence in the field with the customers."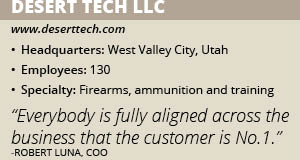 Recruiting Experts
Luna's initiatives include hiring more employees with backgrounds in lean. "That type of effort has been significant in the last six months," he says, noting that the company hired associates for its design, sustainment, and manufacturing and engineering departments. "We're probably up 600 percent in terms of investment in personnel in those areas."
When recruiting, Desert Tech looks for those "who have exposure to kaizen and understand that process improvement is part of their responsibility," he says. "It's not just another gimmick or another tool.
"Every day [for them] is plan, do, check and act," he says. "We're looking for people that have that type of background. They're going to provide a lot better, quicker input on how we can improve output."
But finding qualified people can be a challenge, Luna admits. "It has been for a number of years," he says, noting that Utah has one of the lowest unemployment rates in the United States.
Desert Tech's robust training programs for its production personnel will help mitigate and overcome those obstacles, he asserts. "We need to be training and preparing backups," he says.
The Lifeblood
Desert Tech strongly values its relationships with suppliers. "The suppliers are the lifeblood of our business," Luna declares. "We need to ensure that we're communicating properly with our suppliers, especially from a technical standpoint."
As part of this focus, the company implemented a new purchasing and supplier management team. "Over the last six months, we've brought in industry experts to build our supplier base to make sure we have the right base that can [make] on-time deliveries as well as [provide] quality."
Desert Tech also has developed kanban efforts with its suppliers. "They've been supportive of that," he says. "We're spending more time with our suppliers, [who] are at our site more often to make sure technical requirements are properly communicated to eliminate any confusion."
Growing Stronger
Desert Tech also focuses on management of inventory, Luna says. "We've implemented kanban across the business, but we still have a lot of work to do," he says. "We're seeing a lot of benefits in terms of identifying challenges upstream.
"The overall objective is to reduce inventory significantly," he says. "We're really focusing on that and working to get our inventory turns up."
But Luna is proud of Desert Tech's progress, as it has made shifts in culture and better met the needs of its customers. "It's paying dividends in terms of growth and awareness," he says.
This has helped ensure that when a Desert Tech product gets in a customer's hands, it is at the expected level of quality. "Everybody is fully aligned across the business that the customer is No. 1," he says. "That has really shifted our approach to the business."
Luna sees a strong future for Desert Tech. "We have a team here that has a lot of Fortune 20 background experience," he says. "We also have a lot of rapid growth experience in engineering and lean, so the sky's the limit for our business.
He notes that Desert Tech wants to leverage its advanced technology further into the market. "We could potentially be growing at 400 to 600 percent over the next five years," Luna says.