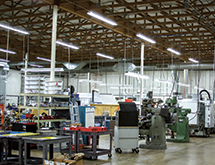 Educated extensively in business management, accounting and finance, Nicholas Young decided to use his education to found a company in 2007 that would build a better rifle. Without a design or engineering background, he has nevertheless designed with his three-man team several small, light rifles with modular designs that perform as well or better than their larger, heavier counterparts, he says.
"I've been a pretty big gun enthusiast since I was an early teenager," Young recalls. "I've been active in the shooting community and competitions, and competed on the pistol team of the University of Utah in the nationals. I was a self-made gunsmith and always was fascinated with firearms. I was really active in extreme distance shooting to distances of 2,000 yards – and I was getting pretty good at it. I decided I wanted to do something that utilized all my talents and something I was passionate about. So I decided to create a business plan for creating a better precision rifle."
Rifles consist of many specialized parts, so some are outsourced. "The guns and a couple of the accessories we make in-house," Young says. "We're probably producing about 50 percent of the parts in-house. We used to do it all, but with the volumes that we need to make now, we're forced to outsource some of it."
Parts Formed
To reduce weight, many components of Desert Tech rifles are aluminum. "Most of the support structure is made out of aluminum – the receiver and the hand guard," Young says. "Most of it is extrusions. We extrude the profile to minimize the amount of waste material. We buy extrusions from extrusion houses – it's a specialty. We do some drilling and some four-axis milling for the aluminum stuff."
Parts that receive high amounts of friction and pressure are made out of steel, such as the bolt head, the bolt body, the striker and the firing pin. "The firing mechanisms have to handle higher pressures and higher mechanical stress," Young points out. "We use several different steel alloys. We try to use stainless for most of the parts for the corrosion resistance, but stainless isn't strong enough to withstand a lot of the pressures. So that's what decides if you use stainless or a carbon-grade steel."
Steel parts are formed mostly from bar and tube stock and machined on a lathe. Parts that touch the user, such as the grip and cheekpiece, are made of plastic. "We don't injection-mold those ourselves," Young adds. Parts are spray-coated in-house and aluminum parts are sent out for anodizing.
Manufacturing Improvements
A recent improvement in manufacturing equipment at Desert Tech's 35,000-square-foot plant in West Valley City, Utah, is a new large horizontal mill. "Our products and processes and the way we're operating are really more innovative," Young declares. The company is practicing lean manufacturing techniques and using just-in-time inventory systems.
"The production of parts is still very labor-intensive," Young concedes. "The horizontal mill is the most efficient, but all the other stations are pretty labor-intensive." Assembly of the completed firearms is a mostly manual process.
As a razor company makes more money selling blades, Desert Tech also manufactures the ammunition its firearms use.
"We're trying to create a seamless system that works right out of the gate," Young explains. "We manufacture the ammunition. We produce some components, and we also buy other components and assemble our own loads and recipes that work better than anybody else's."
Quality Control
When dealing with firearms, quality control is critical. "We have a quality control department that is secluded off in its own building in a separate area," Young says. "We have a CMM, gauge pins, optical comparators, hardness testing and all that kind of stuff. Those are for materials received. Everything that is received gets a certain percentage inspected depending on how tight the tolerances have to be on the part."
Each finished firearm is function-tested by being fired. "We have to go to a local firing range," Young says. "We have a relationship with them. They let us go on the days they're closed." Usually, from 20 to 50 rifles are tested at a time, although during busy periods, the number tested can be more than 100.
 Demand Increasing
The backlog of orders for Desert Tech firearms has been increasing. "We have a big backlog," Young concedes. "Our internal goal is to be able to supply firearms within 30 days of when they are ordered, but this last year, it got out to 11 months of lead-time because demand increased. So we had to increase our production."
That is a problem that is better to have than its opposite, but Desert Tech is working hard to shrink its backlog. "We do a lot of forecasting," Young says. "We try to produce what we think the market is going to demand. We pretty much have a six-month production cycle from the time we order the materials. Not all the parts take that long, but a couple of the parts take quite a while to actually get in. We really have to do a good job of forecasting, but right now, forecasting is easy because we're making as much as we can. So we just order the maximum."
A crucial part that is outsourced are rifle barrels. "It's like the engine on a car," Young asserts. "It's pretty tough to find good places to make barrels, so you really have to have good relationships with them and give them as much of a heads-up to try to get them on time. Some of the extrusions also take quite a while." Desert Tech also sells firearm accessories that it obtains from other companies.
Young attributes the company's success to the innovation of its products. Desert Tech's new MDR rifle was recognized as one of the top-five most innovative products at the Shot Show last January in Las Vegas.
"We really throw convention out the window when we're doing our designs," he maintains. "We really tried to just take the core components that make a rifle function the way it needs to and then wrap it in a frame and skin so we can minimize the size and weight. We have a really innovative product that appeals to people and is the future of rifle systems. We're able to position ourselves separate from everybody because our designs are very innovative and better than everybody else's."