The perfect package
deSter captures each customer's unique style and individual needs to deliver cutting edge, user-friendly and functional packaging
Since its foundation in 1973, designer and manufacturer of food packaging deSter has enjoyed steady success thanks to its ability to understand customer requirements and deliver tailor-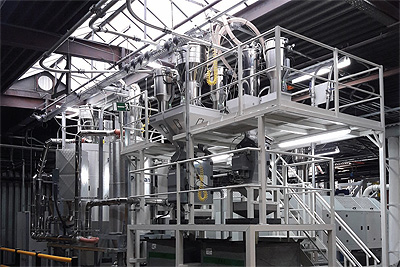 made solutions. Boasting in-house manufacturing that is specialised in thermoformed and injection molded plastics, cutlery packs, condiments and aluminium products, the company produces light weight items that are not only sustainable but also the highest quality.
"For many years, we have been certified in BRC packaging and BRC food, and maintain a focus on quality to the extent that BRC is a way of life within our company. Our main activities are in thermoforming, injection molding and printing, which takes place at our two production sites that are based in Belgium and Thailand. At our Belgium factory, we have four extrusion lines, 21 thermoforming lines and 44 injection moulding machines. In our facility in Thailand we have ten assembly lines," explains Marc Van Doninck, Manufacturing Director at deSter.
"Our strength stems from having all activities under one roof and the fact all automations are custom-made for production by our own engineering department in Belgium. The benefits of having tailor-made automation is that we stay a step ahead of our competitors as we can remain flexible without being hindered by the limitations of machines in the market."
Split into categories, products available to customers include cold meal solutions, which includes dishes and plates that are suitable for chilled or frozen storage, takeaway containers and hinged boxes, customised options that include the addition of embossed logos, colours and textures, sealing applications and complementary lids. Other options include hot meal solutions, rotable solutions, beverage solutions, service trays and traymats, cutlery and cutlery packs, condiments and premium tableware. The latter includes chinaware, glassware and stainless-steel cutlery, as well as a wide range of crystal and sodalime drinking glasses.
This range of offerings is complemented by deSter's approach to business of discover, define, design and deliver. In the discovery phase, the company combines in-depth knowledge and industry experience, with a passion for market trends and innovation, to ensure it is prepared for the most unique or complex of challenges. Working alongside the customer, deSter defines a clear brief as both firms work towards objectives and deliverables, which thus results in the best food packaging solution. Progressing onto design, the company welds content with functionality to deliver appealing products. During this phase, its dedicated team of designers and engineers translate the briefing into reliable and efficient product concepts, and use advanced technologies to turn drawings into lifelike prototypes.
Always aiming for the perfect balance between look and feel, cost, functionality and environmental impact, deSter goes on to translate the well-defined concept into real products that meet the most stringent quality standards. With global in-house production capabilities, the company provides flexible and smooth production and delivery of the requested solutions, while offering full customer support. "This one-stop-shop solution enables us to customise for every customer as we go from concept to end product and deliver everything in between," highlights Marc.
By approaching business through these four key phases of work, deSter has gained an enviable reputation and strong customer base, particularly in the airline packaging and food service market. "Around 65 per cent of our business involve developments specifically for the airline sector, with the remaining 35 per cent caters for the food service industry," says Marc.
"For the airline business, we deliver a one-stop-shop service. This service starts with a creative idea from the airlines, or our design department, and goes from concept through to finished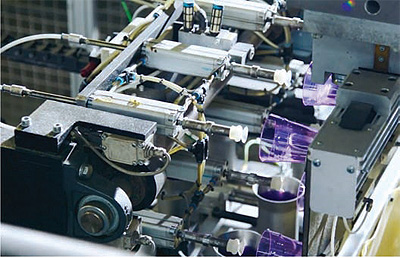 product; we can customise the solution for every customer. Within the food service sector, our customers include leading Quick Service Restaurants as well as various food processors for ready-to-go meals."
In response to being awarded a major contract, deSter recently invested two million euros in new injection molding production lines, which include several new machines complete with the automation to produce cutlery and cutlery packs. The new production lines are currently being installed and will become fully operational later this year.
This investment will enable the company to further strengthen its capabilities as a one-stop-shop for disposable and rotable plastic food equipment for customers in the food service sector seeking off-the-shelf products or customised, fully tailor-made packaging solutions.
"The fact that we're able to provide our customers with complete in-house design and production solutions, starting with a creative idea all the way to a finished product, truly differentiates us from our competitors. This has not gone unnoticed by our customers as in the last three years we have grown 30 per cent, with an average growth of ten per cent annually. In order to sustain this growth, we're continuously investing in state-of-the-art equipment and automation" says Marc.
With sales offices in Amsterdam, Atlanta, the US, Hong Kong and Bangkok, the company is keen to continue its trend of success by taking on more projects in its main business segments. "We want to maintain our leading position in the market for airlines and challenge our position in the food service," Marc concludes.
deSter
Products: Design and manufacture innovative and functional packaging