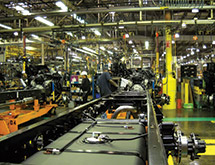 Detroit Chassis LLC provides more than just vehicle chassis and automotive components to one of the nation's best-known brands – it also offers hope and opportunity to a city in need.
The company, located in Detroit's Renaissance Zone – which offers tax-free status to businesses located there to encourage economic development – is as concerned about hiring local people and supporting community organizations as it is manufacturing quality products.
"We are committed not just to delivering joy to our customers, but improving the economic situation of the community we serve," Vice President of Business Development Anderson Dobbins says.
Detroit Chassis takes an active role in business development efforts, cleanup campaigns and programs that build character and work skills in area youth. The company supports a number of community organizations including the National Association of Black Suppliers Scholarship Fund, Children's Aid Society of Southeast Michigan, the Michigan Black Chamber of Commerce, Junior Achievement, the United Way, Boy Scouts of America and Habitat for Humanity.
A number of assistance programs are also offered to the company's employees, including the services of social workers. Dobbins says this is a source of pride for the company.
"There's a lot of momentum for turning the city around, and being a part of that is something we're proud of," according to Dobbins. "It will take an entire generation of time to turn the city around, but we're here for the long run."
Expanding its Reach
Detroit Chassis produces rolling chassis and complex subassemblies and modules for the automotive industry. The company's sole client is Ford Motor Co., which uses its parts as the basis for recreational vehicles as well as commercial step vans, medium-duty trucks and cars including the SVT High-Performance Mustang. RV chassis make up roughly 70 percent of its total business, Dobbins notes.
The company recently opened a second facility in Avon, Ohio, that will concentrate on manufacturing chassis, rear axles and wheel assemblies for medium-duty work trucks such as the Ford F-650 and F-750. RV and commercial step van chassis and additional components including front end and corner modules for the SVT Mustang are manufactured in Detroit. The Avon facility is projected to reach full production capability by August.
The new facility reflects the company's ambition to diversify its offerings and customer base both inside and outside of the automotive industry. "What we're looking to do is continue to grow our business through strategic business alliances and strategic customers," Dobbins says. "We want customers with whom we can have long-term business relationships like we've established with Ford. We want to take our competency in value-added assembly and apply that to other markets and other customers."
The company hopes to add another major customer this year. Detroit Chassis would provide this prospective client with sub-assembly and other services. "This customer is looking for someone to help drive efficiency, as well as someone who can bring process engineering and efficiencies to their value stream," he adds.
Quality and Velocity
Detroit Chassis strives to balance automation with manual processes in its manufacturing operations. "When you heavily automate, that restricts your ability to handle product complexity," Dobbins says. "We have the ability to find a sweet spot between automation and human interface in a cost-effective structure."
The company can adjust its processes quickly depending on volume, and can work on several different configurations of chassis within the same manufacturing line. Lines are also adjusted several times a year to accommodate new products. "The RV industry is one of the most innovative in North America," Dobbins adds. "Every year, manufacturers have to come up with new products or they will lose out to their competition, and the chassis is the foundation of that."
Detroit Chassis' manufacturing operations are heavily influenced by lean methodologies. The company collects data on a number of metrics on a real-time basis. "We are a data-driven organization dedicated to learning and continuous improvement," Dobbins says.
The company takes a just-in-time approach to its inventory, much of which is owned and managed directly by Ford. Parts are typically turned over between three to four times weekly. "Trucks are constantly coming in and out," he adds. "Our facility is small relative to the size of our product, so if we didn't have that kind of velocity, we wouldn't be able to fit all the products we make in our facility."
All of Detroit Chassis' products are inspected and tested. The company is so confident in its quality processes that it manages the warranty performance of the entire vehicle beyond just the chassis. The company is ISO 9000 certified and is pursuing TS 16949 and ISO 14001 certification, Dobbins notes.