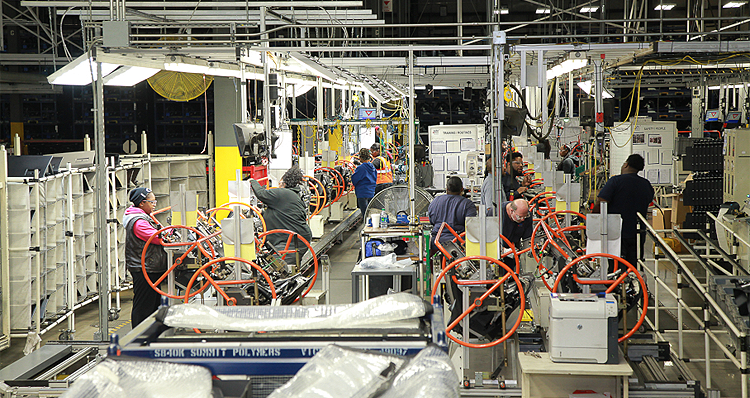 Detroit Manufacturing Systems
Detroit Manufacturing Systems enters 2019 with a new leader who is committed to investing in the latest technology and diversifying its customer base for continued growth.
Detroit is the birthplace of the American automotive industry, affectionately known as "Motor City." In 2017, more than two million cars and trucks rolled off 11 Michigan assembly lines. Including suppliers like Detroit Manufacturing Systems, there are more than 1,600 automotive-related manufacturing establishments in Michigan.
"In 2012, Detroit Manufacturing Systems launched a new large-scale manufacturing facility within the city limits for the first time in decades and is helping to revitalize the city through significant job creation," says Bruce Smith, majority owner, chairman and CEO. "We are a modular assembly company that focuses on instrument panels and center consoles for the automotive industry; however, we have the ability to easily migrate into other product lines because we are a process-centric firm as compared to a product-centric one."
Smith became the new owner of Detroit Manufacturing Systems in July 2018, purchasing the majority share with the goal of taking the company to the next level. "The previous owner created the growth curve from start-up to $1 billion in revenue and now we are in growth phase 2.0," Smith says. "I've spent a number of years in private equity and I'm used to coming into companies that are significantly struggling, so this time I actually have a refreshing tailwind. My mission is to take something great and make it even better."
Smith was attracted to Detroit Manufacturing Systems because of its solid reputation. "The team here is extremely capable and prides itself on being part of the revitalization of both Detroit and Toledo, Ohio, where we opened a second location in May of 2017," Smith continues. "Because our facilities are in underserved areas, we are bringing employment to the areas that sorely need it."
Growth Phase 2.0
As a contract manufacturer, Detroit Manufacturing Systems does not design products, but rather serves as a "build-to-print" manufacturer utilizing a high-velocity assembly system that allows it to deliver flawless products to its customers on time. "We are really good at what we do but we aren't perfect yet. To this end, we are passionately dedicated to mistake-proofing all
of our manufacturing processes so that our customers never receive a defective part," Smith emphasizes.
Detroit Manufacturing Systems manufactures more than one million instrument panels, also known as cockpits, per year for the automotive industry. The company receives up to 500 various parts from its supply base and meticulously assembles them into full cockpits, which are tested for functionality, like ensuring the radio and navigational system work properly, before shipment. While its facility in Detroit predominately services Ford, the Toledo facility chiefly supports FCA – products from Detroit Manufacturing Systems facilities are installed on the customer's most stalwart models.
Looking toward the future, Detroit Manufacturing Systems has fully embraced Industry 4.0. "The team is building upon the great work already done in recording and displaying real-time production data by striving to make our plants even 'smarter' by integrating and embedding more technology into our manufacturing processes to better monitor performance and predict trends so we can decentralize, accelerate and improve decision-making. In many cases, we will be able to predict and prevent failures that lead to, for example, unplanned downtime" Smith says. "In addition, we aim to use new technology, like cobots and Light Guide Systems™ to make our production stations more user-friendly and ergonomically sound."
The aforementioned Light Guide System™ is an augmented reality tool that makes factory floors smarter and safer. The system consists of cameras and lights that shine on the parts showing the steps needed, in sequence, to precisely assemble a part when it arrives at the station. "It standardizes the process and alleviates the operator from having to memorize a multitude of steps," Smith notes. "One of our challenges is that when we hire new people, they may not have a manufacturing background and they can easily become extremely anxious trying to learn so much. The Light Guide System™ is as a faithful companion who provides on-the-job, real-time training and removes any and all anxiety by walking them through the various steps."
In addition, Detroit Manufacturing Systems also plans to launch its first cobot this year that will work in close proximity with its manufacturing staff. "The robots will not replace anyone, but will help people do what they do today more efficiently," Smith says. "The cobot will also lighten the operator's workload, making for a more comfortable and less stressful work environment."
Smith is also launching what he calls growth phase 2.0, which aims to double the size of the company over the next five years. In support of this, the company is increasing its capacity which includes significantly increasing the number of injection molding presses it has to more than 30. Detroit Manufacturing Systems is also seeking to diversify its customer mix by moving beyond Ford and FCA. This includes helping their partner, Faurecia, by serving as a lower cost assembly house for them in areas beyond the current scope of the joint venture. "We welcome any opportunity to help them across their entire product portfolio, but today we are only helping them within the Interior Systems group," Smith notes. "We will grow by further supporting them."
Community Focus
Detroit Manufacturing Systems' stated principles call for a R.I.C.H. culture and G.I.F.T.E.D. people. The RICH culture comprises of being Respectful, Innovative, Committed and Humble. "In terms of innovation, we point to the Industry 4.0 initiative as our major thrust. We have people who are deeply committed, which is best represented by a number of people who catch multiple city buses to get here – in all types of weather," Smith adds. "The values pertaining to having GIFTED people are: Gratitude, Integrity, Fun, Teamwork, Excellence and Diversity. When it comes to our people, we strive to create an environment where everyone can be the boldest, best and most authentic version of themselves. We pride ourselves on taking care of each other via servant leadership."
The company is located on the northwest border of Detroit near the Brightmoor neighborhood, which Smith says was once a thriving working-class area that fell on hard times and is now hoping to come back. As a pillar in the community, Detroit Manufacturing Systems is working to revitalize the area with employment opportunities and by giving back.
Detroit Manufacturing Systems hosts manufacturing days, where local high school students visit the company annually to gain exposure to the possibilities of careers in manufacturing. The company uses this opportunity to grant scholarships and raffle off items like flat screen TVs, laptops and gaming systems. The company recently pledged to partner with Detroit's Heroes' Alliance, whose goal is to build a community of resourced and empowered individuals who use education as a path to success. As a partner, Detroit Manufacturing Systems will provide summer internships to several students who are enrolled in the program. "We also sponsored a nearby daycare center last Christmas and provided a wonderful array of gifts for approximately 30 children," Smith says.
In 2019, Detroit Manufacturing Systems plans to develop an investment fund where it will identify a direct investment it wants to make in the community. "We are not sure yet what that will be," Smith says. "We may participate in a Habitat for Humanity type pf project where we find a home, fix it up and award it to one of our employees or maybe we'll sponsor the start-up of a local business. We are reaching out to some of the local churches and institutions to find out what the community needs most. We are big believers in helping others."