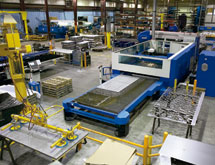 Detroit Tool Metal Products
Founded in 1947, Detroit Tool Metal Products (DTMP) is a full-service manufacturer of precision metal stampings, fabricated components and value-added assemblies for an array of end-markets and applications. The company is well known for its production of standard and custom steel and aluminum components for OEMs, as well as for engineering support.
One of a few independent manufacturers in North America that can meet the size and quantity needs of many end-users, DTMP's manufacturing capabilities include heavy tonnage up to 1,600 tons, deep draw up to 16 inches, large bed sizes up to eight feet by 12 feet, and thin and thick gauge inputs. Today, the company is looking for ways of expanding its metal manufacturing operations.
Firmly Established
DTMP has three manufacturing facilities and one distribution facility in Lebanon, Mo. It has been an ISO 9001 supplier since 1994 and obtained TS/ISO 16949 certification in 2011. Target markets for its metal manufacturing services include the heavy duty Class 8 truck market, the agriculture market, the construction market, and the commercial/industrial markets. Major customers include companies like John Deere, Paccar and Caterpillar.
"We have extensive capabilities that can provide customers with full service and value-added solutions," President Brad McKean says. "We can do everything they need here so they don't have to go to multiple suppliers. We have good proximity to our customers, and our reputation and focus on excellence means people want to work with us."
McKean says DTMP's customers are looking for value on products that are built to order. That is why the company's design-engineering capabilities and vertically integrated manufacturing platform are critical to DTMP's success.
"Our engineering and launch group looks to provide suggestions and solutions on ways things can be done better," McKean explains. "We are always trying to get better in terms of vertical integration and controlling the quality of components by doing more in-house."
Having already established a strong presence in the agriculture, construction and heavy truck markets over the last 65 years, DTMP is actively searching for ways to expand its ability to serve existing markets and reach into new ones. McKean says the energy sector is a new market that the company is extremely interested in penetrating.
Branching Out
One of the ways the company believes it can increase opportunities is by expanding its heavy gauge facility. Having received an economic development grant from Missouri and a financial assistance award from Lebanon, the company is moving ahead with an expansion project that will add 40,000 square feet to its heavy gauge facility and allow it to invest in new capital equipment. This expansion should help the company increase revenues with current customers, enter new markets, enhance core competencies and diversify its customer base.
"We'll be able to expand our heavy gauge business line, become more vertically integrated, maximize product flow and minimize overall product cycle time," McKean says. "Tool and die capabilities are other additions we'd like to make to the company to help us be more competitive."
As for opportunities with current customers, DTMP is hopeful about the future. McKean says there is the possibility of growth for business with John Deere, and DTMP has a long-term, partner-level agreement with John Deere. He also notes that Paccar is coming out with a new engine to attract new customers, and that opportunities exist to establish added business with Caterpillar. All of these factors will be beneficial to DTMP's relationships with established clients.
"We have an extensive list of customers and markets that we drive toward," McKean says. "We've done a good job of improving our quality and delivery, and we're leveraging that with our current customer base so we can get new opportunities at the same time that we're knocking on doors and pursuing other industrial, commercial and energy markets."
Part of ensuring continued prosperity for DTMP is focus on its employees. McKean says much of the work in the company's manufacturing facilities is highly specialized, and he acknowledged that specialists such as heavy press operators and machinists can be hard to find. However, focusing on putting people first, investing money in training and ensuring that employees can be flexibly deployed puts DTMP in good position to adapt as customer demand changes.
"We treat each person as a team member and promote continuous improvement," McKean says. "We solicit ideas from our people and treat them as part of our team because they create our success."
The bottom line for DTMP is to live up to customer expectations that have become more stringent. Customers expect zero defects and on-time delivery. This is why DTMP puts a lot of effort into improving internal systems so it can balance out volatility and reduce response time. Outside consultants have been brought in to help link and sync processes, which allows the company to respond to customer changes and demands in a more timely fashion.
"We pride ourselves on paying attention to customers and providing the best products," McKean says. "That provides us with a lot of repeat and additional business. Our vision is to excite our people, customers and shareholders."