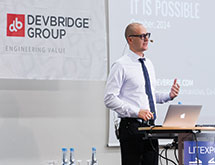 Devbridge Group was estab- lished out of what its founders saw as a necessity nearly seven years ago. Five technology consultants formed the company after bonding over their shared frustration with the mediocrity of project delivery quality. "We were all working in different areas of the technology industry and noticed that projects were always delayed or had budget overruns," co-founder and President Aurimas Adomavicius says. "We started the company with a belief that client value should come first and that transparency and accountability should be the driving forces behind our organization."
The Chicago-based company was formed in 2008 as an international digital product design and development firm that builds comprehensive, custom products for enterprise mobile and web for category leaders in manufacturing, healthcare, financial services and retail. With a staff of more than 100, Devbridge Group produces more than 150,000 engineering-hours annually, building custom cloud-based and mobile solutions for mid-market and enterprise companies, including Mazak.
"We accelerate the delivery of digital projects to market for enterprise companies," Adomavicius adds. "Large organizations, including manufacturing companies, come to us looking for user experience-driven software development. The software we build could be a mobile app, a SaaS platform or a portal that we design with a dedicated product team using agile project management."
Building Software
Devbridge Group is a metrics-driven company that created a signature process called the "Blueprint" to guarantee delivery of projects on time and budget. It combines lean requirements, story-mapping sessions, user workflow sessions and rapid prototyping onsite to quickly ideate around solutions together with stakeholders. "A majority of the time, manufacturers know what problems they have from an operational standpoint," Adomavicius says. "They know they need to solve the problem, but they don't know what software or devices to use in solving it. Our process helps them become creative."
Story-mapping sessions involve gathering stakeholders in one room to write short requirements on Post-its. The stakeholders' short stories are meant to be simplistic, incremental pieces of functionality for whatever solution the client is building. This approach allows the company to involve stakeholders in solving the problem. "We have a delivery accuracy of around 90 percent, meaning that the products are on time and on budget," Adomavicius notes. "That's a really good number in the software industry – building great software is a really challenging process."
Devbridge Group is very transparent throughout its process and has created a signature application called PowerUp that allows clients to see the staff assigned to their project, as well as the time people are putting in on a day-to-day basis down to 15-minute increments. "We take a lean approach to accelerate our speed to market," Adomavicius says. "A concept or prototype can be created in several weeks and then validated by the client before an expensive production phase begins."
Investing in the right people is critical at Devbridge Group. "I believe the workforce is self-curating," he adds. "Strong people attract strong people and those who don't fit in with the company culture slowly gravitate away."
Increasing Efficiency
The proliferation of smartphones and tablets is forcing manufacturers to think differently and adopt technology quicker, Adomavicius believes. "I think velocity to market is becoming critically important," he adds. "Manufacturers are seeing incredible progress being made by China and other emerging markets. There is a lot of competition in the industry and using technology as a differentiator becomes crucial."
Connected smart devices are proving to be a real value for manufacturers to capture data from the field. User insight from smart devices provides immediate data to make educated business decisions. Devbridge Group's field service software called ServiceOps allows technicians to be more efficient because they can take an iPad into the field and perform maintenance or repairs without a stack of papers. The software, for example, can electronically create work orders, capture signatures and collect payments, eliminating time fumbling through paperwork.
"This is just an example of some of our technology that gives large manufacturers much more control that promotes better service," Adomavicius says. "This technology accelerates how quickly they can complete a project or solve challenges in the field. Having connected devices can also generate a lot of insight in terms of product design."
Gaining Ground
In the future, Devbridge Group plans to continue growing and expects to have a total of 250 employees by the end of 2016. Today, the company offers its clients general software products and customized software, but performs most of its work as a consultancy building customized software. Devbridge Group plans to put more energy into developing product software to offer a healthy mix of services.
"In terms of the industry, I think we are going to see more and more integrated devices out there that will offer more insight, workflow optimization and data being captured," Adomavicius says. "I think some manufacturers don't have that insight or visibility into how products function and this will present an incredible opportunity for direct and immediate feedback into how a device is performing, how the customer is interacting with it and what challenges they are facing."