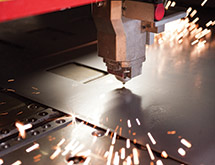 Today, DeWys Manufacturing is known for its state-of-the-art sheet metal fabrication capabilities, but the company's beginnings were about as humble as they could be. Founder Mark DeWys started the company out of a small red barn in western Michigan in 1977. His brother, President Jon DeWys, says the enterprise was a one-man operation in those early days, focused on a modest but diverse range of work. "We just started out making small little products like fireplace inserts, wood racks, wood stoves, and we got into some very light repair work and welding," DeWys says.
The company wasn't confined to that barn for long, however, and now DeWys Manufacturing is one of the leading sheet metal fabricators in the Midwest, with a client base that remains diverse to this day. DeWys says the company's broad customer base is one of its greatest advantages, one that has helped the company weather the storms of the manufacturing sector for the last 37 years and beyond.
From its facility in Marne, Mich., DeWys Manufacturing provides full-service precision sheet metal fabrication services. Its capabilities include laser cutting, turret punching, bending and forming, welding, machining, powder coating, and product assembly. The company's products are shipped throughout the Midwest as well as the rest of the United States.
Diverse Strength
As it was at the company's very beginning, DeWys Manufacturing continues to maintain a diverse and broad range of customers, serving more than 160 companies in multiple industries. "We've always stayed very diversified, and that's something about our history that remains today," DeWys says.
No single customer of DeWys Manufacturing accounts for more than 10 percent of the company's overall sales, and DeWys says this suits the company just fine. By having such a diverse and extensive clientele, he explains, DeWys Manufacturing is better insulated against downturns in the market than fabricators who concentrate on serving fewer customers or focus on just one or two sectors of the marketplace. Right now, for example, the company is moving into more work for the power generation sector, and its presence in the medical market continues to grow. It was the company's diversification that allowed it to bounce right back once the recession took hold a few years ago, DeWys says.
Committed to Lean
Another significant advantage working in the company's favor is its commitment to lean manufacturing. DeWys says DeWys Manufacturing has been on its lean journey since the late 1990s, and its continuous improvement team has been focused on finding new efficiencies every single day.
This company's commitment to lean has proven to be a difference-maker for DeWys Manufacturing in serving many of its varied customer bases. For example, DeWys says, making products for various medical companies means the weight of products is always a concern. With medical companies looking for ways to keep the weight of products down, DeWys Manufacturing looks to its lean specialists to find ways to shave ounces off its products without losing their strength or effectiveness. DeWys says automation is one of the primary methods through which the company realizes its lean goals. "We're getting amazing results," he says.
DeWys points to the company's inventory turnaround as evidence of its lean prowess. According to DeWys, DeWys Manufacturing turns its inventory over an average of 22 times year, compared to four or five times a year on average for its competition. "That just bodes well for our lean journey that we're very efficient and very fast," DeWys says.
The company also continues to invest in the latest and most advanced technology in the market, and DeWys says customers are frequently blown away when they visit the company's facility.
Much of this is driven by the company's overarching philosophy of being a leader rather than a follower. Laura Elsner, workforce development, says that's a philosophy that comes directly from the top. "The owners here, Jon and [Vice President] C.T. [Martin] are very big in believing that we should be leaders in the industry," she says.
An Exciting Time
DeWys Manufacturing continues to work toward that goal, specifically in terms of finding and recruiting the best and the brightest from the labor pool. DeWys says it can be difficult to find people with the right training and the right work ethic, so the company has established DeWys University to give people with the proper work ethic the skills they need to make a difference for the company.
With these pieces in place, DeWys Manufacturing stands to benefit from more manufacturers bringing their business back to the United States after offshoring for many years. "We see a lot of opportunities coming our way now," DeWys says. "It's an exciting time for us."