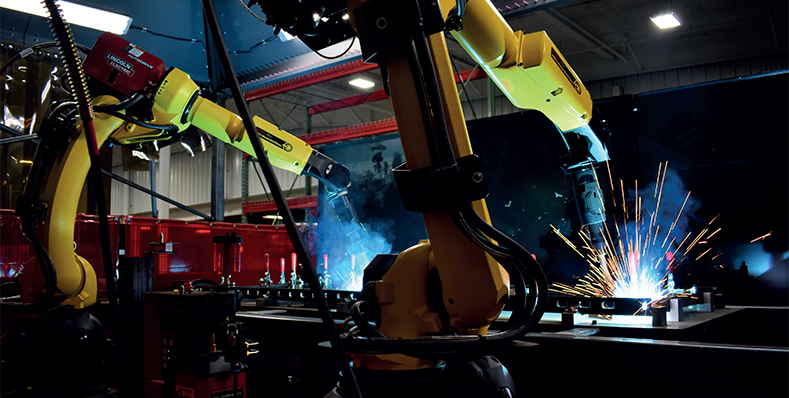 More than the metal
DeWys Metal Solutions is looking forward to next year when it will celebrate 45 years in the fabrication business. In the buildup to this milestone, the company reflects on how its success has been welded together by a dedicated crew with an exemplary craftsmanship
Mark DeWys strongly believed in being involved in his community and investing in the lives around him. When came his untimely passing, his company saw it fit to continue those values and pursue an enriched culture that prioritizes high quality work and customer service. "Mark was an incredibly hard-working individual. He started this business from a little red barn behind his family home and now DeWys owns a 130,000 square foot manufacturing facility. None of that would have been possible without his guidance and leadership," begins Mark Schoenborn, the current President of DeWys Metal Solutions.
Based in the rural outskirts of Marne, Michigan, DeWys is one year away from celebrating its 45th anniversary as one of the leading turnkey metal fabricators in the US market. "We are a contract manufacturer making a difference. We have invested largely in automation and robotics technology because we're highly enthusiastic about maintaining our pioneering innovation. We cover the usual laser forming and welding, but, above that, we also have full powder coating and contract manufacturing capabilities, which is quite a unique feature for contract manufacturers," Mark explains.
Whether the job requires manufacturing or production, the business has invested a substantial amount of money to be a leading competitor in the metal sector and has subsequently included in its inventory six additional lasers, with fully automated cutting equipment. "We also have automated forming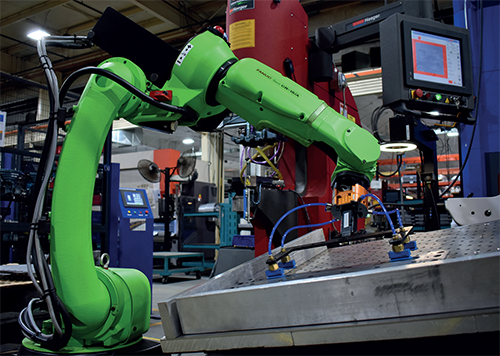 capabilities including eight to ten fully automated robotic welding cells, with collaborative robots that conduct fastener insertions, tapping, grinding and powder coating. This is where the majority of our growth comes from, so we've really honed in on automating a large portion of our processes to make for more efficient business," says Mark.
Unique university
He continues to add that at the moment, the industry is suffering from a talent shortage and the pool from which to recruit skilled staff is quickly drying up, which is why DeWys is transitioning more and more of its facilities to robotics. Therefore, with the efficiency of this plan encouraging a greater revenue, the business has been fortunate enough to expand its operations. "We've incorporated a 50,000 square foot manufacturing facility named ReFab Metal Fabrication that supports diverse metal fabrication capabilities, which was purchased in the fall of 2020. It is equipped to handle similar operations that we do at our main location, with the addition of even quicker turnaround times.
"Recently, we also launched a new company called DeWys Stainless Solutions, where we offer our dedicated equipment, team members, and resources that are focused on high quality steel and aluminum. Since we kicked off those operations, business has absolutely exceeded our expectations, and we have seen a great deal of growth in that department. We are also always looking at other services like laser welding, tube bending and processing, but in my opinion, the launch of DeWys Stainless Solutions is our most recent success when it comes to the DeWys Metal Solutions companies" shares Mark.
Alongside the company's impressive cutting-edge technology, the ultimate feature that Mark is incredibly proud of is the DeWys University which was founded by Jon DeWys, CEO of DeWys Metal Solutions. The educational program consists of five on-site trainers who are assigned to support both new team members and upskill those already in their tenure. This, he feels, is also DeWys' approach to combatting the difficulties the industry faces in recruiting qualified staff. "Their full-time job is to provide training and advancement opportunities for new and existing team members. It's also designed with a classroom-type setting, and a hands-on shop floor that provides crucial experience for those looking to make a career of this trade. I believe the University is such a unique facet to the business, and gives us the ability to support different curriculums for our core processes," he says.
Moving away from the technical side of the business, and onto the company culture, Mark emphasizes that one of the elements that the leadership team at DeWys has worked stringently to refine is its core values. "About four years ago, we began working more intentionally to focus on our culture, ethos and staff promotions. In doing so, we introduced a robust recognition rewards program, which is called ACCT, and stands for 'Advancement, Character, Customer Astonishment, and Talent. Above that, we advocate in team transparency; we do monthly shop meetings, and we communicate our successes and challenges frequently." However, what Mark really appreciates about this strategy is that it has taught the company how to celebrate each other's achievements and encourage an atmosphere of value and support.
These methods seem to be paying off as for the past three years, DeWys has been named 'Best and Brightest Company to Work for in West Michigan and the Nation'. "It is a testament of our people, the work that they're doing, and our measures to ensure that we bring in the right people who fit our values. Furthermore, we received our MedAccred certification, which is a new global certification for the medical industry, that has proven to be quite difficult to receive, which is why I am incredibly proud that we have this under our belt as well," he expresses.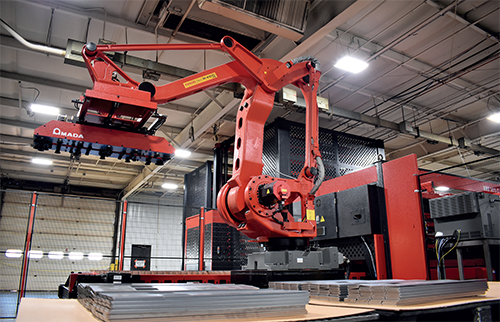 Passionate people
According to Mark, an additional practice that DeWys put in place to help regulate the company's inspiring culture is through hosting anonymous and confidential 'stay interviews' on a regular basis, rather than focusing on the negatives of an exit interview. "Although we still do some exit interviews, we choose to redirect our resources to finding out why people choose to remain with DeWys, what they like about the company, areas that we are succeeding in, and whether there are other aspects that we could be strengthening. We share those findings with our leadership team at our monthly meetings, and it helps us refine what we do from a personnel engagement standpoint. I think that engaging with our teams and understanding their values is so important. Our people could go and work anywhere, but I believe our passion to create a company in which our employees feel honored is what really sets us apart," he shares.
Having nurtured a united and dedicated culture that inspires the DeWys team to support each other through the highs and lows, the company was able to pull together during the turbulence that was Covid-19. "Thankfully, we were deemed an essential manufacturer due to some of the products we produce going directly to the medical field. We were one of the companies that helped build many of the medical beds that were being used in makeshift triage centers. Our team really came together and put in ridiculous hours to help as best as they could. This resulted in us working seven days a week, 24 hours a day to keep up with the manufacturing and powder coating demands. We faired quite well considering everything that happened in conjunction with the production, such as managing the safety of our team, and trying to prevent a break-out from happening within the factory."
Focused future
There was an instance, Mark explains, in which a key customer reached out to DeWys seeking urgent assistance. "It was during a weekend, and they called to let me know that more beds were needed immediately. So again, our team worked seven days a week, there were long nights, some weekends – an excessive amount of overtime, but everybody played their part and did a fantastic job. I really believe that situations like that test the character of your team and their values, and that was a real testament of who we are; they really stepped up. It was an unbelievable achievement that we could be involved in of some of the refurbishing and production for the people that were ill," he adds. Although Mark acknowledges that it was quite a challenging time, he is pleased with the group's efforts and considers himself blessed to be working with the dedicated DeWys team.
Now, as the industry stabilizes its footing once again, DeWys is expecting a stronger season of growth over the next five years. "We will be taking on further acquisitions and introducing multiple capabilities and resources. I also think that DeWys Stainless Solutions will be well recognized as a great addition to the business. At the moment, it's expanding beyond what we could have imagined, and we are excited about the direction that it's heading in."
He finally concludes by sharing that DeWys will keep diversifying its offerings, with a focused reliance on customer feedback. Taking into consideration what has already been put in place to maintain the company's success, Mark is hopeful that the next five years will be just as fruitful as the last.
DeWys Metal Solutions
www.dewys.com
Services: Metal fabrication