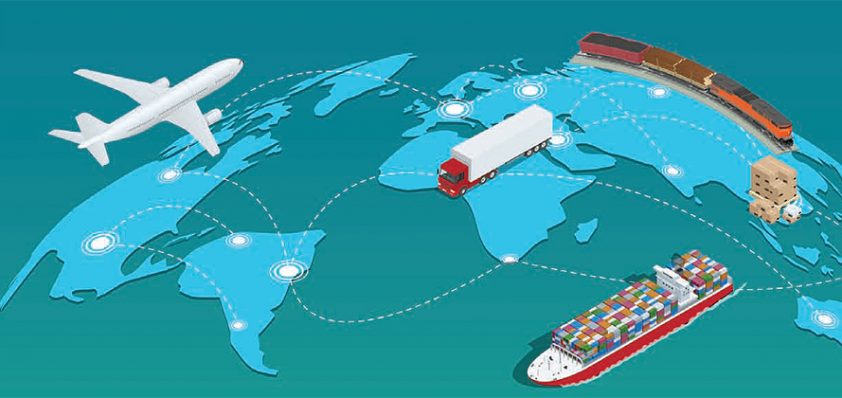 Freight expectations
As a fast moving and innovative logistics partner, DFDS Logistics ensures a more flexible and cost-effective supply chain to its broad customer base
Enabling trade and travel since 1866, DFDS provides efficient shipping and port terminal services, as well as transport and logistics services to more than 8000 customers in Europe. The company also provides safe overnight and short sea ferry services to more than six million passengers.
Offering access to the widest, most reliable integrated shipping and logistics network in Europe, DFDS Logistics provides freight forwarding, supply chain and logistics solutions as well as multimodal transport across road rail and sea. Managing end-to-end supply chain solutions, DFDS Logistics provides customers with third and fourth party contract management and supply chain solutions; this service is available to a wide range of industries that require a more efficient, flexible and cost-effective supply chain. In a rapidly changing world, third party logistics (3PL) solutions provide customers with services such as transportation, warehousing, cross-docking, inventory management, packaging and freight forwarding. These tailored 3PL services meet the demand of a number of industries that include automotive, forest products, chemical and seafood thanks to integrated systems that deliver end-to-end vis bility across the whole supply chain.
For customers seeking a more streamlined and efficient solution, the company also offers 4PL solutions; this includes all of the 3PL services as well as DFDS Logistics' team taking on full responsibility of network analysis, consultancy, planning and project management – all of which is from a single point of contact. Focused on reducing overheads and maximising efficiency and reliability, DFDS Logistics is commited to continuous improvement; as markets fluctuate the company is well-placed to further optimise the customer's supply chain so their business is then better prepared for market changes. Offering insight and expertise, DFDS Logistics manages people, processes and technology to deliver smooth operations that can be relied upon.
Aware of the importance of enabling a business to react swiftly to changes in market conditions and product demand, DFDS Logistics' supply chain management ensures each customer benefits from a responsive and forward-thinking logistics partner. Serving 20 countries in more than 30 offices, the company provides timely communication, proactive teamwork and the availability of industry-specific specialists to clients, all of which is backed by a European network of strategically placed terminals and hubs in locations such as Gothenburg, Esbjerg, Vlaardingen, Immingham and Dunkirk.
Within these strategic locations, DFDS Logistics provides warehouse management for a number of industries. Able to distribute unitised cargo and heavy project cargo, the company also ensures food grade, safety and quality thanks to HACCP/BRC certification and multi-temperature warehouses. For example, DFDS Logistics has reefer warehousing, which is dedicated warehousing, blast freezing and distribution for the fish industry; for these services, it has more than 14,000 square metres of temperature-managed warehousing and nine depots in seven countries.
Proud to provide customers with a responsive and forward-thinking logistics partner, the company implemented a new warehouse management system (WMS) at its warehouse and distribution facility at Whittlesey, near Peterborough, in 2014. Designed to consolidate service levels provided to a major customer, a multinational food manufacturer, the Empirica WMS from Chess Logistics Technology works with realtime handheld equipment from Touchstar Technology to allow incoming pallets of items to be received by barcode scan before it is put away according to the system's instruction. Customer-delivered products are received by scanning barcodes on a standard SSCC label; the WMS is also able to specify when products require additional scans to capture all of the required data that may not be available from a single barcode.
Following this development, the WMS system was interfaced with the client's SAP solution, which will improve the performance of distribution through the delivery of 100 per cent receipt accuracy while also streamlining the existing dispatch order processes; this operation also saves on labour and lowers the amount of paperwork. When integrated with the customer's in-house SAP team, the WMS system provides real-time transaction updates, as well as 100 per cent supply chain stock data at an enterprise level.
Complementing the operations of DFDS Logistics is DFDS Freight Shipping, which serves more than 8000 shipping customers and provides over 550 weekly freight shipping departures. Delivering high frequency operations and superior customer care, DFDS Freight Shipping never forgets that each customer's efficiency depends on its own efficiency, and thus delivers the most reliable freight-shipping network in Europe.
In 2015 DFDS saw an increase of 108 per cent in comparison to 2014, a significant level of growth that stems from investment in customer focus and the continuous pursuit of efficiency in all operations. By focusing on these core activities, the group benefited from growth in key markets and achieved record profits. Moving forward, DFDS is certain to further boost efficiency and growth following an announcement in September 2016 that it will be adding two freight ferries to its fleet of almost 50 vessels in 2019. More than 40 per cent bigger than the biggest ships it currently has, these energy-efficient ships will be able to carry 450 trailers; the vessels will also boast a unique ramp system to load and discharge cargo in a short amount of time.
With these vessels due to arrive in the coming years, DFDS Group remains an organisation at the forefront of shipping and logistical operations.
DFDS Logistics
Products: Freight shipping services from collection to final destination