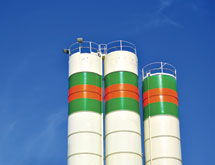 When asphalt contractors need more expertise than their operations possess, Dillman Equipment Inc. says it is there to help. "The ability to assess situations and quickly, efficiently present solutions and perform tasks necessary to get [clients] back on line rapidly is the measure of Dillman's service department," it states.
Based in Prairie du Chien, Wis., Dillman offers asphalt plant equipment, including storage silos, coldfeed systems, recycle systems, baghouses, dust silos, transfer conveyors, plant controls and control houses. The company is a division of Astec Inc., a subsidiary of Astec Industries Inc., which acquired Dillman in 2008.
Dillman also offers field service and strives for excellence, it says. "As a division of Astec Inc., the Dillman service department stands behind all Dillman equipment with service after the sale," it says.
The company adds that its service teams have expertise in plant and equipment setups. "The knowledge and experience of team members will greatly reduce new site or retrofit installation costs," it says.
An Outstanding Addition
A source of pride for Dillman is its advanced dryer and flighting system. "Constructed from the highest-quality materials and loaded with advanced features, our custom dryer system is an outstanding addition to any asphalt facility," the company says.
The DuoDrum dryer system can solve asphalt contractors' problems, including high fuel costs, uneven drying or undesirables in the stack, Dillman says. "This system can actually boost production while reducing temperatures by as much as 200 degrees," it adds.
This can provide customers with fuel savings of 20 percent or more, Dillman says. "The key is our unique flighting system," it says. "Dillman's engineers configure all our flighting systems to produce the optimum veil pattern across the entire cross-section of the dryer, maximizing heat transfer to the material. This reduces cost and substantially increases production."
Perfect Plants
Dillman's line of asphalt plants includes the Stationary DuoDrum, a high-production, low-maintenance production facility. "The system is capable of producing asphalt at unheard-of rates with high recycle percentages and super-low emissions," the company says.
However, the secret to its performance, Dillman says, is that it separates the drying process from the mixing process. "This allows for increased tonnage rates without the issues that face conventional drum mixers, such as blue smoke, stripping and inconsistent mixes," it states.
It also sells the Nomad portable asphalt plants, which are available in three sizes for production capacities of 80, 130 and 175 tons per hour. "Intended for portability, durability and reliability, Nomad plants meet the demands of a variety of small, medium and large projects that require quality, hot-mix asphalt," the company says.
The plants feature cold-feed bins, a dryer/mixer baghouse, a drag conveyor, a surge bin and an air-conditioned control house. "Nomad plants are designed and built in the USA with proven results around the globe," Dillman says. "[Users] can depend on [their] Nomad plant to produce high-quality, hot-mix asphalt with a minimum of upkeep for years to come."
Leader in Hot Mix
Based in Chattanooga, Tenn., Astec Inc. says it is the world leader in hot-mix asphalt equipment technology, support and training. Additionally, it is the only North American manufacturer that offers a complete line of portable, relocatable and stationary asphalt plant equipment, along with soil remediation equipment and wood pellet plants.
Astec began as a start-up in 1972. "Through listening to our customers and understanding every aspect of their business, we are able to provide new products that solve problems and increase profitability," it says.
"To date, Astec Inc. holds approximately 53 U.S. and 20 foreign patents," the company says, adding that it has more than 440,000 square feet of manufacturing and office space in Chattanooga.
In addition to quality products, Astec specializes in service. "The company dispatches its service personnel all over the globe to help set up facilities and train operators," it says.
"Six technicians staff the call-in service department and offer technical assistance and troubleshooting for hot-mix plants, even if the customer's problem does not involve an Astec plant," the company says.