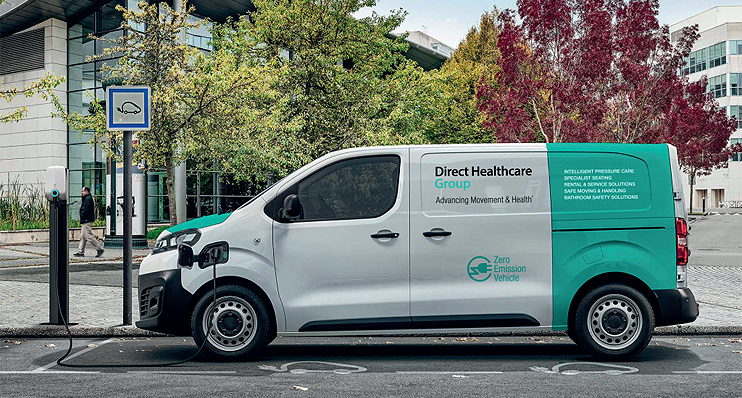 Moving on up
One of Europe's leading manufacturers of medical products for patients with limited mobility, Direct Healthcare Group is experiencing a tremendous increase in turnover following a surge of growth for the healthcare sector
Movement is fundamental to human health and quality of life, and no-one understands this better than Direct Healthcare Group. A UK-based, pan-European developer and manufacturer of innovative products that focus on early mobilization, the Group strives to prevent healthcare challenges associated with non-movement. Cognitive of the role movement plays in rehabilitation, and the relationship between physical and mental health, Direct Healthcare Group and its brands work closely with healthcare professionals to enable better health outcomes, accelerated recovery and easier daily living.
"At Direct Healthcare Group, we address healthcare challenges associated with reduced patient movement, anticipating, managing, and in many cases, resolving to support care providers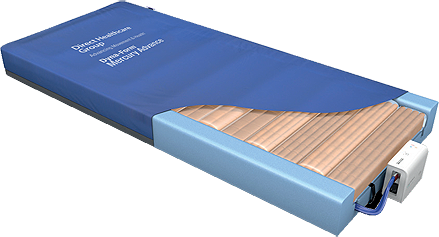 and those they care for," declares Group CEO Graham Ewart. "Benefitting from the expertise of seven specialist subsidiaries, we provide pressure care management, moving and handling equipment, specialist seating and bathroom safety solutions for patients in hospitals, acute care environments, residential care homes and private homes."
On a steady trajectory of international growth since 2018, Direct Healthcare Group currently has a direct presence in six European countries and exports its products to a further 35 nations worldwide. The Group has also expanded internally. As of 2021, Direct Healthcare Group employs over 600 people.
"We currently hold a 15 per cent market share in Europe for our sector across pressure ulcer prevention and patient handling, which is a huge achievement, and one that should be celebrated," Graham says. "Our success is supported by substantial production capabilities, which continue to grow. In 2018, we had two manufacturing sites located in the UK, whereas today we have three manufacturing sites in the UK, two in the Netherlands, one in Sweden and one in Finland."
Investment in innovation is a significant part of Direct Healthcare Group's growth strategy, so much so that 40 per cent of the Group's revenues stem directly from its own patented products – many of which have won prestigious industry awards. With its products in use in care and home environments around the world, Direct Healthcare Group is proud that its innovations continue to transform the way healthcare is provided and increase the life-quality of patients in their thousands.
Perhaps the best example of Direct Healthcare Group's life-changing health solutions is the Group's flagship product, the Dyna-Form Mercury Advance. A two-in-one system revolutionizing the way in which pressure ulcer prevention is delivered, the Dyna-Form Mercury Advance is a powered hybrid mattress that acts as both a pressure redistributing static mattress and a pressure relieving alternating mattress, with the simple addition of a pump. The result is that patients don't need to be moved from a static mattress to a dynamic alternating mattress as their risk level increases. Instead, patients are placed onto an appropriate therapeutic mattress much earlier – helping to drive down pressure ulcer incidence rates – and there is less need for patient handling, which reduces stress on the patient and frees up time for carers.
"One of the largest studies on pressure ulcers to-date saw over 500,000 patients placed on over 4000 Mercury Advance mattresses across 12 NHS sites," Graham reveals. "Following the implementation of the Dyna-Form Mercury Advance, it was found that the mattress led to a 56 per cent sustainable decrease in pressure ulcer incidence rates, drastically improving patient health outcomes and health economics.
"Given the success of the Dyna-Form Mercury Advance, our R&D facility is now developing this product further and will be releasing a new updated system later this year. It's a unique, market-changing technology, which we are extremely excited about and think will revolutionize the healthcare sector."
As a prominent and highly respected member of the healthcare sector, Direct Healthcare Group has played a key role in the UK over the past 12 months as the nation battled the Covid-19 pandemic. Working with 35 Trusts across the country, the Group equipped the NHS with over 3000 surfaces and beds during the crisis, in addition to providing emergency rentals and equipment to four of the Nightingale hospitals.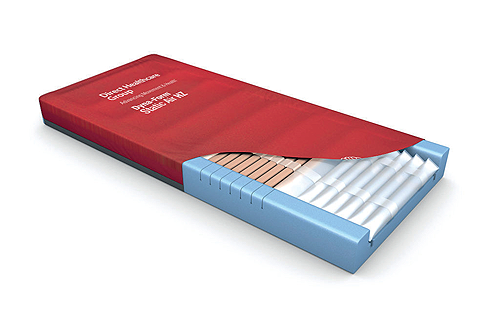 "Covid-19 presented extraordinary challenges for both our business and the healthcare sector as a whole, but our position meant we were able to navigate the turbulence effectively and adjust to the changes," Graham states. "Overall, we saw an increase in demand from March to May as the pandemic took hold, followed by a softening in the summer, and then another surge in the winter. We typically experience an annual surge in our Service and Rental line each year due to NHS capacity pressures, which occur every winter, but this was exacerbated by the Covid-19 pandemic in 2020 and the department became the fastest growing part of the business in the UK.
"We saw speed of provision become crucial in the sector last year, and demand for specialist products dropped in favor of standardized equipment that could be provided urgently. While the past year has been challenging, I am pleased we have been able to move forward with our original strategy focusing on entering different markets, cross-selling products and becoming a truly international group with pan-European operations."
Resilient and quick to adapt, Direct Healthcare Group and its supply chain remained efficient and sustainable throughout the pandemic, meaning the organization and its suppliers did not suffer any profoundly negative effects of the crisis. In fact, Direct Healthcare Group was even able to recruit new staff to its Research & Development Department. In order to continue fostering innovation, the Group grew its R&D unit from just two people to a team of 19. Similarly, in Caerphilly, Direct had previously been out of work for more than six months.
"Caerphilly, which is home to our headquarters, is an area renowned for high unemployment rates – 5.2 per cent against an average of 4.2 per cent across Wales and 3.9 per cent across the entire UK," Graham explains. "We're really proud to have remained in the area and we're now one of the biggest employers there, with over 140 colleagues in Caerphilly alone.
"We also strive to embed a culture of innovation through the company," Graham adds. "Our employees benefit from a number of training courses, including Team Leader Training and Business Improvement Techniques (NVQ), and we also sponsor team members to undertake qualifications including undergraduate and postgraduate degrees. Recently, we were awarded an Investors in People accreditation, in recognition of the high standard of support and development we provide to our employees.
"Finally, we collaborate with organizations across the world on product research and development, including the Welsh Wound Innovation Centre, a global hub of exD facilities. Being able to offer our employees access to world-class resources and in-house training is essential to us and supports our mission to be leaders in innovation."
Part of Direct Healthcare Group's efforts to innovate and modernize have seen the Group take steps to ensure that the delivery of its rental and service operation is sustainable and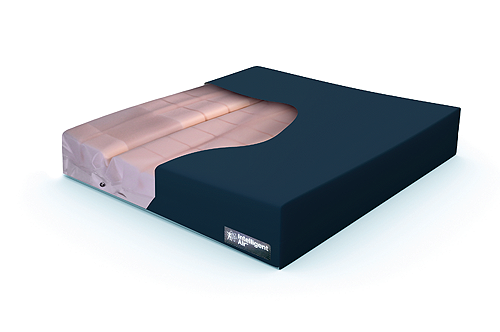 environmentally friendly. At the heart of this initiative is the introduction of an electric fleet in place of the Group's current conventionally fueled vans.
The new Peugeot e-Expert vans are fully electric, zero emission vehicles providing a substantial environmental benefit within a portfolio that traditionally requires high volume logistics and movement of key medical equipment. The move will directly benefit the global push towards net-zero emissions by 2050, and a reduction in emissions by 50 per cent before 2030, as proposed by the United Nations.
"We have seen momentous growth within our rental and service operations over the past five years, which, in turn, has led to an increase in the number of vehicles in our fleet making deliveries of rented equipment every day," Graham remarks. "We recognize the serious implications this has and have taken the critical first step in creating greener, more sustainable rental delivery for our customers. I would hope that this change sets a precedent within the industry, with similar providers following suit in order for us all to have the greatest impact."
Direct Healthcare Group's success in 2020 in the face of such difficult circumstances earned it fourth place on the 2021 Sunday Times HSBC International Track 200. In April 2021, the
Group went one better and secured top spot on the Sunday Times BDO Profit Track 100. One of the key drivers behind this rise up the rankings has been a highly positive trail of acquisition for Direct Healthcare Group.
"The Covid-19 pandemic presented a number of opportunities for us, and we were able to accelerate our business strategy as a result," Graham reports. "Accelerating our M&A strategy, we acquired a number of robust companies, which allowed us to transform our offering, cross-sell and benefit from expertise in markets that we are not yet established in.
"We have acquired five companies in the past 13 months, including Handicare Patient Handling Europe and RoW, which led to international expansion, Swedish GATE Rehab Development, Finland's innovative pressure area care company Carital, Dutch patient handling designer and manufacturer United Care, and Talley Group Ltd. This acquisition strategy has allowed us to remain resilient during the economic turbulence of 2020 and stay relatively well-insulated compared to other sectors."
Forecasting a turnover of £89.4 million for 2021 – a 49.5 per cent growth increase from £59.8 million in 2020 – Direct Healthcare Group remains in a strong position for continued expansion in the years ahead. Just like the patients benefiting from its solutions the world over, the Group will keep on moving.
"We are on target to become the number one in Europe in enabling patient mobility and independence," Graham says in summary. "Over the next 12 months, we will continue to focus on product innovation and geographical expansion so that clients can always look to us as a market leader."
Direct Healthcare Group
Products: Medical products for patients with limited mobility
www.directhealthcaregroup.com