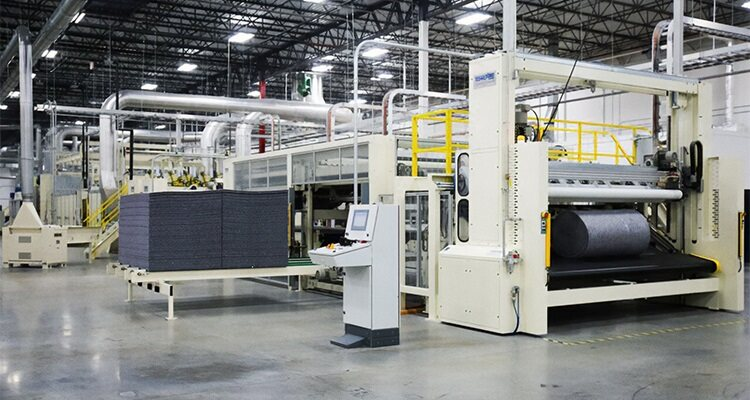 Discover how National Spinning/Carolina Nonwovens pioneers circularity across its operations 
When brothers Philip and Carl Leff established their yarn manufacturing business in 1921, their primary focus was on providing New York's sweater trade with high-quality wool yarn. So, the brothers established their first manufacturing plant in Jamestown, New York, giving birth to National Spinning Co., Inc. Ltd – now a leading USA-based supplier of raw white and fiber-dyed short staple and long staple spun yarns. Current CEO and President of National Spinning, Jim Booterbaugh, tells us about the company's successful expansion and acquisition of Carolina Nonwovens.
"In the 1960s, the Leffs decided that manufacturing was a little bit more economical in North Carolina. They moved the operations there, including the corporate office, and that's where the company has been ever since. Over the years, it has continued in the yarn manufacturing arena, but expanded beyond wool into acrylic, nylon and polyester," he begins.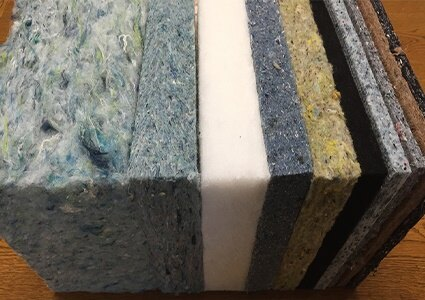 However, as global situations changed, this innovation was not enough to keep the company afloat. "The textile industry in the United States was booming, probably like it was in England, until the 1980s. At which point, more products started coming from other places around the world – particularly from the Far East – and the demand for US textile yarns peaked and then started to recede.
"In the early part of the 2000s, we recognized that we had a declining business on our traditional textile side, and that we needed to do something to bolster the company's future in the face of increased competition from imports. We did our research and discovered that the nonwovens industry in the United States was growing consistently at an eight-to-ten percent annual rate," he continues.
It was this realization that pushed National Spinning to investigate expanding its business and begin manufacturing nonwovens alongside textile yarn. "Subsequently, we looked at a little operation called Carolina Nonwovens that at that time was in Lincolnton, North Carolina and decided to purchase that instead of developing a new one. The acquisition was completed in 2012. Since then, as anticipated, the nonwovens business has consistently grown as a result of partnerships with strategic customers, and the ability of the company to support growth opportunities with lightweight, technical products made from recycled raw materials."
Carolina Nonwovens makes acoustical and thermal insulation for a vast array of markets, including automotive, appliance, HVAC, architectural, cold chain packaging, and the construction industry. In addition to these markets, it also makes foam replacement materials for the residential and correctional bedding markets. Jim attributes part of the company's success to the hard work and extensive sales background of VP Sales, Greg Gerald.
"Greg said, when we bought the business, 'I have a business plan that'll position us in different market segments to those Carolina Nonwovens was supplying before. If we follow the plan, and develop partnerships with strategic customers within diversified markets, we will be positioned for growth for many years to come.' We followed that plan and sure enough, Carolina Nonwovens grew at a strong rate to the point where we tripled our sales in the first three years years and subsequently, needed to expand."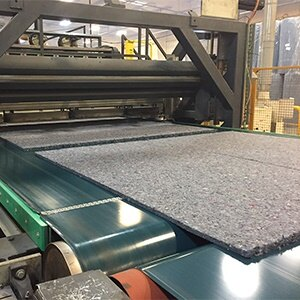 Today, Carolina Nonwovens manufactures acoustic and thermal solutions in the form of rolls, pads, and value-added components, that have a strong focus on sustainability and environmental initiatives. Indeed, as it expanded with plants in Maiden, North Carolina, the company made a commitment to sustainability and environmental responsibility.
Ed Hull, General Manager, elaborates on how the company assures the sustainability and circularity of its products. "We mainly use all recycled fibers or regenerated polyester. We also do a tremendous amount of work with recycled denim and recycled industrial polyester waste from carpet manufacturing. That is our core product offering, and not only are our products made out of recycled material, they're also all recyclable. This means we can take our products and recycle them back into nonwoven pads. It's a great feeling to play an intrinsic part in that circularity.
"To be able to run the recycled cottons," he continues, "we had to improve the air filtration systems, as there is a lot more dust when working with recycled materials, and that required an upgrade. That said,
all our equipment is designed to run recycled materials."
Jim goes on to explain the unique nature of the company's operations and how it sets itself apart from the crowd: "It's about how quickly we respond to our customers' orders and provide custom products. We're not putting products on the shelf and taking them out of stock inventory when they sell. We make custom products and turn on a dime. We have numerous customers that will call us one week with a product that they want delivered the following week. It's usually unheard of for people to get product immediately, so it really is a case of just-in-time manufacturing," he explains.
National Spinning's acquisition of Carolina Nonwovens showcases its adaptability and success in diversifying from yarn manufacturing to circular nonwovens production. With a focus on sustainability, custom products, and a quick response to customer needs, it has positioned itself for continued growth and success.