Discover how Shoes For Crews is leading the global slip resistance footwear market
Get your steps in is a phrase we're all too familiar with, especially as we strive to hit our goal of 10,000 steps a day, but have you ever considered the step count of those at the heart of our industries?
Take nurses, for example, who are estimated to do around 1000 steps per hour, meaning they would walk well over the daily target in a standard 12-hour shift. Consider the individuals that make your coffee every morning; baristas and servers are predicted to do a huge 1700 steps per hour, spending much of the shift on their feet. Postal work is the highest step count profession, completing an astonishing average of 1900 steps per hour – that's around 15,000 steps in an eight-hour workday!
Investing in innovation
So, how do all these overused feet cope with so many steps? Shoes For Crews (SFC) has the answer: comfortable, high-quality, safety footwear for work. With over 280 styles across athletic, casual, dress, and safety categories, SFC provides durable, industry-compliant, and most importantly, comfortable footwear to numerous industries and workplaces worldwide.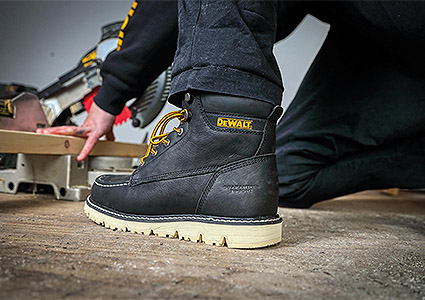 The business never stops innovating, continuously designing footwear for almost every profession, including chefs, wait-staff, hospitality workers, janitors, nurses, food processors, drivers, and warehouse staff. All these shoes and boots, although tailored to a specific role or industry, have one common factor – superior slip-resistant outsoles.
Founded by Stan Smith, along with his son, Matt, in 1984, the company was established with a vision to fill a shoe-sized void. Prior to creating SFC, the father-and-son duo sold company uniforms, and it was when pitching to a client that they recognized a gap in the market for quality slip-resistant work shoes. So, the pair went on a journey of research and testing, partnering with a Korean company to learn about rubber before they discovered the perfect techniques to make a slip-resistant shoe.
Having initiated the creation of the slip-resistant footwear industry, the business inevitably gained a formidable reputation for safety and quality. Its aim – to create products that enable customers to go to work every day with confidence in their shoes' ability to withstand the most demanding of tasks – has remained the same since its inception. Nathan Crary, Chief Supply Chain Officer at SFC sits down with us to discuss the history of the company, its innovative designs, and plans for the future.
"I've been involved in the footwear industry my whole life – I spent my childhood running around my father's shoe factory most of the time," Nathan begins. "That was just the start; I spent years working across Asia in the athletic footwear market, before joining SFC in 2016. I thought I had a fairly good idea of how SFC made their well-known anti-slip outsole, but how wrong I was!
"I was amazed at the manufacturing process, as the outsoles are made completely different to any other comparable product – but in fact, there is no equivalent on the market," he continues. "The rubber compound is vastly different to the rubber used for regular footwear; it is a synthetic, oil-resistant variant, with numerous other characteristics that help the sole maintain grip on any surface.
"The mold-making part of the process was different too," Nathan elaborates. "The business had already heavily invested in this area of manufacturing, as the outsole is the pinnacle of our products, so we had to ensure the soles had the highest possible slip resistance, even on oily, wet, greasy surfaces."
Comfort, quality and safety
Not satisfied with just one anti-slip configuration, the business began exploring different options to upgrade the product, and to tailor it to different work environments. "It was an honor to be given the opportunity to oversee product development and take the company to the next level, with new innovations and improvements to branding, design, and quality," Nathan recalls. "We spent a lot of time researching our consumers to identify how they would use our product, and found that comfort, quality, and safety were the main priorities.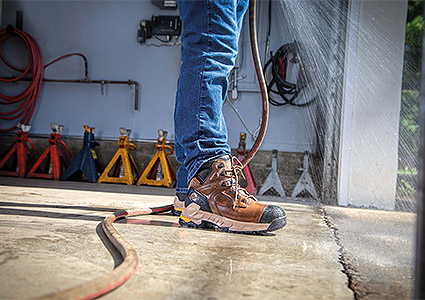 "With those priorities in mind, we designed minimum comfort and slip resistant standards for all of our shoes, regardless of price," he states. "All of our shoes have the same comfortable insoles, and every pair is inspected to ensure that it meets our slip resistant requirements before leaving the warehouse. Style is the area where we can add value and enhance profits, but we never compromise on safety and comfort."
When Nathan joined SFC in 2016, the company's shoes featured just one traction compound with very small, square lugs, creating plenty of surface area to increase the soles traction under pressure. "The problem with having small lugs was that things easily got stuck in the soles," he explains. "Take someone working in the food industry, for example; if they stepped on French fries, the food became embedded in the sole of the shoe for the rest of the day. Our solution was the creation of Easy-Clean, an outsole with increased space between lugs, meaning the shoes are much easier to clean, without compromising the slip resistance."
Slip resistant style
SFC then built a strong reputation as an indoor footwear company, hyper focused on slip resistance in oily, wet environments. Determined to break this mold with more versatile footwear, the business developed its Gladiator outsole, a durable sole that allows the wearer to work indoors, as well as outdoors, on job sites, for example, which then initiated the development of a footwear range for industrial use.
"Slip resistant rubber compounds are softer and not as durable as those you would find on athletic shoes," Nathan elaborates. "Like performance tires on racing cars, they have exceptional traction but aren't particularly durable. So, finding a way to improve durability for harsher environments while maintaining our high slip resistant standards was a real challenge!
"In the end, we were able to achieve amazing results," he recalls. "We use the industry standard DIN Abrasion testing method to measure durability; the lower the number, the more durable the compound. To give context, our classic compound scores 120 and a typical running shoe would score around 80. In recent third-party testing, our new abrasion resistant compound achieved scores in the mid-to-high 20s, without losing any of its slip resistance. This means we can now create some of the most durable footwear on the market that also has incredible slip resistance."
He goes on: "The next step is to adapt the outsole to incorporate an ice compound, which will perform well on not only dry ice, but also wet ice and rugged mountainous conditions." SFC's new ice compound is set to launch in fall 2023, expanding its portfolio of products and improving its available functionalities.
Additionally, SFC has recently partnered with Puma Safety to create a stylish safety collaboration. "Collaborations are a great way for us to offer customers branded shoes, combined with our slip resistant soles," Nathan details. "Our successful partnership with Puma will see us build a range of styles that meet customer demand for shoes that equally emphasize style and safety."
The business has also started to incorporate sustainability into its day-to-day operations, using recycled material in a majority of its products. "We have replaced the linings, insoles, and anything else within the interior of our shoes with highly recycled content, and we did so without having to increase prices," reveals Nathan.
"Overall, while the business started with a core product range, we have gradually expanded our portfolio to offer products to a wide variety of customers," he summarizes. "We pioneered slip resistant footwear in the hospitality sector, and now we have this great opportunity to do the same in the industrial market!
"I'd like to see us continue to lead the slip resistant footwear market, and work towards being a leader within the general safety footwear industry," concludes Nathan. "I envision a time when SFC will be recognized as the go-to company for slip resistant footwear solutions, regardless of the work environment in which they are worn!"