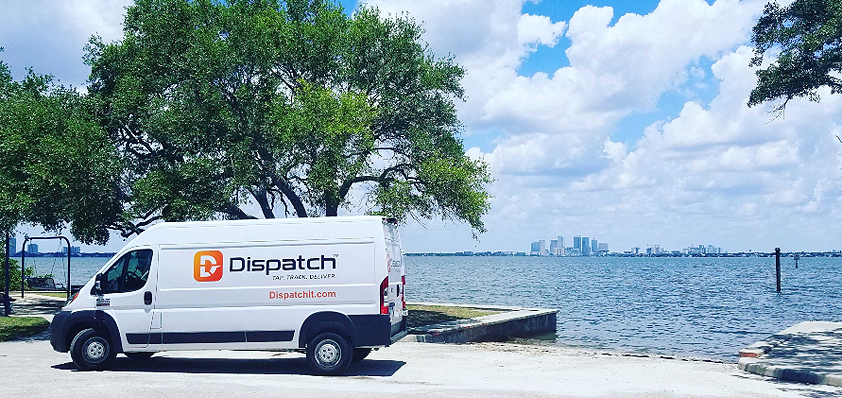 Jobsites can be busy, chaotic places where time is money and it can be difficult for even the most skilled laborers to keep things running smoothly. But that is where Bloomington, Minn.-based Dispatch can help, by taking some of the worry and work off of their hands.
The company, Director of Marketing Alexia Smith explains, helps associates manage their jobs better by providing trackable, same-day delivery of industrial parts and supplies. Co-founders Andrew Leone and Ryan Hanson started Dispatch in 2017.
Previously, Leone was a part owner in Johnstone Supply, where he realized there was a gap in the logistics and distribution chain when it came to last-mile delivery. "Andrew and Ryan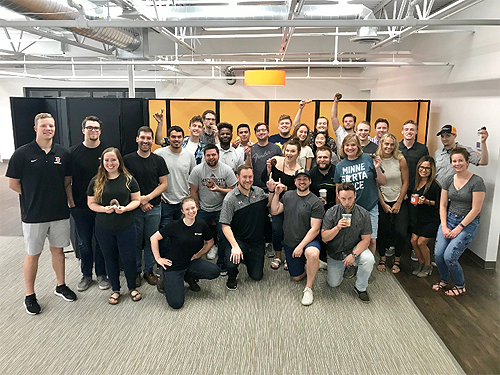 dreamt up this idea of taking what Uber and Lyft did for the taxi space and doing the same for fleet supplementation and replacement," Smith explains.
The system utilizes independent drivers and their own vehicles to pick up parts and deliver them to jobsites. One of the benefits of this system, she notes, is it allows technicians to better focus on their jobs instead worrying about the status of parts.
"They were spending a lot of their time waiting to pick up parts," Smith says, adding that Leone found success when he applied the concept to his business. "Very quickly, people were saying, 'You need to do this everywhere.' Everyone wanted this for their own company."
Since its start two years ago, Dispatch has expanded into 28 markets. "We will be in 50 by the end of the year," Smith says, adding that the company currently has 1,500 part-time and independent drivers.
Today, when customers place an order, drivers can view the jobs through the Dispatch app. "They're able to claim that job," she says, adding that clients can also select which vehicle type they prefer through the order form. "Drivers with the correct vehicle type are notified that a new job is available to claim."
Spreading Awareness
Dispatch currently serves an array of markets, including plumbing, electrical, HVAC and print. Many customers, Smith notes, have shown their appreciation for its work. "We're giving money and time back to the customers and supply chains," she says.
But a challenge Dispatch faces is educating potential clients about the benefits it offers. "[We have to] provide them enough value so that they see this is a well-worthy technology to better their business," she says. "It's not a hindrance we're trying to sell them on."
All in Line
A longtime veteran of marketing, Smith joined Dispatch nearly two years ago after holding positions at SportsEngine and Sports Illustrated. She praises the company's work environment, which emphasizes multiple core values, including being "Driven to Deliver" and providing "Speed to Value."
These are talked about in the company's weekly meetings that highlight work that reflects these principles. "We also pride ourselves on hiring on these core values, and even the types of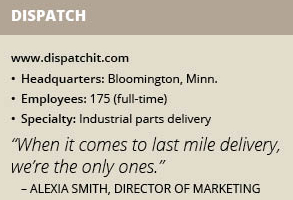 investors we work with," she says.
"Across the board, everything is in line with our core values," Smith continues. "We're all on the same page and driving toward that same goal."
As part of this focus, she says, employees take responsibility for their work. "They're not necessarily being pushed by a manager to know that something [they do] is making an impact that could change the way everyone looks in the industrial delivery space," she says. "Everyone holds themselves accountable and is striving to make that difference."
Effective Growth
Smith takes pride in how Dispatch has grown in a short amount of time. When she started at the firm in January 2018, "We were in four markets," she says, noting that it is now in 28.
"We've been able to do that efficiently and effectively and grow at a pretty incredible rate," she says, noting that Dispatch also has earned a positive reputation within its space. "It has been a cool thing to watch it grow quickly."
She predicts more growth for Dispatch, which hopes to expand its services nationwide and internationally. "Dispatch will be a tool that people across the world have the capability to use and serve their own business needs," Smith says. "We'll also be able to give people the opportunity to make a career for themselves with Dispatch whether at a corporate level or as a driver."