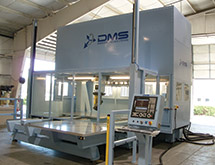 Diversified Machine Systems
Diversified Machine Systems (DMS) does more than provide its customers with three-axis and five-axis CNC machining centers. According to CSO and Executive Vice President Ed Hilligrass, the company provides its clients with a range of products and services that make it an indispensible part of their operations. "We have a lot of customers who really view us as partners in their success," Hilligrass says.
Those customers range from one-man shops to Global 100 manufacturers like Nike, UTC, GM and Boeing. The company's equipment is utilized in virtually every stage of the manufacturing process, from primary manufacturing through the finishing stages, Hilligrass says. "We can participate in a lot of different ways in the manufacturing cycle," he says.
No matter whom its customers are or how they put the company's equipment to use, Hilligrass says they all have one thing in common. They all have business challenges they want solved within their manufacturing process, and they all turn to DMS to solve it. Hilligrass says that's due to the fact that the company not only builds the equipment that can accomplish the tasks at hand, but DMS also provides a highly collaborative process for designing, manufacturing and implementing their CNC equipment.
Customer Collaboration
Hilligrass says the key to DMS' success with its broad base of customers lies in the fact that the company does everything it can to provide an equipment solution that fits a customer's needs and situation perfectly. For instance, Hilligrass says, the recent fluctuations in the monetary market have meant DMS' global clients have been forced to do more with less to remain competitive and profitable. "So our customers put the very same challenge out to us," he says.
Because DMS works closely with its customers in a highly collaborative process, the company is more than capable of developing solutions that save its customers money while not sacrificing efficiency or forcing customers to purchase completely new equipment.
One recent example of this was DMS' work with Fagor Automation, who supplies control systems, to help develop new solutions that reduce overall cycle time. Hilligrass says the company wanted to implement this new technology for its existing customers, in order to provide solutions for existing systems and not just tell its' client to purchase all-new equipment. With the help of Fagor, DMS identified the key components that would make all of its existing equipment backwards-compatible with the new technology. This way, Hilligrass says, all of its customers could receive the full benefit of the new control system technology and DMS strengthened the bond it has with all of its customers. "It really helps us align ourselves to be more of a proactive partner in their continued success," Hilligrass says.
Another example of the company's ability to develop equipment that fits its customers' situations perfectly is found in one of its most popular designs. Hilligrass says this machining center features a retractable roof, which allows manufacturers unobstructed access to crane or forklift parts into the machine. Typically, he adds, a roof on other CNC products in the market are fixed or stationary, which limits a manufacturer's ability to load and unload parts and tools into the machine.
Being Proactive
Hilligrass says DMS' focus on being a proactive partner for its customers has been put to the test in recent years as consolidation sweeps the industry. As customers grow through consolidation and acquisition, their demands on DMS become greater, and the company has to be able to keep up with those demands. "The definition of service itself truly comes from the customer," Hilligrass says.
One of the effects of these consolidations is that many of DMS' customers, who were offshoring and now are re-shoring many of their manufacturing processes, are identifying a gaps and inconsistencies in their advanced manufacturing processes and skillsets.
These customers have turned to DMS for advice because the company has already been supplying its solutions globally. Hilligrass says the company's global expertise has also benefitted domestic manufacturers who see the industry placing a greater emphasis on health and safety. He says material processing and safety standards in areas such as dust/debris collection have been applied to DMS' equipment across the board, putting it in a better position to meet its customers' changing needs in the United States. "The reason we're already out in front of these challenges is because we've been serving a global market place for many years," Hilligrass says.
Greater Versatility
Investing in research and development is a major focus for DMS for the future, Hilligrass says, and the company sees plenty of opportunities to implement new technologies and new processes into its equipment to better serve its customers. One example, he says, DMS is working on incorporating additive material processing to current technologies which make the company's equipment more versatile and opens new markets for DMS.
No matter what the future holds for DMS, Hilligrass says, the company's commitment to serving its customers will remain strong and change with our client's needs. That focus is what will guarantee the company's  success in the future.