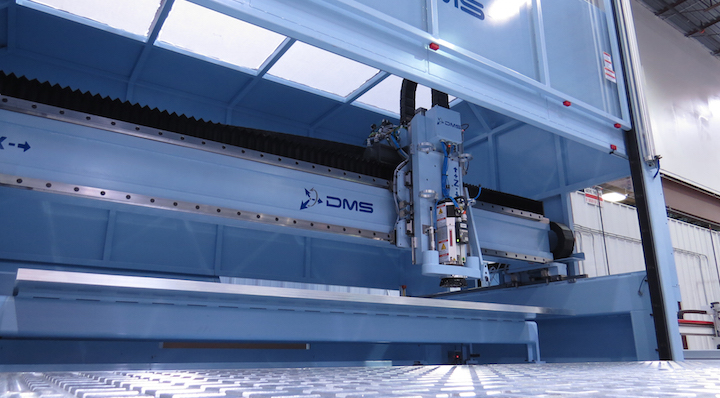 Diversified Machine Systems
Diversified Machine Systems (DMS) is a leading manufacturer of CNC machining solutions, but sales and marketing representative Andrew Townsend says what the company really delivers for its customers is expertise. In everything DMS does for its customers, Townsend says, the goal is to provide them with solutions to their specific needs backed by the company's extensive industry experience and capabilities. "We're experts on CNC machines, and we don't expect [our customers] to be experts," Townsend says.
A prime example of this philosophy in action is the company's new Advanced Manufacturing Center, which is located at its headquarters in Colorado Springs, Colo. According to Townsend, the new facility features dedicated equipment with a wide range of capabilities that give customers the ability to bring their manufacturing challenges directly to DMS and work out a solution. "What that has allowed us to do is have a dedicated space for helping our customers find more efficient ways to produce their components using our machines," Townsend says.
No matter who its customers are or what level of service they require, DMS is dedicated to finding CNC solutions that fit their operations and solve their problems. Townsend says the company continues to look for new ways to solve problems for its customers, and if the new equipment DMS displayed at the recent International Manufacturing Technology Show (IMTS) in Chicago is any indication, DMS is set up to become an even more important part of the manufacturing process for its existing customers as well as an entirely new set of customers.
Ready and Responsive
Although many of its competitors say they offer complete CNC solutions, Townsend says DMS stands apart from the competition because it ensures that the equipment it provides is designed and custom-built with each individual customers' needs in mind. "One of our strongest qualities is we're able to create a variety of machines," he says. "We don't just make six cookie-cutter models and hope one fits into your needs."
This is due to the company's extensive in-house expertise and capabilities, which Townsend says are virtually unmatched in the industry. For example, DMS recently worked with a customer in the aerospace industry to develop equipment that could make small batches of various components and switch between those components extremely quickly. Townsend says DMS had been developing a quick-change fixture that would allow for a machine to switch between components in less than a minute. By working closely with the customer in its Advanced Manufacturing Center, DMS was able to apply that fixture to the customer's equipment requirements and develop a custom machine that delivered exactly what the customer needed.
It is this responsiveness to customers' needs that Townsend says has earned DMS much repeat business from manufacturers who find that the company is able to meet their needs at a lower cost and with greater efficacy than competitors. "One of the things that helps make us a little different is we know that once we make the machine for the customer, they make the decision not to pay $200,000 or $300,000 more to a competitor to make a similar machine," he says.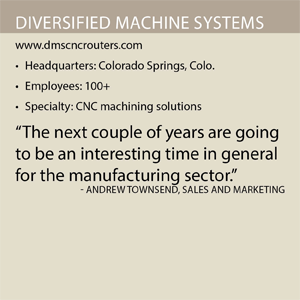 New Capabilities
DMS continues to expand its product line and capabilities into new areas to better serve its customers, as evidenced by the machine it showed off at this year's ITMS. The new M5 Machine Tool promises to be a solid addition to the company's products and open new doors in the manufacturing world, according to Townsend.
The 35,000-pound five-axis machine features a 60 HP HSK 100A spindle capable of 12,000 RPM, true anti-backlash, scale feedback on all axis, with helical rack-and-pinion drive on the X and Y axis. This feature and others give manufacturers greater flexibility with fewer setups. Townsend says DMS expects to court customers who need to do a lot of cutting of steel and billet aluminum with the M5, as they will be able to cut and finish components on the same machine with its blended capabilities. "This is opening up an entirely new market for us that we would not have been engaged in," Townsend says.
Ahead of the Curve
Technology has made it possible for DMS to be on the cutting-edge when it comes to its equipment, but it also has made it more challenging for the company to stay in front of the latest trends in the industry. Townsend says DMS works hard to integrate the newest technology into its equipment, especially as it relates to connectivity and information technology.
For example, the company has done a lot to incorporate technology that allows customers to monitor all of their machines and gauge the efficiency of their operations from a single source. Although Townsend says DMS is at the forefront of this technology, the speed with which it advances often is a significant challenge. "That probably is one of the largest things that we are always working to stay on top of, and it's one of the hardest things to stay on top of because it's always changing," he says.
Looking Forward
Despite the challenges, however, Townsend says DMS is confident that the near future will bring many new opportunities for the company. The push that many manufacturers are making to bring their operations back to the United States will have a significantly positive impact on the company as many manufacturers will begin to realize how important it is to have partners that can provide support beyond supplying the equipment.
"That's going to be a large component of the next couple of years, is which CNC company is going to be able to support their partners best," Townsend says. "The next couple of years are going to be an interesting time in general for the manufacturing sector."
DMS is ready to be there for its customers and provide them with the level of support they need, Townsend continues. He says the company's commitment to aligning its customers through its Advanced Manufacturing Center is proof that DMS understands the value of being the expert in the CNC realm. "It's our way of letting everyone know that this is important," he says.