Dixie Cullen Interests Inc
Space to spare
As it marks it 25th anniversary in 2020, Dixie Cullen Interests Inc continues to go from strength-to-strength, accommodating its customers and their individual storage requirements
As of November 2020, Houston, Texas-based storage and warehousing provider Dixie Cullen will be celebrating its 25th year in business. Specializing in machinery, steel and other industrial material – with its heavy overhead lift capacity helping to simplify the handling process – Dixie Cullen provides a variety of services to suit its customer's needs. These services include standard inside storage, climate controlled storage, Foreign Trade Zone (FTZ) storage,
and outside storage. Meanwhile, export packing and containerizing, and transloading are just some examples of the value-added services that the company offers.
"We are a family business, offering industrial storage for items that I sometimes like to refer to as the 'big and uglies', by which I mean things that nobody else wants to or can handle," explains Dixie Cullen's President, Catherine James. "Our unique ability to store and handle such goods sees us work with companies from all around the world, from freight forwarders and manufacturers, to engineering and construction companies working on active projects. The size of our operation and facilities means that we can safely store the type of items that manufacturers do not have room to keep on their own working floors, or that would otherwise take up unnecessary space on construction sites.
"Our specialized climate controlled storage allows for critical equipment to be suitably maintained as per an individual customers' requirements, and we also work in close cooperation with said customers in order for them to gain round-the-clock access to their items in order to carry out any checks, preventative maintenance and so forth. This allows them to ensure that their equipment remains functioning and under warranty, regardless of whether it is being put into operation six, 12 or even 24 months from now."
Dixie Cullen is in a unique position to offer a well-rounded service package, which can be tailored to specific requirements. "I personally come from a machinery moving background, dealing with things like plant relocations and expansions," Catherine states. "My experience in the field meant that I could see a need accumulating for a niche warehousing market, and it was my goal to establish one of the premier machinery storage warehouses in the United States. From there, things expanded rapidly and that was because we listened to our customers and gave them what they wanted, building our services around them."
The company's main facility, which is also home to its FTZ storage, measures approximately 300,000-square feet. Within it, 42,000-square feet is dedicated to climate controlled storage, and the whole unit is serviced by overhead cranes. This allows for the handling of transloads, export packing and containerizing of equipment. This facility handles pieces up to 50,000 pounds in weight. Next door to this sits another, 200,000-square foot facility, which is referred to as the 'heavy lift building'. Here the company possesses an additional 40,000-square feet of climate controlled storage, as well as 200-ton overhead lift capacity which enables it to handle the heavy weights. Additionally, Dixie Cullen has a facility located on Port Houston properly with 60,000-square feet of inside storage space, as well as a total of 16 acres of outside storage space.
Customer service has always been what Catherine and the rest of the Dixie Cullen family of staff have considered to be the company's biggest strength. "Helping our customers to achieve what they want to has always been our primary goal," Catherine says. Clearly that has worked out for the business, as she also reveals that for the first 23 years of its existence it did not even have a dedicated sales team. There was no need to, as almost all of its contracts came about through referrals! "Once businesses find out what it is that we can offer them and the services we have available they soon realize how they can utilize Dixie Cullen to free up their own space on the ground and improve the efficiency of their work."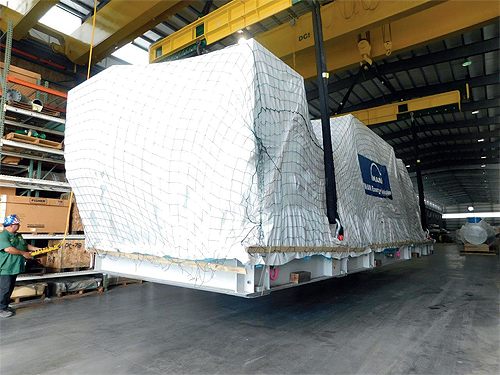 The scope of the type of work handled by the company is wide, and has led to it handling items that Catherine admits she never dreamt it would in its infancy. "Among some of the more unique items that we currently store you will find – for instance – equipment and spare parts for a local indoor skydiving activity center called iFly," she details. "We are also presently storing large glass panels for an engineering company that is working on a museum build project, which in itself requires specific handling, packaging and storage needs and that not just anyone can provide.
"While each project comes with its own nuances, what they share in common is that each involves us accommodating the individual requirements of the customer in question. We identify those niche types of project and pinpoint how we can be of support. At present, for example, we are bidding on a contract that will involve 400 containers of machinery being shipped into the area for a plant that is going to be constructed. Those containers will all have different items within them, each of which will need to be shipped to the location of the plant when needed. Not only do we have the overhead crane and heavy duty lift capacity to handle said containers, but we also have the required storage space available and then facilities to enable the customer to have complete inventory control. This would allow us to work with them to coordinate what needs to be retrieved from storage and when, to get it loaded onto trucks, and get it out onto the job site quickly, safely and efficiently."
Like any other business, for Dixie Cullen, 2020 has brought with it its own challenges, however by being classed as a vital business it has remained operational throughout the year in spite of Covid-19 and the effects of the global pandemic. "In terms of sales, 2019 was our best year and as we enter the last month of 2020 we are on target to equal those numbers," Catherine says. "Our people have remained very versatile throughout the last 12 months, and they are being rewarded now with more projects starting to move forward, with equipment coming in on a regular basis."
A word about Dixie Cullen's employees then, and the vital role they play in the company's success. "We simply could not have achieved all that we have done in the last 25 years without our teams," Catherine declares. "Some of our employees have been with me since day one, and we have a number of families working under the same roof to this day, which I think says a lot about the type of working environment we have created here. We do all that we possibly can to take care of our people, and they respond by knowing when to go that extra mile for our customers. Given the nature of our work, our schedule is always subject to change so at any one time they can face a scenario where they have, say over 20 trucks from one customer arrive to site in short order. I know, however, that our people will always give us that extra bit of effort needed to get the job at hand done so that our customer doesn't experience any unnecessary delays. I even remember one occasion where we had a customer that ended up with 200 containers on a single ship that needed offloading. We mobilized to have those moved in just four days, getting each container unloaded and returned to port. That is the way we work to accommodate our customers!"
Going into 2021, the signs are there that Dixie Cullen will be experiencing a tremendous amount of activity in the first quarter of the year and beyond. "We anticipate a great deal of equipment coming in not only through the Port of Houston but domestically too, in the coming months, which will need to be staged and put into storage," Catherine adds. "We also have a number of customers looking at bringing their goods into the FTZ as they are working on the basis of some of their projects being delayed for a while, and they would rather that it be stored in the country in which it will eventually be installed in rather than sitting abroad.
"Looking further ahead, we have a multi-year growth plan in place. I believe we will remain in growth mode for some years to come, and we have people within the business who we are preparing for movement up the ladder, including those that we want to teach about how to run our operation. At Dixie Cullen, we have learned how to be flexible and to adjust to whatever life or our customers throw at us, and I believe this stands us in good stead to achieve a lot more!"
Dixie Cullen
Services: Storage, warehousing and associated services
www.dixiecullen.com