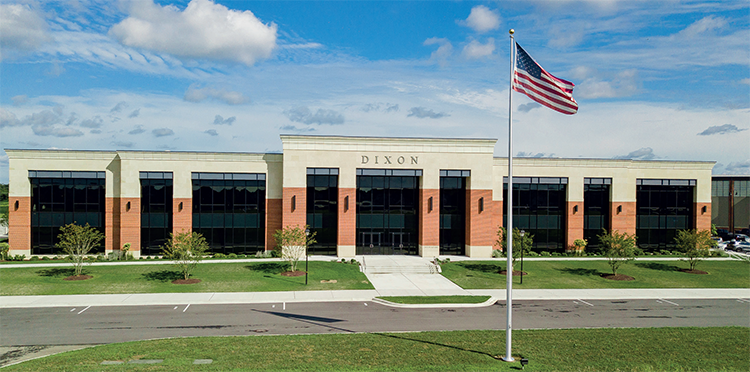 Dixon Valve & Coupling Company, LLC
Committed to customer service and innovation, Dixon Valve & Coupling Company, LLC strives to delight its customers every day. With an extensive product range and expanding global reach, the organization has one foot firmly in the future
Dixon Valve & Coupling Company (Dixon) was founded in 1916 by Howard W. Goodall. A premier manufacturer and supplier of hose couplings, valves, dry disconnects, swivels, and other fluid transfer and control products, Dixon has enjoyed steady growth throughout the decades. The business continues to add new products and services to its offering that alignwith its value proposition, and it endeavors to be the easiest organization with which to do business by delighting its customers every day.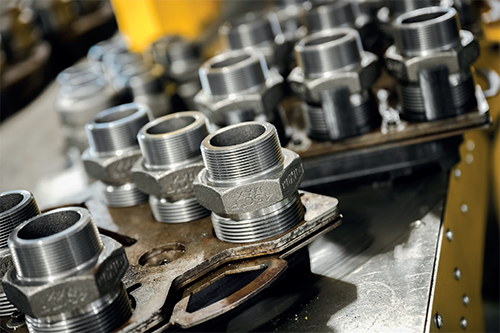 Dixon's growth can largely be attributed to a drive to find solutions for its customers. From its beginnings serving customers operating within the oil and gas industry to branching out into a variety of different markets over the decades, the organization's product offering is ever-evolving. From food and beverage to fire protection and transportation, being able to penetrate a wider range of markets has helped Dixon enhance its customer base. Today, the business boasts over a 1100- page catalog, showcasing a variety of product lines. This wide range of products appeals to distributors, who can rely on Dixon as a onestop shop for their needs. With an extensive distribution network throughout the U.S., Dixon
strives to ship the majority of orders the same day they are received.
As Bob Grace, President of Dixon Valve, explains, "we work really hard to help our customers and support them, before, during, and after the sales process." To be able to achieve this level of customer care, the organization places huge importance on employee training. From virtual and in-person training sessions to company-wide webinars, employee training to achieve exemplary customer service helps to set the organization apart from its competitors.
Expanding global reach
Dixon's strategic objective is to create solutions that make products safer, longer lasting, and always available to customers. As a company with strong roots in the U.S., it has always been important to be close to the customer base; both from a manufacturing and a distribution perspective. The company's growth and site locations are a result of organic, U.S.- based acquisitions and expansions. Existing manufacturing sites have been embedded over the years to continue to offer the knowledge, expertise, and necessary infrastructure for operational efficiency and excellence. In terms of distribution center locations, Dixon's choices have been driven by a desire to serve the customer base from a local network.
Over the years, the business has exploited opportunities for global expansion as they've arisen. Following a UK acquisition in the 70s, the business opened up to the European market and has since expanded into France, Germany, and the Middle East. In 1996, the organization acquired Australian manufacturer, Minsup, which is now known as Dixon Asia Pacific and has grown to incorporate five locations across Australia with operations in both China and Singapore. This impressive growth has enabled product diversification within the global arena.
From distribution to product innovation, Dixon is driven by the needs of its customers. "We work with our customers, who are distributors, and we work with end users, to highlight challenges and ascertain requirements," expounds Bob.
Dixon evolves its product offering in response to industry trends and demand. One such line are products for use in cryogenic applications. With the acceleration away from traditional fossil fuels and a move towards cleaner solutions, Dixon has seen an increase in the demand for products for the storage and transportation of Natural Gas (NG) and Liquid Natural Gas (LNG). NG and LNG are cooled to cryogenic temperatures to become liquids allowing for economical shipping and storage. LNG is used in vessel fuel bunkering, at fueling stations for on-highway and off-highway vehicles and for peak shaving at power plants and pipeline systems when energy demand is high. Dixon's product mix has evolved to include couplings and valves that incorporate seals able to withstand the temperatures necessary for those applications. This market is snowballing and Dixon intends to keep pace.
Like most businesses, Dixon felt the immediate repercussions of the pandemic. Following the uncertainty and downturn however, operations began to stabilize; parts were needed, and demand started to increase. "Within a year of the start of the pandemic, we were ramping business back up," stated Bob. "We had a pretty good advantage over organizations more reliant on overseas products. With in-house manufacturing capabilities and our three foundries, we benefited from greater control over our supply chain. This reduced reliance on external suppliers gave us a competitive edge."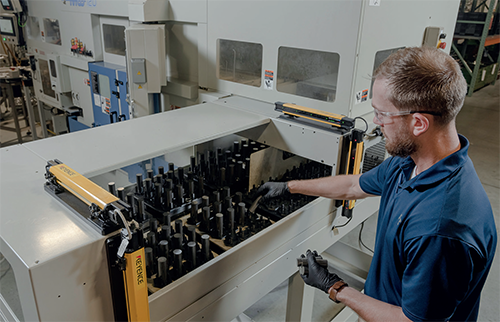 The aforementioned foundries, which are owned by the parent company The Dixon Group, are located in Quarryville, Pennsylvania, and Winnipeg, Canada, with the most recent acquisition, in Dayton, New Jersey. Many of the products Dixon makes start with a foundry casting which enables greater control over processes and end-product quality. Richmond, the latest foundry acquisition, was a long-term supplier. With an excellent working relationship, it was logical for the business to join the group and expand its global reach into alternative markets.
With the addition of a 100,000-squarefoot facility that houses its Boss manufacturing division, Dixon now has ten manufacturing operations. Boss is home to Dixon's legacy brands, including Air King® couplings, King combination nipples, LPS Frac fittings, Holedall®, and King Crimp®. The state-of-the-art facility has enabled Dixon to manufacture with increased efficacy and efficiency.
"The world will always have the need for industrial goods, so there will always be a need to manufacture products, but how they are manufactured and where is the question," says Taylor Goodall, President of The Dixon Group, "so we plan to continue to invest in our employees, automation, and facilities to make this possible."
Dixon is proud of its culture and is intentional in its expectations of employees. Rather than merely signposting its mission and vision, the organization works to embed its core operational values. Each quarter, all 1700 employees come together in small groups for company-wide training on a range of pertinent topics, from safety and wellness to financial results. "The organization is far easier to manage when we're all on the same page," states Bob. "We know how important it is to treat each other with respect and it will always be that way. Our values center on six pillars; respect, responsibility, caring, citizenship, trustworthiness and fairness."
Driving efficiency
Moving forward, Dixon will continue to focus on its supply chain and manufacturing facilities in a bid to boost inventory levels back to pre-pandemic status. Equally, the business continues to review its markets; making sure all opportunities are optimized. Customer buying habits have changed, inevitably in response to recent supply chain shortages and many customers want to boost inventory levels to weather potential future storms. Dixon will do its best to meet those expectations, alongside innovating and expanding its product portfolio.
Indeed, innovation is a long-term plan. Dixon is proud of its innovation center, created in honor of its pioneer founder, Howard W. Goodall, and his son Richard B. Goodall. In dedication to the father-son duo, company engineers research and develop new concepts, materials, and products for use in the market. "Each of our manufacturing divisions have a dedicated group of engineers working on specific product lines," explains Bob. "The future for us is new products and new markets, and we are optimistic."
Looking to the future, automation and lean operation are essential. Continuous improvement is imperative for operational optimization; helping to reduce waste, remove bottlenecks, and ultimately implement solutions. "For example, if we review a process that may have been in operation for the last ten or 20 years, we would take new equipment and technological advances into consideration when evaluating efficiencies, set-ups, cycle times, and tooling within the arena of continuous improvement," explains Phil Wilson, Vice President of Manufacturing.
Dixon's focus on automation is a response to the world changing and the current manufacturing climate challenges, particularly in terms of labor shortages. Tools, such as an automated loading cell for example, would enable the reallocation of labor from one area to another. Alongside this, it's equally important to improve training opportunities and upskill the existing workforce. "Additionally, we will be working to align and benchmark our manufacturing processes," continues Phil. "Whether in the form of a process improvement or in automated equipment, lean operation is certainly helping us to drive efficiency, positively impact quality responsiveness, and contribute to reduced lead times."
The future looks bright for Dixon. It aims to do bigger and better things for both the organization and its people, while continuing to delight its customers every day.
Dixon Valve & Coupling Company, LLC
www.dixonvalve.com/en/home
Services: Valve and coupling manufacturer