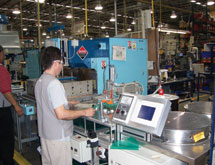 Outside of food companies or  other producers of major brand-name household products, it probably isn't common for manufacturing executives to be recognized randomly by customers for wearing a company-branded shirt. For Gerry McDonnell of DJO Global, however, the company's products are so important to customers that a few end-users have done just that.
"People have seen me around wearing a DJO shirt and actually thanked me for the products we make," says McDonnell, executive vice president of global operations for the Vista, Calif.-based company. For many of its customers, DJO's products have made a bigger direct impact on their lives than those produced by other consumer product companies.
With more than 5,000 employees working in dozens of manufacturing and distribution facilities in the United States and worldwide, DJO Global is the world's largest producer of orthopedic rehabilitation products and one of the largest manufacturers of orthopedic equipment. The company was established in 2007 following Blackstone Group's acquisition and merger of two companies – DJO Inc., a  bracing and orthopedic soft goods manufacturer with origins dating back to 1978; and Reable Therapeutics. DJO's operations are broken into five distinct business units: bracing and support, recovery sciences, vascular and surgical, with a fifth entity specifically overseeing international operations.
The company's brands include:
Aircast, used commonly in the treatment of ankle sprains and other leg and arm injuries;
Bell-Horn, a line of braces, bands and other wrist and elbow support products;
Chattanooga, a producer of rehabilitation equipment used to treat musculoskeletal, neurological and soft tissue disorders;
Compex, a neuromuscular electrical stimulation device used by high performance athletes and trainers;
DJO Surgical, which offers a line of adult reconstructive shoulder, hip and knee implants;
DonJoy, a pioneer in rigid knee bracing; and
Procare, a  line of orthopedic soft goods.
"It is our aim to help people maintain and regain the joy of natural mobility," McDonnell says.
Varied and Innovative
DJO Global offers a total of 37,000 SKUs across 1,000 product lines. "The variety of offerings we have is amazing," McDonnell says. "We're a company that is very much focused on innovation and meeting our customers' needs."
The company's two newest products reflect this focus. DJO earlier this year launched Exos, a removable, adjustable and waterproof bracing system that can be formed around a wrist or hand using  a proprietary tensioning system. The system allows the brace to be adjusted to fit a user's hand to accommodate for swelling, atrophy and comfort. "These have been flying off the shelves," McDonnell says. "Our customers absolutely love it."
Another new product under development at DJO is a percutaneous osseointegrated prosthesis. The device attaches directly to the femur of above-the-knee amputees to allow for a more direct connection to a prosthetic limb.
A Customer-Centric Operation
DJO manufactures products from several facilities including its Vista headquarters. Other sites include plants in North Dakota, Texas and North Carolina, as well as in Tijuana, Mexico and Tunisia. Major manufacturing processes include injection molding, stamping and assembly, as well as the use of CNC machining processes including lathes, mills and grinders. A mix of manual, semi-automatic and automatic processes are used depending on the facility and type of products being produced.
McDonnell characterizes DJO's manufacturing output as high-mix, low volume, with products produced specifically to customer needs. "We are truly customer-centric in that we can provide such a variety of part numbers," he says, citing as an example its ability to make products with specific logos in custom colors and sizes for clients including many National Football League teams. The company uses cell-based manufacturing and lean principles to produce orders efficiently and rapidly. DJO works closely with suppliers to ensure it can meet customers needs while maintaining a low inventory of finished goods.
"We can turn customized finished goods around rapidly," McDonnell explains. "As orders come in, they're immediately printed off and taken to the front of the production line for shipping that same day."
McDonnell, a 30-year manufacturing industry veteran who joined DJO in March 2012, praises the company's manufacturing staff for its intense focus on customers. "From what I've seen of what we do for customers in the time I've been here, it's head and shoulders above other companies," he adds. "If you look at the amount of SKUs we handle and what we're able to deliver, our operations are truly phenomenal."