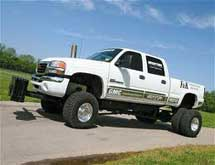 Having started out as a joint venture between General Motors and Isuzu Motor Ltd., DMAX Ltd. has certainly learned to stand on its own two feet. The company produces the award-winning Duramax diesel engine that has in many ways become the standard for reliability, durability, horsepower, torque and quietness in the heavy-duty diesel pickup industry.
The company can trace its roots back to the decision by General Motors and Isuzu Motors to embark on a joint venture, with General Motors having the 60 percent majority stake. Both companies are certainly powers in the auto industry, as General Motors is one of the world's largest automakers and has been in business since 1908, while Isuzu has grown to become one of world's largest manufacturers of medium- and heavy–duty trucks since establishing its business in 1918. Together, the two companies designed the first Duramax diesel engine.
Up and running
Groundbreaking for DMAX's facility occurred in August 1998, and the first engine was built in July 2000. DMAX currently employs more than 500 people and has a 540,000-square-foot manufacturing facility and a 44,000-square-foot administration building. It has the capacity to produce 200,000 diesel engines every year.
By 2004, DMAX had built 500,000 engines. In 2007, it built its one-millionth engine. DMAX is the exclusive manufacturer of the Duramax diesel engine, which is used in Chevrolet Silverado and GMC Sierra heavy-duty pickups as well as Chevrolet Express and GMC Savana full-size vans.
Over the years, DMAX and its engines have won an array of awards. In 2001 and 2002, it earned the Ward's Automotive 10 Best Engine award. It was also featured in Popular Science's 2001 "Best of What's New" product list. The company has followed that up with awards such as the Bureau of Workman's Compensation (Ohio) Safety Awards.
In 2010, an expert panel selected the 2011 Chevrolet Silverado 3/4-ton heavy-duty and the Sierra one-ton heavy-duty – both of which are powered by Duramax – as best overall diesel-powered trucks in the 2010 Heavy-Duty Shootout. In 2011, DMAX was presented with the Ohio Psychological Association's Psychologically Healthy Award, the State of Ohio Healthy Ohio Gold Award and Dayton Business Journal's Healthiest Employer Award.
"Manufacturing facilities have a lot of moving equipment and machinery, but at the DMAX plant, we understand our success starts with employees who value health and safety," said DMAX CEO Maho Mitsuya in a statement after the company received the Healthy Ohio award. "I am proud of the DMAX team's success, but I am not surprised. Our membership and DMAX management strive for excellence in every category while treating each other with mutual respect."
Room for improvement
The company continues to refine its product. In 2008, DMAX received $69 million from General Motors, an investment into the DMAX diesel engine plant that would support manufacturing of a new Duramax 6.6-liter V-8 turbo diesel engine that was up to 2010 emissions standards. In 2011, there were several new Duramax diesel features.
First, the main bearing profiles were changed to enhance oil film thickness, while oil pump flow was increased for more pressure at low speeds. In addition, a revised turbocharger oil circuit provided increased pressure at the turbo and faster oil delivery.
DMAX also modified connecting rod pin ends for increased piston support and employed a higher-strength piston design. Beyond that, a new fuel injection system that can operate on ASTM grade B20 biodiesel provides more precise fuel delivery, which improves emission performance.
Finally, an EGR cooler bypass reduces high-mileage soot deposits in the cooler and EGR circuit. The engine is covered by GM's five-year/100,000 mile powertrain warranty, and its diesel particulate regeneration system includes a downstream injector to supply fuel for the regeneration process, reducing potential oil dilution.
These are all important evolutions in the Duramax diesel engine. The use of biodiesel continues to rise, and fuel efficiency, towing capacity and durability are other concerns the new engine addresses.
Happy anniversary
Last year, DMAX celebrated its 10th anniversary. With community and government leaders on hand, the company held a ceremony to commemorate its cumulative production of 1.2 million engines since July 2000.
"Over our company's 10-year history, the Duramax diesel engine has become a success story and the pride of loyal Duramax owners around the world," said Mitsuya in a statement marking the anniversary.
Other ways DMAX has changed is by making an environmental commitment to be a landfill-free operation, joining GM facilities globally that recycle or reuse waste, or convert it to energy. This move is completely consistent with the direction of the Duramax engine design, which features more torque, higher horsepower, better highway fuel economy and reduced emissions. In fact, the 2011 Duramax engine produces 63 percent fewer emissions than the previous model and is capable of running on B20 biodiesel fuel.
After operating for more than a decade, DMAX has established a record for quality that differentiates it from other manufacturers. The company has demonstrated its commitment to continuing to improve on its already impressive reputation for excellence, and that commitment should last for many years to come.
"We're proud of the role we've played in producing the leading reputation for quality, reliability and durability in the heavy-duty truck market," Mitsuya said.