In the United States, loading dock inefficiency and extended dwell time are a huge problem, costing the industry $25 billion to $40 billion annually, due to truck delays. Moving forward, this pre-pandemic estimate is expected to be amplified with the exponential rise of ecommerce, growth in cold-chain logistics, stretched supply chains, and significant labor constraints – adding more pressure on warehouse loading docks and overall warehouse operations. Delays at a loading dock are costly and demand the immediate attention of the workforce – ultimately causing a domino effect of problems, including compounding delays, product spoilage, and detention fees.
Over the past few years, several innovative technology-based loading dock visibility solutions have emerged that have demonstrated significant potential to substantially improve loading dock-level operations and drive increased warehouse productivity. These new cost-effective and easy to deploy solutions leverage wireless sensors, cameras, and cloud-based analytics (AI/ML) to drive unprecedented real-time operational visibility, actionable insights, and automate decision-making with minimal human intervention. These highly scalable solutions also seamlessly integrate with open APIs with existing WMS, TMS, and YMS.
Efficient loading docks are key to the overall warehouse efficiency, productivity, and profitability. To alleviate bottlenecks and stay on track, warehouse and logistics operators need to invest in loading dock solutions that help streamline and improve operations. By investing in the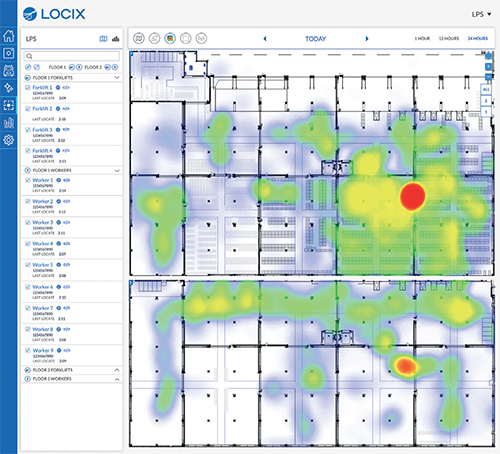 loading dock, warehouses can remove extra costs, eliminate interruption, and maintain a competitive advantage.
Precise dock-level visibility
First, it is imperative to deploy solutions that provide real-time and historical operational visibility at the loading dock itself. Dock level efficiency can be viewed as a key performance indicator of how everything else in the warehouse operates. New wireless camera and computer-vision-based solutions accurately capture the current dock status (occupied/empty), arrival and departure times, and dwell times. This also eliminates the need for manual verification of the dock status, enabling improvements in updating, scheduling, and dock allocation.
Further, motion sensor-based solutions accurately monitor the activity level of the interior loading dock to capture loading/unloading activity to better determine the arrival and departure of resources and duration of activity. The integration of external and internal sensor data enables an unprecedented level of visibility and metrics on the overall dock-level performance. Cloud-based advanced analytics enable automated analysis on performance trends, identify root causes for delays and equip operators with actionable insights to reduce the delays. Currently, deployment of such solutions has shown improvement in dock-level efficiency by 20 percent to 40 percent.
Automated appointment management
Real-time operational visibility and advanced analytics of the loading dock will also significantly improve automated appointment management solutions. While scheduling and managing appointments have improved, there is still the potential to eliminate time lost to manual intervention in updating and rescheduling dock appointments as real-time updates are received by dock operators. By leveraging advanced analytics, operators can accurately allocate truck loading docks based on carrier and load type (size, quantity, temperature, etc.).
Additionally, real-time analysis and automated alerts will allow all key stakeholders to adapt proactively to the emerging situations rather than after the fact. Historical analysis can allow operators to negotiate contracts with carriers based on accurate performance metrics and also thereby improve operator and carrier relationships.
Understanding truck timing and operations
Advancements in outdoor spatial intelligence solutions including wireless sensors (e.g. GPS, SigFox, LoRaWAN), dynamic routing technology, and advanced analytics (AI/ML) have improved the overall visibility of truck arrival and departure from a warehouse. Real-time visibility of truck status and integration with automated appointment management and dock scheduling will allow operators to further improve their overall warehouse performance. Based on real-time truck-related data, new loading dock solutions can automatically update dock schedules and resource allocation to proactively take action to preclude delays at the dock.
Warehouse spatial intelligence
Cloud-based Warehouse Spatial Intelligence (WSI) solutions are a new category of software solutions that combine unique spatial and real-time data sets (precise indoor location, HD images, videos, and advanced sensors) with cloud-based advanced analytics to gain actionable insights and automate decision making without human intervention. WSI solutions have been demonstrated to significantly improve real-time operational visibility, enabling logistics and warehouse operators to increase worker productivity, asset utilization, and safety.
In the context of improving loading dock efficiency, WSI solutions enable operators to understand where resources such as forklifts or employees are located within the warehouse, and how long it will take them to get to the dock. For improved dock-level performance, it is critical to have real-time visibility on both the status of the truck, and the resources required to load and unload. This will allow operators to gain holistic visibility and accurate metrics on their overall dock operations to drive improvements in dock level efficiency.
Furthermore, the integration of WSI with WMS allows warehouse operators to automatically allocate truck docks as they arrive at the facility (or in more advanced operations, when the truck's cargo is being picked in advance of arrival) to decrease the travel time and distance for loading.
Smart warehouses and sensor technology
Cameras and sensors are being deployed at the loading dock to gain insight into package level integrity, safety, availability, and efficiency. For example, advanced computer vision technology allows customers to validate the integrity of a package before it goes into the truck, which reduces the chance of complaints once it's delivered, and losses when returned.
New smart warehouses are also installing sensors on dock doors to accurately monitor the number of times the doors open and close. This allows improved preventive maintenance of the dock doors and increases uptime. Additionally, operators are installing environmental sensors at the dock to monitor temperature and humidity to ensure appropriate temperature control, and reduce energy consumption.
In summary, despite technological advances reshaping the supply chain industry, the loading dock has massive room to improve. By investing in loading dock visibility solutions, warehouse operators can drastically enhance not only dock-level efficiency, but also all aspects of their supply chain operations, driving increased cost savings and competitive advantage.
Vikram Pavate
Vikram Pavate is CEO, Locix Inc. Locix develops cloud-based spatial intelligence solutions for commercial buildings, consumer homes and connected devices – digitizing the physical world. Locix solutions uniquely capture location, visual and sensor data and combine them with advanced data analytics to provide spatial awareness and enable actionable insights for automated decision making. Based in Silicon Valley, Locix is backed by leading venture and strategic investors including ID Ventures, University of Tokyo Edge Capital, Murata Manufacturing, Prologis Ventures, Daikin Industries, NTT Docomo Ventures, Sumitomo Corporation of Americas, iRobot Corp., YE Digital, Yaskawa Electric Corporation and Acer Inc.
www.locix.com