Top of the tree
Domsjö Fabriker understands more than most other businesses that we have a responsibility for the world's natural resources and how they are used, and this is reflected in the way its world-leading biorefinery operates and produces sustainable products
Characterized by its steep granite cliffs and rocky offshore islands, The High Coast in the Ångermanland province of north eastern Sweden, has been a UNESCO World Heritage site since 2000. In close proximity to the site, one will be able to find the Domsjö Fabriker biorefinery, which has roots in the area that date back to the early 1900s.
It was in 1903, to be exact, that the site on which the biorefinery stands began life as a sulphite mill. It was the brainchild of Frans and Seth Kempe – sons of the founder of Mo & Domsjö, J. C. Kempe – who were the first men in Sweden to carry out tests on a method for producing sulphite pulp. By the 1930s, production levels at Domsjö Fabriker had increased to such a level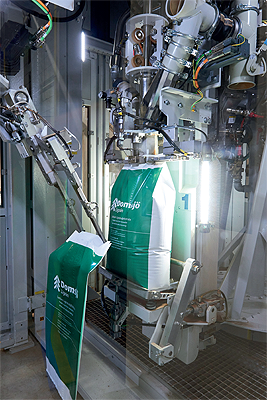 that the mill began to move into the production of cellulose for manufacturing viscose pulp. By the 1940s, the mill had helped facilitate the birth of the region's chemical industry, and what followed was almost six decades of continuous growth and technological advances.
In 1999, Mo & Domsjö sold Domsjö Fabriker to a private consortium, whose investment helped in the mill's full transition into a biorefinery, responsible for refining the renewable raw material from wood into products that boast a strong environmental profile. Then, in 2011, the entire business was sold to the Aditya Birla Group, a leading multinational business with its base in India.
"Today, our main product streams are cellulose, lignin and bioethanol," explains Domsjö Fabriker Chief Executive Officer, Björn Vedin. "Cellulose is our principal offering, with the major field of application being viscose for fashion and textiles. Made out of softwood, cellulose can also be found in a number of other products, such as medical tablets, food, sausage casing, tires and paint. Approximately 50 per cent of our total cellulose output is sold internally into the wider Aditya Birla Group, with the rest making its way into specialty applications elsewhere around the world.
"Domsjö Fabriker is also the world's second largest producer of lignin powder, with our lignin delivered to around 60 destinations worldwide, while our third stream of revenue is derived from the production of bioethanol, which is extracted from the unique cooking process where the sugar from the wood is gathered and fermented in our ethanol factory. We also produce our own biogas, which we use internally as an energy source."
Force for good
The company's unique manufacturing process allows it to produce high quality products adapted to its customers' high demands within what is the world's only closed-loop and chlorine-free bleach plant. "We source the raw material – softwood – mainly from sustainable Swedish sustainable forestry, consuming some 1.4 million cubic meters per year," Björn details. "The wood is debarked and chipped, before being fed with cooking chemicals into our digesters. The bark is burned, and provides energy in the form of steam, which we feed-back into our own system to power activities. During the cooking process, hemicellulose and lignin is dissolved, with the form being fermented and distilled into bioethanol. After cooking, the cellulose is washed and then bleached with hydrogen peroxide in our closed-loop bleach plant. Finally, the bleached cellulose is dried, sheeted and packed into bales, with the entire process – from log to finished bale – taking about 40 hours."
When Domsjö Fabriker began its journey towards becoming a biorefinery, it did so with the goal of making the most out of a tree in order to create sustainable products derived from the forest. This desire to be a force for good in the development towards a sustainable bioeconomy, utilizing forests as a unique resource, continues to sit at the heart of the company's culture and act as a motivator for its 330-plus employees.
"Our collective mission is to be a responsible, local manufacturer that is responsible for producing and selling sustainable, specialty products that originate from our forests," Björn confirms. "By having full control over our raw materials, we are safe in the knowledge that our products come from sustainable and traceable forestry. Swedish forests are special in that they are harvested at a lesser rate than they are planted, which guarantees future access. This helps to give our products the qualifications necessary to play a major role in what we hope will be a bio-based society, in which fossil fueled energy sources are replaced by sustainable alternatives."
In December 2019, Domsjö Fabriker made the exciting announcement that it had agreed to co-operate with independent Swedish scale-up company Ecohelix AB to establish a demo scale plant for the production of the hemicellulose copolymers developed and patented by Ecohelix. This news follows a successful partnership between the two players on a pilot scale plant that is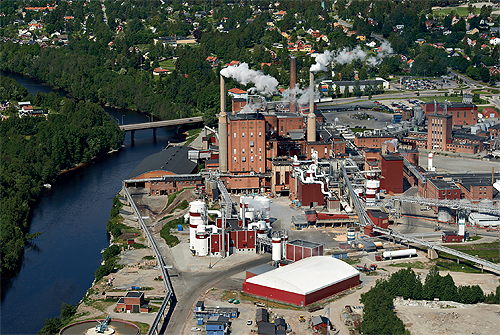 located at the Domsjö Fabriker mill, which has been used to verify the raw material, the process, the products, and to produce sample material for potential customers. Results and feedback from this work have been extremely encouraging, resulting in the need for a larger, demo-scale plant. Potential customers will eventually be supplied with sufficient product to do further development and verification work.
Positive actions
Ecohelix's hemicellulose copolymers boast excellent barrier properties and a low level of viscosity. Typical applications include various pulp and paper chemical and cosmetic processes, where the polymer's unique properties can be utilized. Said polymers are also highly efficient ingredients in formulations for gas and grease barriers. In many applications, Ecohelix polymers will ultimately be able to replace equivalent, fossil fuel-based products.
Under the agreement, Ecohelix is responsible for constructing the plant and erecting it, managing its operations to verify the properties of the raw materials, processes and products at a larger scale, and for gathering data for the next development step, which would be an industrial-scale production unit. For its part, Domsjö Fabriker is tasked with supplying the raw material stream to the plant, providing the necessary space to make activities possible, and with supplying all relevant utilities, services and support functions.
"Projects such as that which we have undertaken alongside Ecohelix are of huge interest to us at Domsjö Fabriker, as each one helps us to reach our own goal of making more sustainable use of – and products from – our raw materials," Björn states. "Other projects we are looking into include those that could facilitate greater and more varied use of the biogas that we produce."
As Björn reflects upon the year to date, he is honest in admitting that 2020 has been an incredibly tough year for the business. With around 50 per cent of its products being sold internally to its Indian parent company – much of which then finding its way to the clothing industry – the shutdowns imposed by global governments in an effort to suppress the Covid-19 pandemic had an almost immediate impact on a significant part of the company's revenue stream. While Domsjö Fabriker has been the recipient of Swedish government subsidiaries, it has been its own actions in recent months that have helped it to weather the storm. These have included identifying cost savings, creating great efficiency across the business, and actively pursuing new sales and business opportunities.
The above actions have given Björn and the rest of the Domsjö Fabriker team cause for optimism for the future. "Being active in what is a particularly niche market, we believe that exciting times do lay ahead for the business," he affirms. "We are looking forward to getting out there and exploring new markets and opportunities, while of course continuing to support our internal consumers, ensuring that they continue to receive the products and services they have come to expect."
Domsjö Fabriker AB
Services: Biorefinery producing cellulose, lignin and bioethanol
www.domsjo.adityabirla.com