Tomorrow's textiles
Established in 1792, and incorporated in 1904, UK-based Don & Low is an internationally renowned manufacturer of innovative, high performance woven and nonwoven polyolefin technical textiles. Throughout its history, the company has embraced changes in technology, resulting in a diversification from jute into polypropylene extrusion in the late 1960s, and then into Nonwovens in 1987. Operations are currently split across two divisions – Technical Textiles and Nonwovens, with the Technical Textiles Division producing a wide range of high quality polypropylene/polyethylene yarns and industrial textiles for markets including geotextiles, floor coverings and synthetic grass. The Nonwovens Division produces a variety of high quality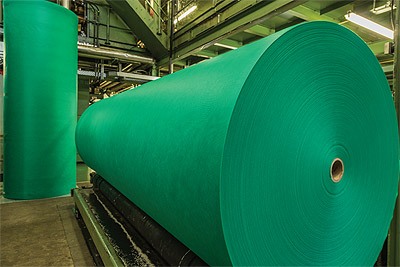 spunbond and meltblown fabrics, under the Daltex® brand, for sectors such as construction, medical and filtration.
John Hughes is General Manager of the Technical Textiles Division and he provided more details of the products manufactured by this side of Don & Low: "Our technical textiles are predominantly based on polypropylene (PP) and polyethylene (PE). All Don & Low tapes are manufactured with a blend of PP/PE and masterbatch (additives) to provide high quality colour, UV protection and flame retardancy for a full range of Woven Carpet Weft Yarns (WCWY); a wide range of fabrics for industrial use, for example substrates for reinforcement and coated fabrics; woven geotextiles/geogrids and synthetic grass yarns (DLG®)."
Regarding the Nonwovens side General Manager, Keith Galloway explained: "We utilise equipment developed by Reifenhauser, the foremost manufacturer of spunbond line technology. We have multiple Reicofil lines to convert polypropylene and polyethylene into a wide range of spunbond and laminated products. Our product and technology profile is optimised further with the ability to produce meltblown using polypropylene, polyethylene and thermoplastic polyurethane (TPU) via our new Oerlikon Neumag production line. We also have plans in place for a next generation Spunbond line."
The meltblown capabilities to which Keith referred were developed thanks to substantial investments in 2016, this reflects an ongoing commitment to continuously advancing core capabilities. "We are focused on providing pioneering products for our customers' applications, and that requires a dedication to innovation and development, which is often done in partnership with our customers to meet new market trends and our customers' needs," he said. "By adopting this approach, we can bring new products and services to market both quickly and efficiently. In fact, we offer customers, our partners, a complete product development service – taking products from creation and design, through to raw material selection, sampling, product validation and final manufacture for product launch. We continually review our in-house capabilities, exploring and identifying new areas of investment to diversify and drive our business forward. By doing this, our dedicated technical team not only strives to develop new products, but lso to enhance and adapt our product portfolio to ensure our customers maintain their competitive advantage.
"With a balance of both short and longer term development projects, we have the flexibility to respond quickly to immediate opportunities, as well as work on projects of strategic growth. We also actively encourage new and existing customers to challenge us to deliver innovative solutions and value added products for their business."
Not only does Don & Low work closely with customers for new product development, but also with its raw materials and machine partners – a perfect example of this is with a new product direction – synthetic grass yarns (DLG®). By working collaboratively, and investing in the right technology and equipment, Don & Low has created a unique and pioneering range of grass yarns that is expected to exceed even the toughest industry expectations, and be a step ahead of current market offerings. The new addition will also allow Don & Low to meet the increasing demands of the synthetic turf industry to provide highly durable, resilient and skin-friendly yarns for a variety of sports and landscape applications.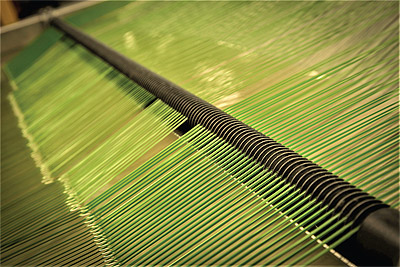 John Hughes added: "As a result of this new venture, Don & Low is the only independent grass yarn manufacturer in the UK and is one of the few remaining independent grass yarn manufacturers globally. This will allow us to work with many different customers and business partners, while maintaining the quality and excellence of our products. We aim to utilise this investment by taking synthetic grass yarn technology to the next level and leverage our technical leadership position in other markets to immediately deliver enhanced yarn characteristics, for the benefit of our customers in the synthetic turf industry."
In another successful collaboration, the Nonwovens Division along with the James Hutton Institute and Forth Resource Management recently launched the next generation in compost cover fabrics – Windrow TX®. This has been specifically designed to address some of the shortcomings associated with more traditional covers in open windrow composting sites, and provides enhanced breathability and durability, whilst minimising the critical dimension of weight. "Windrow TX® offers a physical barrier to the release of dust and bio-aerosols and significantly reduces odours. It also provides protection from the drying effects of the sun and wind and prevents waterlogging from the rain and snow. This ensures ideal conditions for active microbial activity which can lead to reduced processing times and higher yield," explained Keith Galloway. Windrow TX® is a lightweight and cost-effective solution which aids compliance with SEPA (Scottish Environment Protection Agency) BAT (best available technique).
It is clear that both innovation and investment are priorities for Don & Low, but the company recognises these important assets have to be supported by a continuous focus on maintaining quality and service. The company's success has been based on an outstanding reputation for quality, investing in new technology and customer service. As a market leader in the manufacture of technical textiles, embracing change has become a way of life within Don & Low. Investment in people, products and state of the art technology provides new solutions to particular specialist demands and provides the company with the competitive edge that allows customers to have continued confidence in its products and service.
Don & Low Limited
Products: Manufacturer of woven and nonwoven polyolefin technical textiles