Steel City specialists
From its state-of-the-art aerospace facility in the city of Sheffield, Doncasters Bramah manufactures a range of complex structural assemblies and products to blue-chip customers in the aerospace sector
When Daniel Doncaster established an operation in Sheffield to apply the crucible steel-making process to the manufacture of hand tools in 1778, he probably didn't think that in 2019 his legacy would still be being felt. He is also not likely to have envisioned that the organisation bearing his name would today be one of the longest continuously operating industrial manufacturing companies in the world, or that the trade mark he originally obtained would be recognised as one of the world's oldest.
At around the same time that Daniel Doncaster was laying the foundations for his company, a man by the name of Joseph Bramah, considered now to be the father of production
engineering, was applying the methods of the wood-worker to metal manufacturing. In fact, it was the availability of tools that could cut and cast wrought iron, produced by Bramah's company, that made the industrial revolution possible. In time, Bramah's company would be combined with Doncasters, forming the beginnings of the Doncasters Group.
"Since these beginnings, Doncasters has grown both organically and through acquisition, adding to its products and capabilities to become the respected global group that it is today, supplying metal forgings, castings and fabrications to the likes of Airbus, Boeing, Rolls-Royce, GE, Siemens and GKN," begins Business Development Manager, Andy Woods. "With the aerospace sector at its core, Doncasters also supplies into the industrial gas turbine, petrochemical and automotive industries. Today, Doncasters employs approximately 3500 people and turns over close to £500 million across its 25 businesses, operating in six countries across three continents."
The Doncasters Bramah (Bramah) operation, based in Sheffield, is a state-of-the-art aerospace facility, and a leading supplier of civil and military exhaust systems and aerostructure assemblies to the sector. It concentrates its expertise in forming and fabricating high-grade specialist metals around the hot zone parts of the aircraft engine and is widely recognised as a world-class supplier of components. From its 190,000 sq ft factory, where it currently employs 265 people, Bramah supplies to companies including Airbus, Rolls-Royce, Safran, GKN, Dowty, UTAS and Leonardo. This has resulted in the company turning over some £35 million per year, a 38 per cent increase since 2016 with plans to grow this to £45 million.
"Following the implementation of a strategy to transition from legacy engine platforms to next generation aerospace engines, Bramah has invested in equipment upgrades to capture new technology, while also adding new capabilities to our wide breadth of on-site processes," Andy continues. "This includes investment in automated riveting for exhausts, specialised welding and drilling technology, and, of course, not forgetting a significant investment in our people.
"Our multi-skilled workforce at Bramah excels in specialist forming processes, specifically superplastic forming, hydro-bulging, hot forming and electroforming, to produce complex structural assemblies. Furthermore, our manufacturing cells machine and process castings and forgings, and fabricate exotic materials such as Titanium and Inconel, turning them into fully assembled engine build-ready components."
Bramah's in-house manufacturing facilities are further complimented by process capabilities in heat treatment, chemical milling and etching, surface preparation, coating and testing, and as already cited above electroforming, which is fully supported by two site chemists. Having all of these capabilities under one roof means that Bramah is able to provide a unique service offering to its customers. Additionally, by possessing complete manufacturing control over its products, significant reductions in production lead times can be achieved, allowing the competitive manufacture of even the most complex components in less than six weeks.
"As a result of the investments made by Bramah over the past three years, we have been successful in growing the company's turnover by around 38 per cent," Andy enthuses. "Due to our customer's locations, and the locations of the final assembly facilities of the aircraft, we export our products to various destinations in the United States, Canada and Europe. The net result of this is that Bramah now exports around 70 per cent of its business – a figure that has increased from around 50 per cent three years ago."
In order to continue to grow its business in exciting new directions, in 2018 Bramah secured a two-year Innovate UK-funded collaborative research project, aimed at developing a range of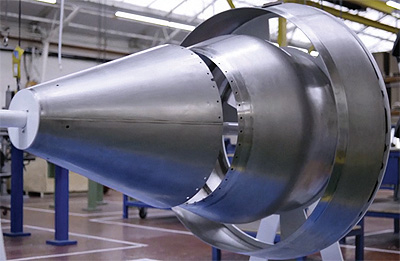 electroformed, leading-edge erosion shields for the off-shore wind industry, where blade erosion is currently a major issue. This will build upon the company's expertise in producing similar products for the aerospace industry, and take the business into a major new market sector.
"In the coming months, Bramah will look to stabilise its recent new product development introductions and ramp-up volumes to production rate, whilst planning for the on-shoring of a significant new exhaust programme from the Unites States," Andy adds. "In addition to this, preparing the fabrications group within Doncasters for a period of sustained growth in the long-term will be a key focus of our dedicated management team."
Before concluding our conversation, Andy wants to make a final point about Bramah's commitment to supporting local communities in Sheffield. "We are an active supporter of STEM activities within local schools, providing work experience and projects, as well as being a main sponsor of the regional 'Get Up to Speed with STEM' event, which promotes STEM careers to around 2000 local schoolchildren," he details. "We have also worked with other manufacturers across the region to donate time in kind to the 'Heart of Steel' project, culminating in the fabrication of a 2.4m high steel heart, which is now on display in the Meadowhall Shopping Centre, and will be used to raise an estimated £3.5m in funds for the British Heart Foundation."
Doncasters Bramah
Products: Complex structural assemblies