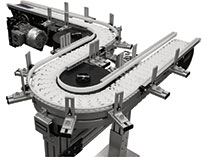 Whether being used for industrial or sanitary purposes, conveyors from Dorner Mfg. Corp. really keep things moving. Director of Sales Matt Jones says the company's products touch on over 1,200 standard industrial classifications. "We have a very wide product line," Jones asserts. "We really have two paths to the customer. We make products that are geared toward applications as different as metal stamping and metalworking, and pharmaceutical and food." Sometimes those lines are easily blurred.
"So in food and packaging – if you're on the hygienic side of the wall – everything has to be sanitary and stainless steel and designed for daily washing," he continues. On the other side of the wall in primary or secondary packaging, daily washdowns of the conveyors may not be necessary, so they can be made from stainless steel or even aluminum.
"We've got a pretty unique position in the marketplace," Jones maintains. "Why we're successful is we make a preengineered conveying solution that is really geared toward speed." To the customer, that means getting conveyors to them fast. Customers can access an online configurator 24/7 to design a conveyor.
The configurator will guide them through a series of questions about the width, length, elevation changes, curves, accessories and more. If customers need help choosing the right solution, the product selector feature will ask a series of application-related questions intended to guide them to the right conveyor. They can then enter the appropriate specifications. In both cases, the tool will deliver a complete bill of materials and the ability to download a variety of drawing types, all available within minutes. Customers then can request a quote for the product.
"In relatively short order, we send that off to our sales channel and have that quoted," Jones says. "The customer can oftentimes receive a preengineered conveying solution in as short as three to 15 days from receipt of order, depending on the complexity of their conveying request."
For more complicated systems, Dorner Mfg. Corp. established a solutions group two years ago. "We'll take on complex conveying solutions with requirements that are really tailor-made to the customer's applications," Jones says. These can include a vacuum conveyor, one with a lift gate or retracting tail and many more options, thereby allowing customers to achieve their product-handling goals. All of the company's conveyors are built-to-order.
Manufacturing Efficiency
The company's conveyors are sold mainly in the United States, Canada and Mexico, but they also are distributed in Europe, South America, Australia and Asia. "We have multiple people on staff who can speak Spanish and can support Mexico and Central and South America with Spanish language fluency," Jones says. "We have regional managers strategically located around the country, and that group is growing. We have a network of distributors that is located across the country and in key markets around the world, including Canada, Mexico, Chile, England, Germany, India and the Netherlands."
Dorner Mfg.'s quick lead times have been made possible by its use of lean manufacturing techniques. "We've embraced lean manufacturing since 2001," Jones recalls. "That is what on the manufacturing side allows us to hit these rapid lead times. We're used to juggling many priorities on a daily basis and ship dozens of conveyors every day."
The company has more than 100,000 square feet of manufacturing at its headquarters in Hartland, Wis. It obtains rollers and motors from third-party suppliers but roll forms the conveyor's frames and tig-welds the stainless steel frames. A competitive advantage is that it makes its own pulleys and belts.
"We have a belt process that is exceptional, Jones maintains. "It is really very unique in the conveyor industry, how we're doing it and supplying our own belting. We receive raw material and we cut and splice that accordingly." Conveyor belts can be made of fabric belting or plastic chain materials. "We have rolls of materials in inventory and we take that and cut it to length," Jones says. "Doing the belting gives us more control, faster delivery and better quality."
Conveying Growth
Dorner Mfg. is experiencing significant growth. "We've been growing nicely," Jones says. "We're constantly adding new equipment. We've expanded our labor force by 25 percent in the last one-and-a-half years. We're sending a lot of conveyors out to companies across North America. Where we've seen our biggest growth is in the United States because customers know they can buy conveyors from us and they will get them fast."
The company has a network of regional managers to provide local support and a substantial field service group. "We'll send service people globally if needed," Jones declares. "Most of our field service is done across North America, but we just sent a person to Chile to do some local support and product training."
For the future, Dorner Mfg. plans to seek additional business in Asia. "We have a very strong sales channel in India," Jones notes. "They are doing a nice job for us. Our goal is to grow by adding new products. We have been on a new product introduction trajectory for the last four or five years that saw us adding two new product platforms year-over-year. This new product growth will help us develop more customers in Mexico and Central and South America, as well as in the U.S. and Canada."