Dowty Propellers: Uncovering the story of a world leader in propeller systems
The business first began in 1937 as Rotol – a partnership between Rolls-Royce Limited and the Bristol Aeroplane Company – and sought to provide a dedicated manufacturing capability to support the rapid development of aircraft and their propulsion within the UK. By zeroing in on quality and consistency, Rotol grew at an impressive rate.
Rotol made over 100,000 propellers for some of the most iconic aircraft of the World War II era, including the Supermarine Spitfire. "By the end of the war, the jet age had begun," begins Jonathan Chestney, Engineering Leader at Dowty. "As a result, the company has lived with the un-truth that jets render propellers obsolete for nearly all its life."
"Perhaps ironically, the first unofficial flight of Sir Frank Whittle's jet engine took place on the site of our current manufacturing facility in Brockworth, Gloucestershire," he goes on. "It was once the site of the Gloster Aircraft Company. But the enduring success of the propeller comes from the inherent fuel burn benefit of the open configuration for shorter-duration regional travel, and the excellent short take-off and landing capability they offer. These factors will ensure the future presence of propellers in the industry for many years to come."
As Jonathan explains, the turboprop has proven to be a highly effective combination for performance and economy, and it remains in use in vast numbers for aircraft ranging from small general aviation up to some of the largest transport aircraft available today.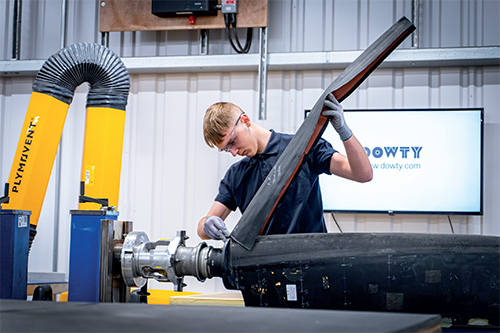 The partnership between Rotol and the Rolls-Royce Dart engine family was significant. "The collaboration helped to encourage the highly effective transition away from the military applications of the company's early years to the civil world," Jonathan notes. "These propulsion variants powered the majority of aircraft from the late 1950s, while helping to democratize air travel around the world."
Performance advantages
Later acquired by Sir George Dowty in 1960, Rotol would become the company we now know, taking the name of its new owner, who had already developed a family of businesses built from his first aircraft shock-absorber. As such, there was a pre-existing emphasis on technical ability that supported the success of the newly formed company.
"One such example of Dowty's technical excellence came with the introduction of composite materials to replace aluminium and wood in the 1980s," comments Jonathan. "We were the first to introduce all-composite blades for regional aircraft propellers and, more specifically, the Saab 340 back in 1984 and we have developed a highly evolved expertise in the manufacturing of composites since this time." Dowty is now considered a global leader in composite propeller systems, having delivered over 25,000 blades to date.
"A second example would be the introduction of electronic control, beginning with the Fokker 50 in 1987," he adds. "The use of microprocessors enabled significantly improved speed control, and better synchrophasing to reduce noise. This was further enhanced with the Saab 2000 in 1993, with full authority propeller control, and the incorporation of the propeller control functions into the Full Authority Digital Engine Control (FADEC) of the Rolls-Royce AE2100 engine. These technological advances and the performance advantages they provide, along with continued investment to evolve and enhance them, have been key to the continued success of the business."
Fast forward to today, and Dowty now employs approximately 440 people across three manufacturing sites: Brockworth, Gloucester, which operates as the company's headquarters and focuses on centralized production services (design and engineering), while also housing the UK arm of Dowty's global repair and overhaul support network; Sterling, Virginia, a wholly-owned site for Maintenance, Repair, and Overhaul (MRO), with extensive capabilities in civil and military services, and a logistics hub for North America; and, finally, Brisbane, Australia, an MRO facility to enhance Dowty's capabilities across the Asia Pacific region.
The Brockworth facility was opened in 2019 and incorporates a state-of-the-art Building Management System (BMS) and 11 mechanical and electrical support systems to enable full flexibility for Dowty's manufacturing operations. The BMS also offers fully automated control of environmental conditions across the site, governing key parameters for the manufacturing processes, such as temperature and humidity.
On top of that, the market leading propeller manufacturer also offers 24/7 Aircraft-on-Ground (AOG) support, the aid of 70- plus field service engineers and 40 customer-located field teams, and training for its customer base.
In recent years, though, even the most successful businesses could not have foreseen the disruptive consequences of the pandemic. For Dowty, indirect impacts included reduced customer demand, downsizing and contraction of its supply chain, and reduced workloads brought on by the furlough scheme. While direct impacts such as challenges in communication, adapting to a hybrid working system, and material supply shortages and availability, forced the company to pivot its operation.
"Juggling these ongoing issues and attempting to mitigate their effects to maintain a smooth supply of parts into the business has been a real challenge," reveals Sally Price, Supplier Fulfilment Lead at Dowty. "Hence, I regard the close relationships we have with our suppliers as invaluable; they are key to the consistent flow of parts, and that is priceless, especially in the post-pandemic period we now find ourselves in."
Indeed, as demand ramps up despite a worldwide shortage of raw materials, relationships between companies and their suppliers have become beyond essential – there is, simply put, no way to stay afloat without a core support network. Going it alone is not an option, especially when considering the importance of a clear end-to-end supply chain strategy.
Digital manufacturing
As such, Dowty is now hard at work with suppliers to find solutions to these ongoing issues, with the aim of minimizing customer impact and increasing its own market share. Yet while many companies faltered or took a hiatus from manufacturing, Dowty continued production of military and civil aircraft propellers, marine hovercraft propulsion systems, and amphibious aircraft propeller solutions.
There are currently 259 commercial operators flying around the globe thanks to Dowty's propellers.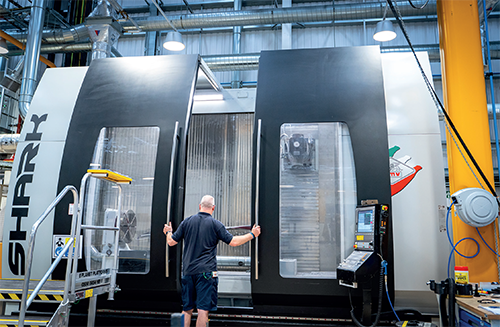 The company is used to innovating the commercial aviation industry: it equipped the world's first all-composite-bladed turboprop aircraft certified to FAR Part 25, the Saab 340, and led the way in full FADEC-integrated digital electronic propeller control systems on the Saab 2000. Military transporters such as the Lockheed Martin C-130J Hercules and the Leonardo C-27J Spartan are also powered by Dowty's propellers, ensuring they remain reliable, efficient, and adaptable workhorses.
Helen Eaton, Dowty's Marketing Manager, breaks it down for us: "Our blades are designed to last for the duration of an aircraft's entire lifetime, and we've never had a single composite blade detachment in flight . Our customers trust us to deliver propellers that work from day one.
"On top of that, we take pride in how we've evolved our testing capability to understand how our blades perform. Our longest-serving blade, for example, has exceeded its original engineered life but we are able to validate this blade for continued service."
There is also an ongoing effort to upgrade Dowty's digital manufacturing processes. The propeller expert recently installed a new industrial network to connect critical machinery and equipment for automated machine data capture and performance monitoring. The network also runs Discrete Event Simulation (DES), which enables real-time performance observations. The business is also working towards an upgrade of its Manufacturing Execution System (MES) to create a paperless shop, with digital routings and better visibility of product standard times.
Furthermore, building upon research undertaken during the DigiProp project, Dowty will soon be utilizing digital product tracking across the shop. This will provide the accurate location of parts in real time, a better understanding of the shop's work in progress, generation of 'first in first out' (FIFO) queues, and the ability to provide information to lean models to focus projects for improvements.
Next generation
Lean manufacturing advancements complement these digital upgrades. "Our single standard Quality Management System embraces the Advanced Product Quality Planning (APQP) and Production Part Approval Process (PPAP) methodologies along with the AS9145 standard to ensure that product development processes are fully integrated and extend from product design through to in-service use," Jonathan explains.
As our interview has made clear, the key to Dowty's success, according to HR Leader Marinela Stefanova, lies with its workforce.
"Our success belongs to our people and the culture we promote across the business, from our leaders to our early careers talent," she says, rounding out our conversation. "We create experiences to engender a culture of accountability and tenacity and to motivate employees to uncover the best solutions for our customers – whether that means through technology or the strength of working together. We are truly propelling the next generation – the next generation of talent, of propellers for sustainable aircraft, engineering excellence, and manufacturing technology. It is at the heart of what we do every day."