Stretching out
Drallim prides itself on being an innovative and responsive manufacturer
Since its founding in 1958 by engineer Angus Millard, Drallim has worked tirelessly on the development of an ever-growing portfolio of products. As a specialist equipment manufacturer, the organisation retains its reputation as a leading innovator in design and manufacturing solutions, providing engineering skills, manufactured equipment and custom built designs for the aerospace, industrial and utility markets. "Encompassed within our business is a wealth of engineering knowledge ranging from mechanical and electrical to electronics and software. We are very much a niche manufacturing company," says Dave Mooney, managing director.
The legendary rotary selector valve (RSV) on which the company was founded remains a product that continues to be demanded today, spearheading the contracts won through the Industrial Division including the recent manufacture of a complete suite of electro-pneumatic control panels for a nuclear power station application. Despite being a small business, Drallim has received numerous awards, including Young Manufacturer of the Year, highlighting the drive behind its success. "We change direction quite frequently so it is important that our employees are highly motivated, and winning awards for numerous aspects of the business opens an opportunity to celebrate our successes. We have got a wide ability in the company that stems from our founder, who left the company entrusted to the employees and it has been our ethos for many years that we wouldn't survive as a British manufacturing company if we only made one product. It is long-term contracts and developing new products that has seen us through the recessionary periods of the past," Dave explains.
The RSV – primarily used as a pneumatic valve – is manufactured alongside a range of other specialist products allowing the Industrial Division to grow to a size where it comfortably responds to any manufacturing demand. Currently undertaking a complex refurbishment project with National Grid, Drallim calls upon key suppliers such as Eldon, DRN and Chemographic to ensure quality within its production of custom manufactured items. Maintaining strong relationships has always been at the heart of the division, and a skill that has seen it work with large clients including London Underground and Saudi Aramco. Leading advances in technology, Drallim has also been responsible for the development of the Drallim Anti-Condensation System (DACS), which eliminates wasted energy, thereby lowering operational cost, and has been sold to National Grid and other big users, to which Dave adds: "We have between 20 and 30 products and projects in consideration or at various stages at any one time. Constantly evolving our products and having good relationships with our customers is what has allowed us to develop an agile culture."
Built on the brand name Cargo Aids, the Aerospace Division produces cargo handling equipment with a modern innovative approach to providing a quality solution, including the under slung cargo hooks for helicopters,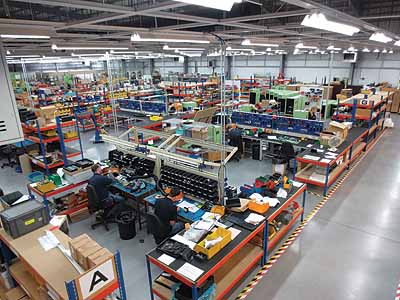 which has been the bedrock for the business. The division has expanded over the years to incorporate many specialist restraints, from chain lashings to very high strength webbing restraints and specialist ground support equipment for a range of high integrity applications. Its customer base has grown to include British Airways, Rolls Royce, GE, the MoD and a number of nuclear power plants, and the business recently won an important contract to design and develop a cargo hook for a major US company. "It is a new generation of cargo hooks that we have developed in-house, and we have also sold some variants of this around Europe, and as far away as Japan," points out Dave, highlighting the company's global interests.
"It is important to adapt to differing rules depending on where you're supplying to around the world. Located in the UK, our global markets stretch as far as the US, India, and Japan, providing installation and commissioning services, for any of our products wherever required. We have over many years supplied products to industrial facilities all over the world," he adds. Dedicated to providing leading-edge test, diagnostic and remote condition monitoring solutions to the power generation, transmission and distribution industry, Drallim also monitors oil field high voltage cables, recently designing a solution for a specific high voltage application for a client in Hong Kong. Through its Utilities Division, the business also manufactures the compressor desiccator unit, a device for supplying dry air to pressurise telecommunication cables, working in the background, helping to provide a clear signal on copper cables and in waveguides.
"Over the past 12 months we have seen our economy take a sharp improvement from our point of view in terms of customers being more ready to commit to larger, longer term projects, with a significant increase in our orders, resulting in a full order book through to 2016," points out Dave. With the aerospace sector continuing to grow Dave expresses his confidence and concerns about future opportunities: "We have seen the depression of investment in the energy industry, largely because of the political uncertainties about the future, but in contrast, we see nuclear as an area in which we would like to expand into but it is still uncertain about what the opportunities will be and when they are going to happen. On the more basic industrial side of the business there seems to be a growing trend of bringing things back to the UK, doing less abroad, and therefore optimistically, we are hoping for steady growth and hopefully some unexpected opportunities."
Drallim
Products: Specialist equipment
Sites: UK
Employees: 60