Dream big
With its 'bedquarters' in High Wycombe, bed manufacturer and retailer extraordinaire Dreams sells 10,000 mattresses, bases and headboards per week to customers nationwide
A proud British business, Dreams remains committed to making its products in the UK, with the Dreams Bed Factory in Oldbury now manufacturing over 250,000 mattresses and over 200,000 beds a year. Dreams is continuously looking at ways to improve its manufacturing efficiency and as CEO Mike Logue noted the last time MTE spoke to him, the business has invested over £1 million to re-lay out the factory and bring in new machinery and technologies in order to make it more efficient. "We have our own quality team, situated in the factory, so that we can quality-check every product that leaves it," he added. "We have a very rigorous in-line quality inspection process, and the results of it can be seen in the under one per cent returns rate we have achieved."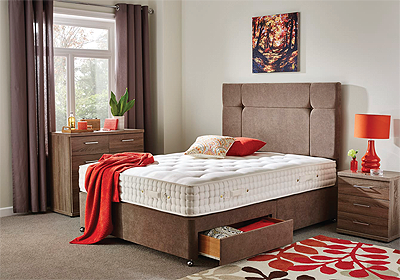 Improvements to the factory are not the only developments that have been underway for Dreams. With both customers and employees in mind, every single one of its 198 Dreams stores in the country has been renovated. This has included refreshing signage and store layout, as well as introducing the 'Comfort by Colour' proposition. A simple and effective way of categorising customers' potential mattress choices by colour, Comfort by Colour is a unique initiative in the sector and has been successful in making the shopping experience easier and more straightforward for the customer.
While big recognisable brands such as Tempur, Silentnight and Hypnos are available from Dreams, the company also offers its own in-house brands, including Flaxby and Dreams Workshop.
As recently as May 2019 the company saw another exciting product launch, with the advent of two new adjustable bed frames, the Sleepmotion 900i and the Sleepmotion 200i. The launch followed research commissioned by Dreams, which found that more than two thirds of Brits are unhappy with the quality and quantity of their sleep. As many as a third never wake up feeling refreshed.
The state-of-the-art Sleepmotion bed frames offer customers a wide range of ergonomic positions to choose from to aid sleep. This also allows customers to watch TV, read a book or relax in bed in their most comfortable position. Embracing the use of technology, the frames are remote and app-controlled, via the exclusive Napp by Dreams sleep-tracking app, offering comfort at the touch of a button.
Commenting on these innovative new products, Daniel Parsons, Director of Buying at Dreams, explained the reasoning behind the launch: "Poor sleep is widespread in the UK today. Given there is no 'one size fits all' when it comes to getting a better night's sleep, it's important we offer beds to suit all customer lifestyles.
"That's why we've developed our new Sleepmotion adjustable bed frames. By offering customers the tools to easily adjust their beds' positioning, height and support, we're empowering them to achieve the perfect conditions for a better night's sleep."
Dreams' Sleepmotion technology ensures customers don't miss out on the comfort of a perfect mattress either, as both ranges can be used with a wide range of Dreams mattresses including TEMPUR, Hyde & Sleep, TheraPur and Doze.
Furthermore, choosing the mattress for the frame is now even easier thanks to Dreams' Sleepmatch technology, which profiles individuals' Unique sleep requirements to help them find the perfect mattress.
Developed through decades of testing and scientific research, the Sleepmatch system analyses 18 unique measurements, including height, weight, shoulder width and preferred sleeping position and conducts 1000 calculations, to pair customers with their perfect mattress. Unlike other mattress matching systems, Dreams' is the only one to be backed by science, supported by the findings of a largescale research study by a leading university in the US.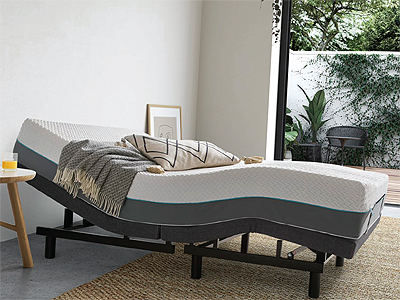 Customers are invited to try the innovative Sleepmatch process whenever they visit a Dreams store. While lying on the Sleepmatch mattress, the technology will capture key profile measurements before producing a Personal Sleep Profile, detailing their unique mattress requirements.
Working in partnership with Dreams' exclusive Comfort by Colour system, Dreams' in-store colleagues will use the Sleepmatch findings to guide the customer to their ideal mattress; advising they choose the option that's best for them.
Daniel added: "Too many people in the UK are currently suffering from a poor night's sleep – and a bad mattress can be the main culprit. Yet we know the process of picking a new mattress can be sometimes feel overwhelming and confusing. We don't think it should be that way That's why we're so proud of our Sleepmatch technology – the only system backed by science and specifically designed to make choosing the right mattress easier than ever. This nationwide rollout is a significant step towards helping more people to get a better night's sleep."
Dreams' Sleepmatch technology has already proved a huge success, having been introduced to its first Dreams store in November 2018. Globally the technology has resulted in over 12 million profiles being built within the database.
The first half of 2019 has clearly been an exciting time of product development for Dreams, and reflecting its performance it recently was crowned Specialty Retailer of the Year 2019 from Retail Week. Its expertise in providing the most restful night's sleep was also recognised in another way when in February the company confirmed its partnership with Team GB as its 'Official Sleep Partner' up to and including the Tokyo 2020 Olympic Games.
With the Games under 20 months away Dreams and Team GB will work closely together, specifically looking to help the athletes sleep, rest and recuperate. Sleep is an integral part of the athlete's performance and as part of the deal Team GB will receive products and sleep advice to support their efforts in Tokyo.
Dreams was delighted to become the first ever official sleep partner of Team GB in the run up to and throughout the 2020 Olympic Games, and Mike acknowledged how the company's sterling reputation for excellence was pivotal in achieving this ground-breaking agreement: "We pride ourselves on being a great British brand as we make, sell and also deliver our Dreams beds – setting us apart from the competition and making us the best and most natural fit for the nations most loved sports team.
"As the UK's most recommended bed retailer, we've been helping our customers sleep better for over 35 years and this new and exciting partnership will see us utilise our wealth of knowledge and expertise to aid Team GB athletes rest and recovery, helping them to reach their full potential and be able to perform to the best of their ability."
Dreams
Products: The UK's number one bed specialist
All photography © Dreams