Driving sustainable production with intelligent additive manufacturing. By Omer Blaier
According to the EPA, carbon emissions have increased upwards of 90 percent since the 1970s. Following the 2016 Paris Climate Agreement, companies of all sizes are racing to reduce their carbon footprint and combat the ever-growing issue of global warming. With industrial companies accounting for nearly 54 percent of the world's energy consumption, this is an issue that all sectors must take accountability for and seek solutions to. Over the last decade, we have seen initiatives at every level to promote sustainability across nearly all industries across the globe – whether this is achieved through using less energy, shortening the supply chain, or reducing waste. Having accurate, real-time data is a crucial factor for decarbonization and reducing the immense environmental impact of the manufacturing industry – responsible for a fifth of global carbon emissions. Advanced technologies like additive manufacturing have the potential to address these issues and promote a greener, more sustainable means of production.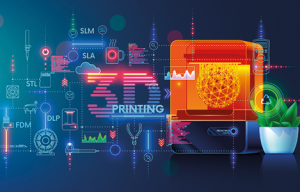 Additive manufacturing (AM) has been lauded as an effective and environmentally friendly technology with the potential to provide solutions throughout the various stages of the product lifecycle. The benefits of AM compared to traditional manufacturing methods, such as CNC, injection molding and dye casting, are especially significant when producing complex, low-volume, high-mix parts. By only producing the parts that are needed, AM can reduce energy usage, save costs and cut lead times without having to compromise on a part's mechanical properties.
The first step to introducing AM is to identify where traditional parts can be replaced with 3D printed ones. This was once difficult as determining the printability of parts and the quantifiable value of AM depended on a huge number of factors, from the geometry and material of a part to cost considerations. Thankfully it is now much simpler as software, such as CASTOR's, optimizes and automates this process, analyzing each part and identifying where AM can be used to deliver significant cost savings and environmental benefits.
Once the opportunity for AM has been identified, designing parts to be manufactured in AM can also now be supported by artificial intelligence and simulation tools. Using advanced software to analyze product designs enables designers to identify and remove unnecessary sections within a part that do not contribute to its structural integrity. This further minimizes waste during the manufacturing process. Many of these 'reduced' product designs cannot be easily manufactured using traditional subtractive methods because of their complex structure and assembly, hence making AM the preferred method of manufacturing in such cases.
Recycling and reduced transportation costs are some of the additional elements that act as environmental benefits of AM and can contribute to the reduction of carbon emissions. AM allows for parts to be produced closer to the point of use, shortening the supply chain and reducing the emissions associated with transportation. AM also promotes the recycling of powders, filaments, and other materials which can be used again in the production process, thus reducing the amount of waste in the environment.
A new, free report from CASTOR on sustainability in AM, based on a database of over 50,000 parts and assemblies, finds that 3D printing a single part over ten years can save over three tons of CO2 emissions – equivalent to 18,000 km travelled in a diesel car, or 216 train trips between Paris and Amsterdam – compared to traditional subtractive manufacturing. When considering one of the most promising applications for AM – its ability to utilize innovative light-weight materials and designs that consume less material – the report also
found positive news. When manufacturing a metal part, by reducing its weight by 40 percent – a relatively easy target for 3D printed parts – carbon emissions could be reduced by ten percent. This analysis also demonstrates that substituting AM for traditional manufacturing is an efficient way of reducing CO2 emissions, especially with regard to parts with complex geometries and assemblies.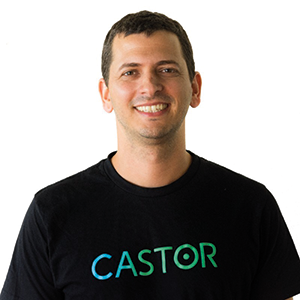 The contribution of AM to sustainability is growing, but to fully benefit from it we need further improvements in manufacturing methods. The acceleration of 3D printing for end-use production, ongoing improvements in machines, improved materials, and new application developments, will all contribute to the broad uptake of this technology. Also of importance is the ability to develop intelligent software that can automatically calculate CO2 emissions and other factors that play into the feasibility and actual value of additive manufacturing, supporting the adoption of AM as our industry becomes ever-more climate-conscious. There is a clear potential for this technology – with a thorough understanding of the growing market for AM and how such cutting-edge technology can help industry be more sustainable, we can ensure it is fully harnessed.
For a list of the sources used in this article, please contact the editor.
Omer Blaier is Co-Founder and CEO of CASTOR. CASTOR develops intelligent software capable of analyzing thousands of parts simultaneously and identifying opportunities where additive manufacturing makes sense from a technical, economical, and environmental point of view. CASTOR enables both new adopters and additive manufacturing experts to scale up their additive manufacturing journey, helping them to reach their targets of reducing cost, improving sustainability, and increasing supply chain resilience. The latest addition to the software is a calculator that analyses the amount of CO2 emissions that could be saved by using additive manufacturing compared to traditional methods across the entire part lifecycle, including material production, product manufacturing, product use, transportation and end-of-life disposal.