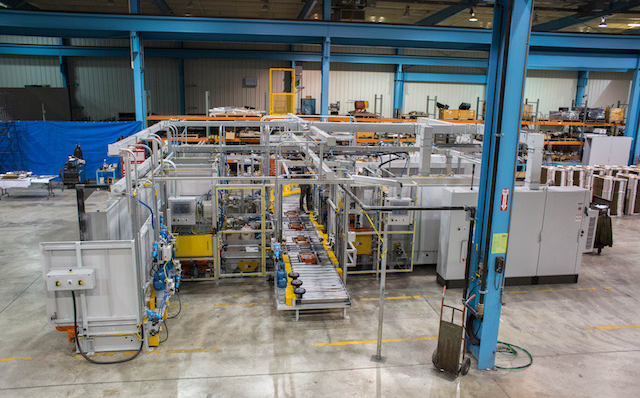 It seems that every day there are new reports on how millennials are destroying an established industry or upending long-practiced workplace norms. Some businesses have resisted that shift, decrying the generation as lazy, soft, lacking respect and too attached to their smartphones. But as older workers creep toward retirement, companies are finding they must appeal to millennials to replenish their ranks and talent pools.
Instead of fighting against these generational changes in attitudes and lifestyles, savvy companies such as Missouri's DT Engineering are embracing them to drive their business forward. "We realize we have to change the fabric of the company to attract that talent," owner and CEO Jim Sheldon says.
DT Engineering went so far as to bring in a marketing company to help it recruit college students. The firm engaged 20 students from the nearby Missouri University of Science and Technology to learn what they wanted out of future employers. DT Engineering then used that information to build its brand and reimagine its workplace culture as a collaborative environment with open seating, flexible hours and even ping pong and shuffle board tables to help employees relax during downtime.
The diversity of DT Engineering's Fortune 500 customers is another asset to recruiting young talent to the company. "We're not doing the same thing every day and that's attractive to them as well," Executive of Business Development Ken Cook says. "They are huge advocates once we get them in here and exposed to the culture."
Vertically Integrated
DT Engineering was founded in 1933 as Lebanon Machine Shop, a tool and die company in Lebanon, Mo. When the founder moved to Detroit, he renamed it Detroit Tool & Engineering. After several years in the Motor City, he decided to move the company back to Lebanon. The relocation meant the Detroit Tool brand no longer fit, but World War II was underway at the time and the company's name was tied to its ration number, forcing it to keep "Detroit Tool" to secure access to materials.
It was not until last year that the name finally changed when former employee Jim Sheldon purchased the company and decided it was time to move away from the "Detroit" branding. He changed the name to DT Engineering, dropping the geographic misnomer.
The name switch also reflected how the company's products had evolved in the past 84 years by deemphasizing tooling. Although it was founded as a tool and die manufacturer, tooling represents only about 10 percent of DT Engineering's activity today. The bulk of the company's efforts are in producing industrial automation equipment for a broad variety of industries, including white goods, medical devices, pharmaceutical, paper, oil and gas and electronics manufacturing.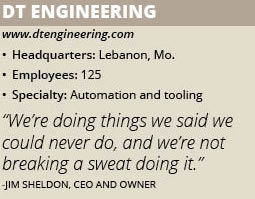 Because it manufactures automation equipment and the tooling that goes into the machinery, DT Engineering has an advantage over competitors that do one or the other but not both. Instead of going to multiple vendors for the equipment and tooling, customers use DT Engineering as a vertically integrated one-stop shop capable of fulfilling most of their needs out of its 230,000-square-foot facility in Lebanon. "Ninety-five percent of what we need to do we can do in-house," Sheldon says. "We don't have to rely on anybody from the outside."
Backward Integration
The new culture DT Engineering created to appeal to younger workers extended to its manufacturing process. "We've basically thrown the traditional project management in the trash," Sheldon says. "We have a whole new system of how we manage projects."
The approach, which Sheldon dubs "backward integration," has seen immediate results. DT Engineering has not missed a single delivery deadline this year, an improvement from the past. It starts by having the end-goal in mind. Once it knows what it must deliver to the customer by the due date, DT Engineering holds an offsite meeting with all of its teams to work backward on developing a schedule with milestones that every functional department must achieve on a weekly basis.
It's a results-oriented process that matches the way millennials approach tasks. By focusing on milestones, DT Engineering was able to do away with timecards and allow for flexible work schedules – unfathomable at most shift-based manufacturers. "They know what they have to achieve," Sheldon explains. "Once they achieve that, they can either pull forward or go home. If we accomplish our deliverables and put ourselves in a good position it doesn't matter to me if we do that in four days or five days."
Backward integration is about harmonizing the commitment to the customer and the work/life balance for employees. Planning down to the finite details upfront and hitting those targets means employees don't have to stress themselves and work longer hours at the end of the project to meet delivery dates. "We motivate to do better planning relative to our commitment," Sheldon says. "We're doing things we said we could never do, and we're not breaking a sweat doing it."
Controlling Growth
Exposure to younger workers has even helped Sheldon and Cook better prioritize their goals for the company. "To some degree, our minds are so open now with how we get the millennials in here that it's rubbing off in other ways," Sheldon says.
Take DT Engineer's approach to growth. Most companies dispatch a large salesforce to find customers and drive revenue, but Sheldon prefers focusing on c-suite relationships and finding ways to leverage the company's business model to help clients. Because it is a privately owned company, Sheldon says DT Engineering can afford to think long term instead of chasing short-term profits. "We're trying to build the future by having sustainable relationships with customers that are long lasting," he explains.
"We're not trying to be the biggest automation and tool-and-die company in the world, but we're trying to be the best," he adds. "We want to control our growth. There's enough work for everybody and then some in automation and tooling. We don't want to grab everything. It can mess with your culture, it creates a lot of stress and is not a beneficial environment for your employees."