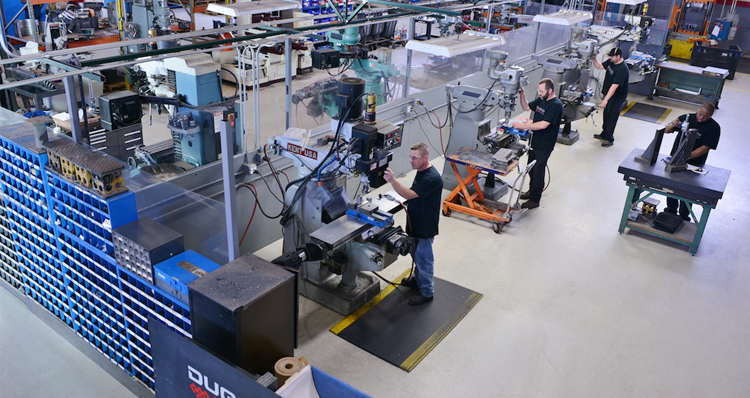 Duggan Manufacturing believes in utilizing every inch of available space in its facilities. "Everybody that comes in here can't believe all the processes we do in a relatively small space," President Tony Pinho marvels. "Our tagline is, 'It seems small for all we do.'"
Duggan Manufacturing produces parts, components and prototypes of sheet metal stampings for the aerospace, automotive, defense, agricultural, entertainment and alternative energy industries. "If we had any failing in the past, it's not sufficiently promoting everything we do."
That includes CNC milling for tooling and fixtures, parts stamping for big components, robotic and manual welding and laser-cutting. "Since 2009, laser-cutting has been a huge part of what we do," Pinho says. Duggan Manufacturing can cut reflective materials such as aluminum and stainless steel without burrs with its fiber-optic lasers. Parts made from such reflective materials have become important for their weight-saving properties."
Duggan Manufacturing also has a press brake and offers boron-based hot stamping. All of this is done in a 72,000-square-foot plant attached to a 28,000-square-foot facility. "We do a lot under one roof, from laser-cutting to inspecting parts in our lab," Pinho points out. "We also do cut-and-etch and have a metrology lab for testing all our welds, making sure they have the right strength and penetration."
The company has more than 60 hydraulic presses as well as mechanical presses. Duggan also uses five-axis lasers. "The thing that is nice about fiber-optic laser cutting and welding is that you have more uptime with the machines," Pinho points out. "They don't need as much maintenance as traditional CO2 laser-cutting machines and are a lot more versatile and powerful, especially in the welding aspect. You can split up the beam and run it to different cells with different table sizes or rotary tables. That's where the industry is going."
New Machines
Duggan Manufacturing recently purchased a wire EDM machine and a 12-foot-long, 350-ton press brake that bends angles of differing degrees into metal pieces. "Those are complementary machines," Pinho points out. "The EDM can cut parts, but it also improves tooling lead time."
Another unique process that Duggan Manufacturing has been offering for the past seven years is hot stamping of parts with a high boron content. "You stamp the part, and we have an oven that will heat it up to 2,000 degrees, and it heat treats itself," Pinho explains. "When you pull out the part, as it cools, it takes on very high strength properties. That is pretty big in structural parts in cars, because it saves a lot of weight. It's not a brand new technology for us, but we were one of the first ones to do that, plus we've got seven years experience with it."
Laser Cutting and Welding
Fiber-optic laser cutting machines have streamlined operations at Duggan Manufacturing. "We had five CO2 laser-cutting machines and bought our first fiber-optic one in 2010, and this one fiber unit cut 75 percent of our work," Pinho remembers. "So we were able to sell all the CO2 lasers, and since then we've invested in a couple more fiber-optic lasers."
Some customers have asked Duggan Manufacturing to run tests on fiber-optic laser welding equipment for them because the machine manufacturers are not really set up for concentrated testing. "The manufacturers might run a few samples for you, but eventually, they just want you to buy the machine," Pinho remarks. "So we do a lot of development work here. We do everything for those assemblies, from making the parts to putting them together."
Duggan Manufacturing has come to rely more on its own efforts than on outsourcing. "We've tried to source some of that testing over the years, but usually, we find out we're our best solution, because by the time you drive or ship it somewhere and you have to wait, it seems to be easier to do it ourselves."
Plant Layout
In the past two years, Duggan Manufacturing has rearranged the layout of its plant to match a workflow that is always changing for different parts, prototypes and components. Some projects only last six months. "We've created a catchall area for assembly," Pinho says. "We've reconfigured our shops probably eight times since our founding 16 years ago."
The company follows a general procedure in which tools are cut first, then blanks are produced from sheet metal and parts are pressed out and trimmed on a five-axis machine. Then parts are inspected and combined into assemblies if that is required. The company's quality and testing lab is accredited by the American Association for Laboratory Accreditation. "That's how our shop is laid out," Pinho says. "It has a better flow to it for the work we're doing."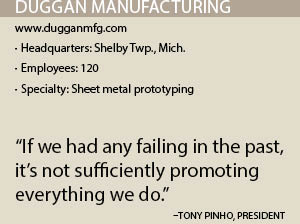 Figuring out how to manufacture a part is more the concern of Duggan Manufacturing than its customers. "Our customers really don't care how we make the part, just as long as it fits their print or CAD and is an accurate representation of what they want," Pinho notes. "We use a lot of different methods, and customers usually don't dictate processes to us. We make their parts quickly and accurately so they are happy."
Among the great variety of parts that the company produces are subassemblies for auto seats, automobile exhaust parts, instrument panels, cargo beds and parts for railroad cars and airplane galleys. Quantities can range up to 50,000 for a single part. "We've done parts as high as 500,000, but those are generally not very complex parts," Pinho says. "People come to us more for either complex parts or speed. We can do part complexity because we have such a variety of forming equipment.
"We are able to do things quicker with our laser-cutting ability, since you don't need as much tooling to produce a part," Pinho explains. "Also, we have just about every process in one place. We do the tools internally. We can do a tool in a couple days if need be, so it cuts out the lead time."
The time to receive a stamping tool from an outside tool provider might be up to 16 weeks. The company's deep inventory also helps it respond quickly. "We have an immense amount of sheet metal inventory," Pinho declares. "If someone calls us on a Friday and needs parts on Monday, generally we have the material in stock."
Staying Busy
Duggan Manufacturing runs its plants on three shifts for six or seven days weekly depending on the workload. "We have been running seven days a week for the last few months," Pinho reports. "It's been quite busy."
The company's experienced workforce enables it to meet most challenges. "Our workforce has been here since 2000, when we were founded – and there's always something," Pinho says. "We've seen most everything. Our guys are graying, but they have pretty good experience." Employees are cross-trained in different departments. "They're multiskilled," Pinho says.
Most training is provided in-house. When asked where Duggan Manufacturing recruits its employees from, Pinho quips, "We grow them. We've gotten some great people through resumes and things of that nature, but the majority of our people have been with us a while and have been in the system and trained and educated here."
Repeat Business
Pinho estimates that approximately 75 percent of the company's jobs are from repeat customers. "Routinely, every year we invoice over 150 customers of all different shapes and sizes," he says. "Some are bigger than others, and they don't always have projects."
Pinho is most proud of the growth of his employees from that training. "Over the years, I've seen our workers grow from kids that wanted to play videogames or check out early on Friday at noon to expert sheet metal model makers and laser technicians to managers," he recalls. "It's been a big reward.
"One of the things that I'm proud of is the services we provide," Pinho adds. "There are so many customers that give me positive feedback about how we really helped them out and quickly solved their problems. That is also rewarding.
"It still amazes me to a point that we can get a blueprint, a drawing or CAD in and very quickly we've got a part that looks just like that drawings that we were quoting or talking about a couple weeks ago," Pinho concludes.