Expanding the visial field
A pioneer in the manufacturing of digital freeform lenses, the Duncan & Todd Group is gradually taking over Scotland, with new firm branches opening constantly
With its head office in Aberdeen, the Duncan &Todd Group has carved a strong position for itself in the optical provision industry in Scotland.The company blends strategic acquisition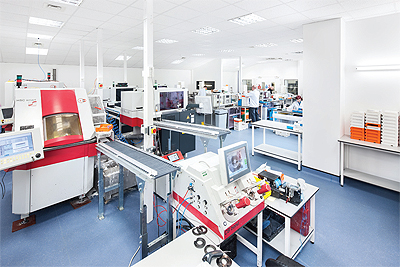 decisions with unique manufacturing technology and this combination has allowed it to expand to 28 branches across the whole of Scotland, via the seven brands that make up the group,namely Duncan andTodd;Caledonian Optical; 20 20 Opticians; Douglas Dickie Opticians; Smart Employee Eyecare; J.M. MacDonald; and Dempster Opticians.And this is just the beginning.
Duncan and Todd Opticians was founded in 1972 by optometrists Norman Duncan and Stewart Todd and since 1996, it has been led by its Managing Director – Frances Rus, who also bought the company in 2007. Following the management buyout, the Duncan & Todd Group made a number of significant investments that have all contributed to the increase of its capabilities and determined its position as a leading industry name in Scotland.
Caledonian Optical is the home of Duncan & Todd's dedicated optical laboratory, where all the manufacturing magic happens.The brand specialises in the development of digital freeform lenses, utilising the latest equipment from SCHNEIDER – the renowned manufacturer of optical solutions technologies."We first invested in freeform technology in around 2008, which meant that we stopped doing conventional multifocal lenses, but instead switched all of our patients to digital lenses. As no one else around us was doing that at the time, we were able to drive the business forward, because everybody was charging more for digital lenses while we offered them at no extra costs," Frances explains.
"Having our own lab gave us a better control over our operations, because we no longer had to rely on buying the lenses," Mark Robertson, Head of Manufacturing, adds. But it was the integration of the anti-reflection coating process that proved to be the focal point of Duncan & Todd's manufacturing excellence. Mark continues: "The initial investment did not give us the ability to put AR coating on, so we had to outsource, which added further seven to ten days of turnaround time.Therefore, we decided to invest £1.5 million in a second line of digital freeform in 2013."
The installation of the AR coating facility made Caledonian Optical the first ophthalmic lens laboratory in Scotland to use an equipment of this kind, which enabled full control of the production of the type of lenses that require coatings.The coating area is completely sterilised and has a continuous positive pressure environment, in order to maintain a dust-free atmosphere.The staff that manage the equipment are also required to wear complete overall, headwear, and footwear to avoid transfer of contaminates from the outside.
"By applying the AR coating technology, we were able to reduce turnaround time to two days," Mark points out."What is more, we see that the share of sales of AR-coated lenses has jumped from about 20-25 per cent to 50-60 per cent, so it is a significant changeover in trend.The next step for us will be to increase our capacity further.We have already introduced automation to some of our processes that has opened up space to take on more work, and now we want to upscale the production of AR-coated lenses by bringing bigger machines to the facility."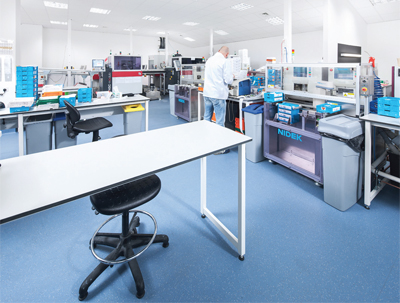 As a result of Caledonian Optical's utilisation of the AR coating technique, the company was recognised for its ARC Steady lenses range, when it won the 2018 'Lens Product of the Year' award at the Opticians Awards held in April."It was quite an achievement for us, being selected over big lens companies," Mark states proudly."We have noticed that the patients have increasingly started to shift to our products, and this was reflected by the ten per cent growth we experienced last year." 2017 also marked Duncan & Todd's entrance into the hearing aids market – a move that felt like a natural extension of the services the business delivers."It is quite common for opticians to offer supply for both optics and audiology, as the two sit quite well together.At the moment, we have five audiologists that cover 14 of our branches and the plan is to increase that number to a point where we have incorporated audiologists into the whole spectrum of retail," Frances projects.
Alongside the development of its manufacturing capabilities, Duncan & Todd also continuously invests in the expansion of its stores network.The group recently secured a £15 million investment from a private equity investor, the full amount of which will be used to purchase and refurbish new company branches. Part of the investment was directed into the acquisition of Peebles-based Dempster Opticians and the completion of the deal was announced in April 2018."The recent investment will help us achieve the expansion goals we have set ourselves," Frances remarks. "We are looking to enlarge our footprint across Scotland, but also to keep investing in manufacturing.To this end, we ordered a second MEI machine, which is going to be delivered this summer."
The comparison between the precise AR coating process and the overall growth strategy of the Duncan & Todd Group seems a suitable one. At the end of our conversation with Frances and Mark, we were left with the impression that we have talked to a company that has a clear vision of where it is going. Backed by substantial investment that will help it strengthen its presence in Scotland and relying on its belief that innovative manufacturing is the key to creating a quality product that will be sought-after by clients, the Duncan & Todd Group continues to expand its field of vision.
Duncan & Todd
Products: Glasses, sunglasses, contact lenses