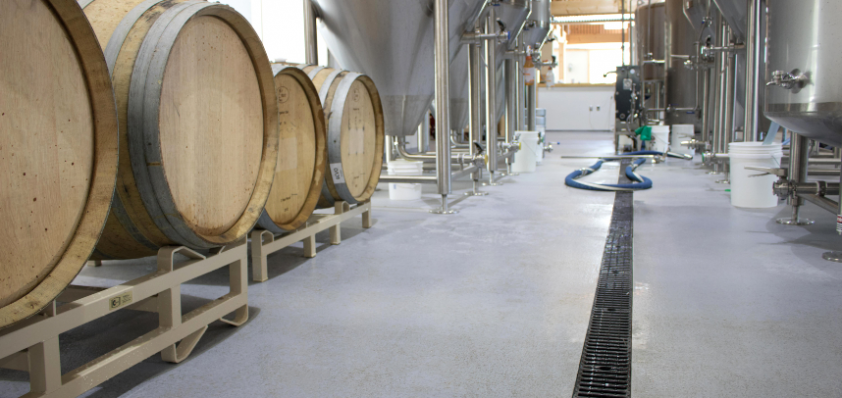 When Dur-A-Flex Inc. installs a floor it makes sure that its products are the best fit for their project. "We want to put the right floor in a facility based on the application and the performance requirements," Director of Marketing Dan Allen says.
In these efforts, the seamless flooring systems company takes the time to understand the end user's application, and is even willing to walk away if its products are not right for the job. "We always lead from a place of integrity and honesty," he says.
Based in East Hartford, Conn., Dur-A-Flex's wide range of products include epoxies, MMAs, urethanes, performance top coats and a range of concrete preparation products, and has been in the resinous flooring industry for 53 years.
Today, Dur-A-Flex has a positive reputation for its products and service among its clients. It prides itself on really working with contractors to make sure they're getting a quality product on time as well as the support to get them installed correctly.
The firm's products are used in multiple industries, including the healthcare, pharmaceutical, education, food and beverage manufacturing, heavy manufacturing and commercial sectors. In addition, the high quality of the products has led to them being used at various theme parks, universities and large professional sports stadiums.
One of the main factors that sets Dur-A-Flex apart from other seamless flooring manufacturers in the industry is the training to contractors through its Applicator Training Program, affectionately referred to as ATP. The ATP curriculum introduces contractors and installers to the entire product line. Through a mix of classroom and hands-on training helps to ensure that its products are used correctly. "That helps us protect our brand and helps our end users' facilities to make sure the floor gets put in correctly, and lasts for years," he says.
During the training, builders attend two-and-a-half days of classes where they spend time in classrooms as well as work side-by-side with Dur-A-Flex's tech team. "They actually get to work with the product and learn the tricks, the tips and best practices for installing our floors," Allen describes. "When they leave, they're an approved installer."
This not only benefits Dur-A-Flex, but also the contractor, he asserts. "We want to help them grow their business," Allen says. Support doesn't end at the end of the class; all graduates have access to a network of Technical Service Managers who are available to answer questions and help trouble shoot should the need arise.
Keys to Success
Allen joined Dur-A-Flex three years ago and credits its success to its associates. "The leadership team does a great job running the company and the ownership's vision is stability and getting the right people here, and keeping them," he says.
This has helped nurture a work environment that is focused on hard work. "When everybody shows up here, they bring their A-game," he says, noting that there is a spirit of ownership and pride in a job well done.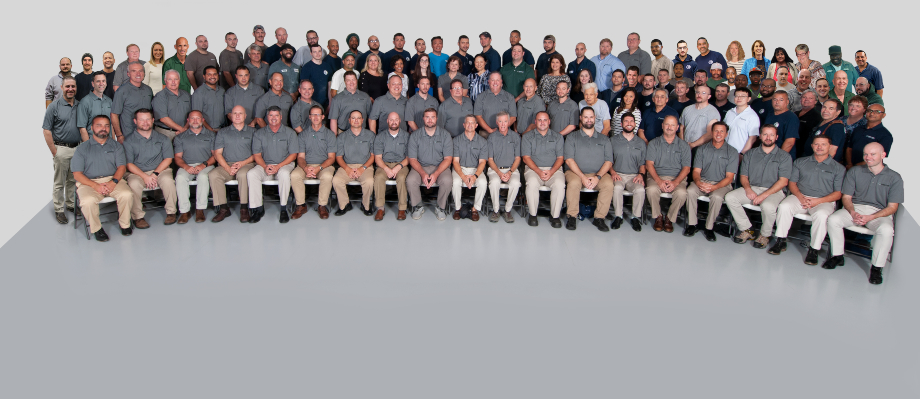 "There's a lot of smiles and a lot of fist bumps," Allen says. "We take what we do seriously, but we have fun, too."
Dur-A-Flex's employees also focus on being service-centric, while staying focused on integrity, which has earned the company rave reviews. "When I go to a trade show and someone congratulates us for something we've done, that's tremendous praise," he says.
But Dur-A-Flex also owes its success to its wide range of products, which includes its Cementous urethane line, Poly-Crete, ACCELERA, a fast-curing, low-odor coating that has UV stability and strong chemical resistance, Hybri-Flex and traditional Epoxy systems.
"We're the only one in the industry that has a product like Accelera," Allen says, adding that the fast-curing and low-odor properties of the coating give Dur-A-Flex an advantage over its competitors. "[It also requires] less downtime than a typical flooring installation and it [is] very durable." The company is continually making strides in the Research and Development area, to debut additional new groundbreaking systems.
"We're excited about three products [we'll be] adding in the next year and a half," Allen says.
Doing its Best
Dur-A-Flex maintains a strong focus on manufacturing quality, which is shared throughout its entire organization. "We always put our best foot forward every day," Allen says. "There's a lot of pride of ownership in our facility."
To make sure its customers receive the best products possible, they employ a variety of tools, such as lean and Sigma Sigma to while regularly looking to improve its practices. "We don't rest on our laurels," Allen asserts. "We are always looking for ways to make our facility better and more efficient, which translates into a better product and better service."
Cutlture is everything at Dur-A-Flex. The hiring process is rigorous but ensures the right fit for both the employee and the company. Onboarding and training are essential. "When they come in, they go through a in-depth orientation," Allen says, noting that this not only covers operations, but also safety. "Everybody that comes in is part of a family."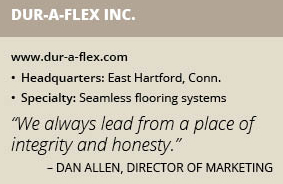 A Positive Outlook
Dur-A-Flex has thrived in a crowded marketplace that regularly sees industry shifts. For example, "There's been a lot of mergers, acquisitions and consolidations in our industry," Allen says.
He notes the company is benefiting from the strong economy and will continue to do so. The value and service that Dur-A-Flex provides customers puts them on strong footing now and for the future. There is opportunity for new products as demand grows for more environmentally friendly products. "In the next five years, the emphasis on environmental impacts will continue to increase; for example, LEED V4.1 was just released and more versions will come with even more stringent requirements," he says.
Allen predicts a strong future for Dur-A-Flex. "I see nothing but positive things," he says. "We do what we know works and we'll continue strive to get better at what we do."
The company also will keep looking for ways to improve. "I can see us continuing to grow, introduce new products and continue to provide high quality products to the commercial and industrial market," Allen concludes.