Structuring the working process
DURA Automotive Systems has received several high-profile awards in recognition of its tireless internal development and introduction of green measures
DURA Automotive Systems seems to be running like a perfectlyoiled machine. The global designer and manufacturer of automotive components put up an incredible business performance in 2017, leading to the company recording its best-ever financial year. We got in touch with DURA's UK branch Plant Manager, Martin Dinsley, who discussed last year's highlights for the division, and its intentions for the foreseeable future.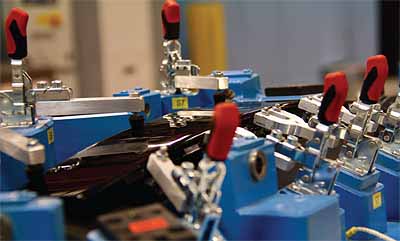 "It was a busy year for us, but our hard work and dedication paid off, when we achieved our best financial performance in recent history. We combined the introduction of some positive new innovations with a bit of internal restructuring to get there," Martin explains. DURA's progress did not remain unnoticed, as the company picked up a few awards in the course of 2017. "We are proud to announce that we won the Honda Green Excellence Award for last year. We were also presented with the TMMX People and Skills, and World Class Manufacturing awards."
The categories in which DURA excelled, are telling of the areas where the manufacturer expended most of its energy in 2017. Martin eagerly outlines the efforts the company made to work in a more environment-efficient manner, while continuously developing its people's skillset. "We did a lot to reduce our waste. Last year we managed to achieve zero waste to landfill and overall, we reduced our onsite scrap by 27 per cent. We began targeted activities to drop that figure, which involved reducing the actual defects made by our big injection moulding machines on the one hand, and the way we produce sample parts for destructive testing, on the other. We did not only reduce our environmental impact, but also improved our sales potential and decreased our costs, because of the lower number of components we started to use for destructive testing. What is more, we reduced our scrap by 50 per cent on key products for injection moulding, which means that we no longer had to produce the same parts twice," Martin points out. He also reports an 18 per cent improvement in DURA's energy utilisation, with the firm having reduced its gas and water usage by 27 and seven per cent, respectively.
The entity demonstrated the same vigour and proactivity in its HR management. In 2017, it initiated various training courses for its employees that continue in the new year, and here is Martin's verdict on their success: "First of all, we took on board a dedicated trainer who developed the courses' content. He resides with us now and is a fully-integrated part of our team. I feel that everyone who attends these courses, comes out with very positive impressions. They are being done in a very light and pleasant way, so people can enjoy themselves. It is good that we have found the right form to provide all of our employees with a comprehensive overview of the necessary steps they need to take when dealing with new chemical materials onsite, for example. We have been doing training on health and safety issues, environmental items, or even on internal processes like handling the new Human Resources Operating System (HROS)."
In addition to the internal courses, DURA is also launching its own apprenticeship scheme in April 2018. Martin reveals how the idea was shaped: "We engaged with one of our clients, Jaguar Land Rover, at their skills event last year and while we were there, we came to realise the benefits of running an apprenticeship scheme. We see it as a way of giving back to the local community, and we are getting ready to take up the first cohort of ten shop-floor apprentices this April. We strongly hope that the initiative will be successful. We have also been supported by Lander Automotive in how to structure and manage such an initiative."
2017 also continued the trend of maintaining excellent provider-customer relationships, which DURA has established. Martin singles out some of the key moments of the company's external growth: "We welcomed a new customer last year, Volvo, and we are just about to launch a project for them. We also worked very closely with Honda on their Supplier Quality Circle Convention (SQCC) initiative. Our company sent a team to get involved in the process, and work on Honda's products. It was a rewarding partnership for both parties, because our employees got a lot of experience, and Honda was pleased with our effort and willingness to help." The collaboration between DURA and the Japanese car manufacturer is poised to remain active throughout 2018, as Martin mentions an exciting mutual project going on, the success of which will bring new robot technology onsite for DURA, and reinforce its manufacturing strategy.
He is justifiably optimistic about business' prospects this year: "The automotive sector is currently very strong. Some of our customers, like Jaguar and Mini, have been selling lots of vehiclesrecently, so it is safe to say that we are enjoying a good period in the industry. We have set the number of sales we are expecting to achieve in 2018, and given the powerful start we had in January, when we already went ahead of the operating plan's targets, I believe the year will be a reasonable success."
One potentially profitable project DURA is looking to secure this year takes heed of the popularity electrical vehicles are gaining. "We have advanced technological equipment to support vehicle electrification, and at the moment we are working with a major OEM to bring home this exciting project that can double, if not treble, the sales in this particular sector," Martin informs us.
At the end of our interview, he takes the time to reiterate the structured approach the company has taken in refining its internal operations, which he regards as instrumental in the success DURA has enjoyed recently. "We work incessantly with our leading hands to clarify the roles and responsibilities each of our people has, and put the accountability where it needs to be. At the end of the day, the success of our operation in Birmingham is down to the employees as a unit. It is not that certain individuals are responsible for pulling the company forwards. With us, the whole is greater than the sum of the parts. We have managed to assemble a critical mass of people wanting to do that right thing, and this is what makes us so successful," Martin concludes.
DURA Automotive Systems
Products and services: Designer and manufacturer of automotive parts, such as steel doors, aluminium doors, glass encapsulation, plastic cappings, and electric park brakes