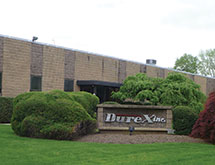 Based in Union, N.J., Durex is a full-service, privately held and operated ISO 9001-registered contract metal fabrication company. Durex is dedicated to providing top-quality metal stampings, sheet metal fabrications, CNC vertical machining, electro-mechanical assemblies and finished products.
"About 70 percent of our business today is contract manufacturing," President Bob Denholtz says. "We ship product to 30 states and eight foreign countries, serving all kinds of industries. We can make parts from the size of a fingernail up to 10 to 15 feet tall. We can work with thin and thick metal, and we can make parts that cost pennies and parts that cost thousands of dollars."
Durex can work with clients on their projects from start to finish. The company's product design and engineering approach includes an early supplier involvement process, integrated CAD and Solidworks 3-D design capabilities, and a state-of-the-art in-house toolroom. From there, Durex can provide a vast number of metal stamping, sheet metal fabrication, machine center, assembly and finishing services.
The company's facilities include more than 50 presses with capacity of up to 400 tons, laser and turret press capabilities, in-house powder coating, electro-mechanical assembly and packaging. This diverse spectrum of capabilities helps Durex to provide a turnkey contract manufacturing solution to its customers.
Quality assurance is another key aspect of Durex's operations. The company's quality department is staffed by experienced professionals and equipped with the latest computer software as part of Durex's effort to develop a total quality management program. Durex's quality system is also certified to the ISO 9001:2008 standard.
Durex has built its contract manufacturing business based on relationships. Denholtz describes himself as a "road warrior" who flies all over the country and beyond to connect with the market. In addition, he says the capabilities of Durex's team allows him to spend a good deal of time on the road.
"For many competitors, the owners have to stay on-site to oversee everything, but we have a team that allows us to showcase the value we offer," Denholtz says. "When customers come through, they see all of our capabilities and realize that we do machining, lasers, turrets stamping, powder coat, silk screen, electromechanical assembly and more. Vendor consolidation is a big priority for many companies, and that has helped us pick up additional business because we can support larger customers. At the same time, we work well with smaller companies and startups because of the engineering support we can provide up front."
Key Pieces
Part of the approach Durex has taken to broaden its horizons is to create or acquire affiliated companies. The Durex family includes the CreativeServing, Sternvent and White Rail operations. CreativeServing makes custom food-service equipment. Sternvent makes dust collection systems for the wood, metal finishing, chemical and pharmaceutical industries. White Rail is a custom slick rail components supplier.
"We started CreativeServing in the late 1990s to manufacture foodservice equipment like roller grills and warming cabinets," Denholtz says. "We've also made some acquisitions in the last seven years, such as the purchase of White Rail, which produces garment on hanger, or slick rail, systems for the garment industry. Sternvent is another acquisition we made, and it manufactures dust vacuums that collect all kinds of dust. The common theme is they all involve sheet metal."
Denholtz says the White Rail and Sternvent businesses are fairly mature and growth in their markets can be stagnant. On the other hand, CreativeServing has a lot of room for growth, as it continues to develop product such as by recently getting into the refrigeration section of the industry.
"We are looking at future acquisition opportunities to find new companies and products to add to the base we have," Denholtz says. "Currently, we have 120,000 square feet and a lot of equipment. Upgrading and adding automation and technology is another focus, and we can handle a lot more volume. The company already runs 500 to 700 different part numbers each week in our plant. We can add more as long as it fits the common thread of products that are made of metal and get punched and crunched."
Up to the Task
Durex understands that there are challenges to overcome. One of those challenges is price erosion. Denholtz says bigger companies can keep squeezing smaller players on price, so Durex has invested in lean manufacturing techniques and found ways to create competition among its staff so everyone is working to be as productive as possible.
"We are engaging in a lot of lean initiatives to improve operations and become more cost competitive," Denholtz says.
In addition, Durex is constantly looking for opportunities to add to its network of affiliated companies and product lines as it has done in the past while it is also upgrading equipment. "For example, we have a four-tip welder that has allowed us to reduce the number of hits on some of the boxes we produce," he says.
Another focal area has been training and retention. The company has many long-term employees, but it is also working to attract and inspire fresh recruits by developing in-house training programs and working with local colleges and universities to find eager graduates.
Durex will always be looking for ways to improve its processes. Although it is in a challenging and competitive industry, Denholtz is confident that Durex will always be one of the last men standing. "We emphasize the diversification of our capabilities because that has allowed us to diversify our range of work and get into many industries," Denholtz says.